Modi to Insure Half a Billion Indians as Elections Draw Near
(Bloomberg) -- India will provide health insurance to 100 million families to help them access good quality and affordable healthcare, Prime Minister Narendra Modi said, in a move aimed at shoring up support ahead of federal elections in 2019.
The plan will cover about 500 million Indians, a mass of people larger than the population of South America. It will be rolled on September 25 in a country where a 2017 World Health Organisation report found spending on health pushed more than 52 million people below the poverty line.
"It is essential to ensure that we free the poor of India from the clutches of poverty due to which they cannot afford healthcare," Modi said while addressing the nation on Independence Day from New Delhi's 17th-century Red Fort. "The healthcare initiatives of the government will have a positive impact."
Modi is seeking to spend more on the countryside -- home to about 68 percent of India's 1.3 billion people and a key voting bloc in the world's largest democracy -- as he prepares to face general elections in eight months. India has flagged low levels of insurance penetration as a potential damper on its growth, with as many as 70 million people slipping into poverty each year due to sickness.
It has long under-invested in health and spending as percentage of GDP is lower than most low income countries, including neighbors Nepal and Maldives.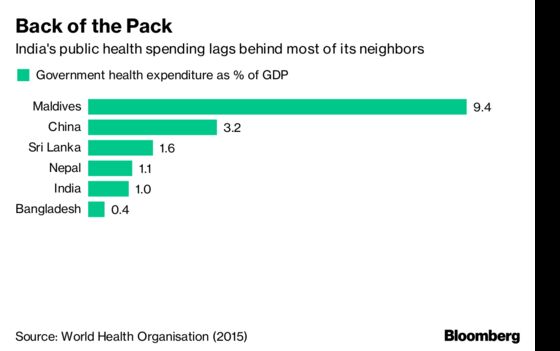 The government had announced the plan in February to provide health insurance to cover about 40 percent of the population. India expects to spend up to 120 billion rupees ($1.9 billion) annually on premium payments to provide poor families with a cover of 500,000 rupees a year.
In a nearly 90 minute-long speech, Modi, sporting a traditional saffron colored headgear, listed his government's achievements, especially in programs aimed at providing housing, sanitation and clean drinking water to the poor. In the past four years of his reign, he said his government had improved incomes of farmers and ensured the sector matched growth witnessed in other sectors of the economy.
The ruling Bharatiya Janata Party is also under pressure to pacify discontent in rural areas and check unrest among farmers amid opposition criticism that he failed to fulfill his electoral promise of creating jobs and boosting economy. It has promised to increase the living standards of villagers and double farmers' income.
An Indian astronaut will be sent to space by 2022, Modi said. The new program forms a series of space exploration missions spearheaded by his government, including a plan to send a rover in October to explore virgin territory on the lunar surface and analyze crust samples for signs of water and helium-3.
India launched its first space rocket in 1963 and its first satellite in 1975. An unmanned mission to the moon that ended in 2009 showed water formation there may be occurring.