Mueller Distorted Fraud Case, Manafort Lawyer Says: Trial Update
(Bloomberg) -- Lawyers at the Paul Manafort fraud trial finished their closing arguments, offering sharply contrasting portraits of the man who served as Donald Trump's campaign chairman in 2016. Prosecutors for Special Counsel Robert Mueller depicted Manafort a man who failed to tell U.S. tax authorities about millions of dollars he stashed overseas, and later lied to banks so that he could obtain $20 million in loans when he needed cash. Manafort's lawyers depicted him as the innocent victim of his right-hand man, Rick Gates, who they say embezzled millions of dollars and lied to jurors to avoid prison. Manafort's case is the first to go to trial for Mueller, who is investigating Russian interference in the 2016 election.
Prosecutor Gets Last Word, Saying Manafort Guilty (5:04 p.m.)
Prosecutor Greg Andres used his final 15 minutes of closing argument to hammer home the government's position that Manafort directed his bank fraud and tax crimes, while Gates, his right-hand man, played only a supporting role.
Andres displayed an email that Manafort sent to Gates in March 2016, as prosecutors say he was submitting false documents to a bank to secure a loan. "Rick, you are the quarterback," Manafort wrote to his subordinate.
"Guess who owns and controls that team?" Andres said. "Mr. Manafort."
The prosecutor spoke rapidly and with more fire than in his initial summation earlier in the day. He recounted a series of documents and witness exchanges that he said proved Manafort directed much of the fraud without any involvement from Gates. He urged jurors to find Manafort guilty on all 18 counts and not be diverted by his defense lawyers.
"They want to distract you from the evidence and the documents in this case," Andres said. "It's the witnesses in this case and the documents in this case that the defense is afraid of."
After Andres finished, U.S. District Judge T.S. Ellis III began instructing jurors on the law, a process that he said would take about 90 minutes.
Guest Stars in Alexandria: The New York Jets (3:40 p.m.)
The political spectacle of the Manafort trial collided briefly with the world of sports on Wednesday afternoon when the New York Jets filed out of their team buses and into a hotel directly across the street from the federal courthouse in Alexandria, Virginia. The Jets are in town for a Thursday preseason game against the Washington Redskins.
Manafort Lawyer Says Mueller Framed Innocent Man (3:26 p.m.)
Manafort is an innocent man, but Mueller was so intent on building a fraud case against him that he relied on an admitted felon to frame him, defense lawyer Kevin Downing told jurors in his summation.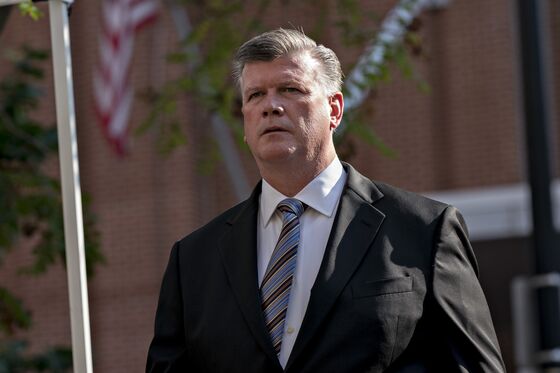 Manafort, Trump's former campaign manager, never knew that Gates embezzled from him and was unaware of how he used that stolen money to pay for an extramarital affair. Gates, who pleaded guilty and was Mueller's star witness, was exposed on the witness stand as a liar, Downing said.
"They were so desperate to make this case against Mr. Manafort that they put their trust in Gates," he said.
Manafort never knew about the "secret life" of Gates that Downing exposed on cross-examination, the lawyer told jurors.
"That was the Rick Gates that Manafort didn't know," Downing said. "Gates was flawless on direct but on cross he fell apart."
Downing said Gates fabricated accounts of his meetings with Manafort so that he could please prosecutors and avoid prison.
The lawyer suggested that Manafort's signatures were forged on Cyprus bank records that prosecutors say were used to avoid U.S. taxes and fund his lavish lifestyle. He implied that Gates benefited from those forgeries to continue his embezzlement from his boss.
"Those signatures on those applications are not Mr. Manafort's," Downing said.
Downing also raised doubts about some of the hundreds of documents that prosecutors entered into evidence, offering innocent explanations for many of them. He suggested that some witnesses felt pressure to provide accounts that corroborated Gates.
Manafort Was Worth $21 Million, His Lawyer Says (2:55 p.m.)
Mueller concocted bank fraud charges against Manafort, unfairly making it appear that he needed cash when his net worth was more than $21 million at the end of 2016, defense lawyer Richard Westling argued to jurors.
Mueller's prosecutors cherry-picked evidence and failed to show that Manafort had an intent to defraud Citizens Bank, Banc of California or Federal Savings Bank, Westling said in his summation. Prosecutors failed to show that any fraud took place or that Manafort conspired with anyone to cheat the banks, as the indictment charges, he said.
Westling said jurors haven't seen a "single bit of evidence" that any of the banks complained to the government that they were defrauded.
"Nobody came forward and said, 'We're concerned about what we're seeing here,'" Westling said. "Not until the special counsel showed up and started asking questions."
Mueller's prosecutors charge that Manafort, 69, gave banks false statements that inflated his income and concealed his debt to help him borrow against several properties as his income dried up in 2016, when he was Trump's campaign chairman. But Westling said Manafort had cash and securities of $8.6 million at the end of that year and an adjusted net worth of $21.3 million.
"Given this evidence, how can we say he didn't have money?" Westling said. "Mr. Manafort still had substantial cash holdings and a very robust net worth. Why does the government say he didn't have any money?"
Westling said that Manafort trusted his bookkeepers, accountants and Rick Gates, his former-right hand man who pleaded guilty, to provide accurate information to lenders. He shared information with them openly, Westling said.
"That's not consistent with somebody involved in a fraud," the lawyers said. "Fraud is about secrecy."
To convict, Westling said, it's not enough to show that wrong or false information was given to banks so that Manafort could get loans. Rather, prosecutors must show that banks relied on that information in making lending decisions, and that Manafort had an intent to defraud. Although the banks asked for more information, "that's a far cry from being misled,'' Westling said.
"They tried to give you the sense that the evidence is so overwhelming that there's only one conclusion," Westling said.
Jurors heard testimony from junior bank employees and not those making lending decisions, he said, adding: "It's for you to determine what that means."
Gates Not a 'Boy Scout,' Prosecutor Tells Jury (12:51 p.m. )
Andres, the prosecutor, attempted to blunt anticipated attacks on Gates, the government's star witness, as he wrapped his closing argument to the jury. Gates, Manafort's former right-hand man who pleaded guilty and testified for three days, was labeled by defense lawyers as a liar who betrayed his boss by embezzling millions of dollars to support his extramarital affairs.
"Mr. Manafort was a mentor to Mr. Gates, particularly with regard to his criminal actions,'' Andres said. "He didn't choose someone who was a Boy Scout."
"Does the fact that Mr. Gates had an affair more than 10 years ago mean that Mr. Manafort is not guilty of tax fraud?," Andres said. "The defense said Mr. Gates had his hand in the cookie jar. It wasn't a cookie jar, it was a large dumpster of money in foreign bank accounts."
Andres walked a tightrope, urging jurors to consider Gates carefully while emphasizing that multiple witnesses and documents supported his testimony.
"Ladies and gentlemen, the star witness in this case is the documents," Andres said.
Andres hammered at how Manafort obtained $16 million in loans from Federal Savings Bank, despite employees' red flags regarding his ability to repay. He stressed that Manafort got the loans after helping the bank's chief executive officer, Stephen Calk, secure a position as an economic adviser to the Trump campaign.
"The guiding hand was Steve Calk pushing loans through,'' Andres said, "because he was interested in serving in the campaign and in the administration.''
With a two-hour, judge-imposed, time limit, Andres appeared to rush through his final remarks, checking his watch. He'll have about 20 minutes for rebuttal arguments after defense attorneys Richard Westling and Kevin Downing spend their two hours summing up.
Prosecution Lays Out Evidence on Offshore Accounts (11:55 a.m.)
Wrapping up the government's closing argument, prosecutor Greg Andres displayed the evidence and highlighted the testimony that he said proved that Manafort concealed the offshore accounts that funded his lavish lifestyle.
Speaking in a casual, just-the-facts manner, Andres didn't raise his voice or display emotion as he marshaled evidence that he said showed that Manafort lied on his tax returns for five years and failed to report offshore accounts for four years. Andres said that Manafort controlled 31 foreign accounts from 2010 to 2014 and that more than $60 million flowed through them.
Andres showed the jury emails and memos that he said demonstrated Manafort knew the law on disclosing his foreign accounts to U.S. authorities and "willfully disobeyed it." He cited a June 2012 email in which one of Manafort's tax accountants sent him the law requiring him to identify foreign accounts in which he had a financial interest.
"Mr. Manafort's scheme, when you break it down, is not that complicated, but it was hidden," he said.
Andres didn't dwell on Manafort's lavish lifestyle or refer to his Ukrainian political paymasters as oligarchs, as instructed by the judge. But he asked jurors to use their common sense and ask why Manafort transferred more than $15 million from foreign accounts to pay for his real estate, custom suits, luxury cars and landscaping and home improvements to his Hamptons estate. He sought to blunt the defense argument that Manafort didn't control those accounts.
Andres questioned how Manafort could have benefited so greatly from accounts he didn't control. "Does that make any sense at all?" he said. "We should all be so lucky."
He presented a chart that broke down the vendor payments each year from 2010 to 2014. He offered another chart demonstrating the flow of Manafort money in 2013, reminding jurors that Manafort declared some of that money on his tax returns but concealed much of it from the Internal Revenue Service.
Andres cited 10 witnesses who detailed aspects of Manafort's scheme to file false tax returns and not file reports on his foreign accounts, commonly known as FBARs.
The prosecutor sought to inoculate the star prosecution witness, Rick Gates, who pleaded guilty and testified for three days. In cross-examination, Gates endured brutal attacks on his credibility by Manafort's lawyers. Andres essentially acknowledged that he was a damaged witness, saying the government wasn't asking jurors to accept his testimony at face value.
"It is asking you consider his testimony and test it against other witnesses and evidence,'' Andres said.
Manafort 'Not Above the Law,' Prosecutor Says (10:36 a.m.)
Manafort lied repeatedly for years to U.S. tax authorities as he was prospering as a political consultant making millions of dollars in Ukraine and then as he struggled and needed to borrow money, a prosecutor told jurors at the end of Manafort's fraud trial.
"Mr. Manafort lied to keep more money when he had it, and he lied to get more money when he didn't have it," Andres, the prosecutor, said in his closing argument. "This is a case about Mr. Manafort and his lies -- lies on his tax returns and lies to bank after bank after bank."
Andres said Manafort's crimes amounted to two schemes. In the first, he used offshore accounts in Cyprus and elsewhere to hide tens of millions of dollars he made advising Ukrainian President Viktor Yanukovych and his pro-Russia Party of Regions. He lied to his bookkeepers and accountants and the Internal Revenue Service to conceal that money, Andres said.
"That money never made it into his books, and it never made it onto his tax returns," which helped Manafort conceal more than $15 million in income from the IRS, Andres said.
Manafort also disguised income by calling it loans, the prosecutor said.
As Manafort lost his Ukrainian income, he began the second scheme, Andres said. He lied about his profits and losses to three banks and concealed his debts so he could borrow more than $20 million, Andres said.
"He is not above the law," he said.
Manafort's Lawyers Will Say Mueller Failed (9:10 a.m.)
Mueller's prosecutors will get first crack at closing arguments on Wednesday, in a trial where they say Manafort financed a lavish lifestyle by concealing income and offshore accounts from U.S. tax authorities and banks. Prosecutors detailed Manafort's appetite for luxury -- the ostrich jacket, the Hamptons estate, the New York Yankees seats near the dugout. They say Manafort engaged in tax crimes and defrauded banks to continue that lifestyle even after his work as a political consultant in Ukraine dried up after 2014.
Defense lawyers will say that Mueller failed to meet his burden of proof and that Manafort had no intent to break the law. They'll blame Gates, Manafort's former right-hand man, who pleaded guilty and testified for three days as the prosecution's star witness.
Ellis, the judge, has given each side two hours to make their arguments, after which he'll instruct jurors on how to apply the law to the evidence. Jury deliberations could begin later in the day.
(An earlier version corrected the spelling of Manafort.)