Duterte Plays Catch-Up on Defense Spending With Cash for Troops
(Bloomberg) -- President Rodrigo Duterte is beefing up the ranks of the Philippines' military and police as his government continues to wage its war against illegal drugs and Islamic State militants in the country's south.
The Interior and Defense Departments will receive record amounts in the proposed 2019 budget of 225.6 billion ($4.22 billion) and 183.4 billion pesos respectively following the resolution of an funding impasse in the lower house Wednesday. Their allocations will increase by as much as a third, while other major agencies will suffer spending cuts.
Much of the funding will go towards fulfilling one of Duterte's key campaign promises: doubling the salaries of all uniformed personnel. Entry-level police and military will see a 100 percent pay hike, while all ranks will enjoy a 72 percent boost on average by next year. The government also plans to create 10,000 new posts in the Philippine National Police and 5,000 in the prison and fire bureaus.
The budget increase -- the largest in the defense sector since 2011 -- underlines Duterte's efforts to boost the police and the military amid reports the Islamic State is behind a recent suicide attack in the Mindanao region and despite mounting opposition to his drug war.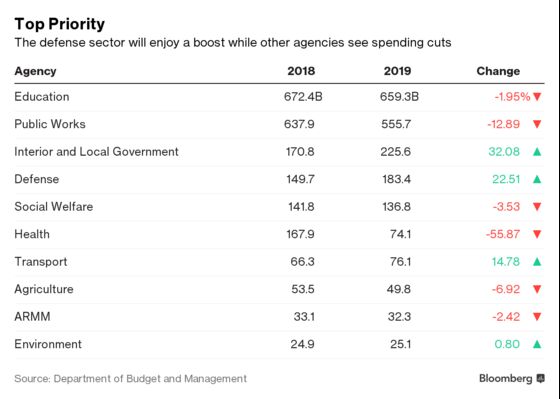 Congress threatened to stall deliberations on the 3.76-trillion-peso budget for next year to protest spending cuts and force a reenactment of the 2018 spending plan. Congressman Joey Salceda says lawmakers will still find ways to finance the pay hike for uniformed personnel, likely tapping the government's emergency Miscellaneous Personnel Benefits Fund instead.
Still, Duterte's preference for more boots on the ground could undercut the longer-term goal of building up arms, Richard Heydarian, non-resident fellow at think tank ADR-Stratbase Institute, said in an interview.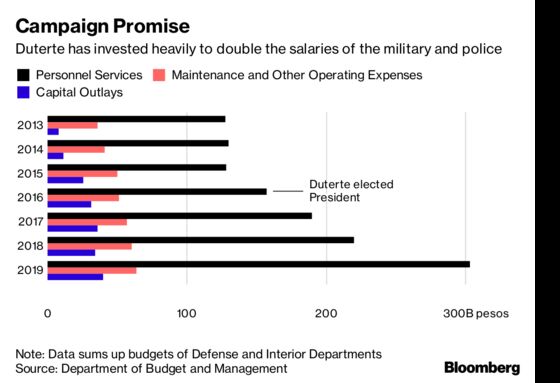 The pay hike alone, which wasn't granted to other public servants, will cost 64.2 billion pesos over two years. In comparison, the government spent just 85.3 billion pesos to modernize the Armed Forces of the Philippines from 2013 to 2017. That's since been raised to 300 billion pesos from 2018 to 2022.
"The important thing at this point is for the Philippines to upgrade and modernize its decrepit military hardware and focus on maritime and aerial branches, which are crucial for external security," Heydarian said.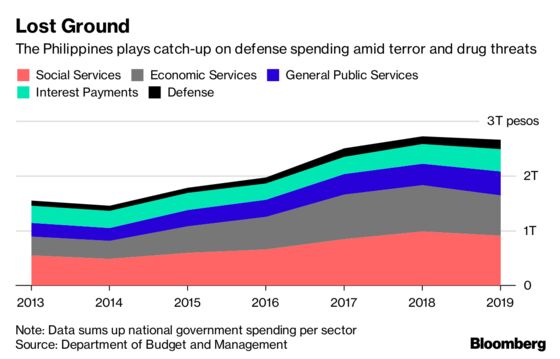 The police are on the front lines of Duterte's war on drugs, which has so far killed more than 4,300 people and placed about 147,800 under arrest, according to Palace figures. The military continues to see violence in the Mindanao region after the ISIS-led siege last year, while Beijing is fast building outposts in the South China Sea.
Budget Secretary Benjamin Diokno said the planned increases for Interior and Defense Departments were an investment in the country's peace and order. "It's important for people to feel secure in their homes, streets and place of work," he said in a message. "It's also important for foreign and domestic tourists to feel secure in their destinations."