Billionaire Downplays Emerging-Market Rout, Says Nowhere Near Trade War
(Bloomberg) -- Forget the threats lobbed by Washington at Beijing, Ankara and Moscow. This is no global trade war and there is no reason to flee emerging markets, according to billionaire David Booth.
The co-founder of Dimensional Fund Advisors cited steady global growth, improving fundamentals and better policies from Argentina to Saudi Arabia as reasons for long-term optimism toward developing-nation assets. And while the Trump administration's tariffs pose the biggest potential threat to investors, they have yet to reach a full-blown trade war.
"We're nowhere close to being there right now," Booth, 72, said in an interview from his office at Dimensional's headquarters in Austin, Texas. "Everybody's doing a little dance move back and forth."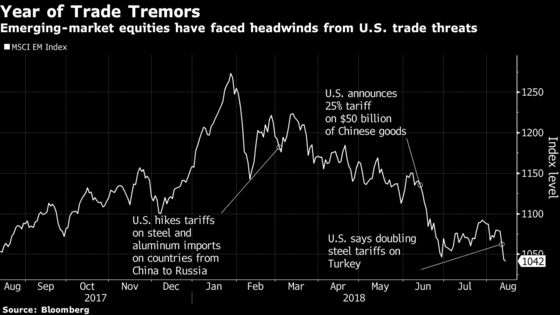 While many of Washington's targets for tariffs or sanctions are particularly susceptible to external pressure, triggering recent declines, these risks don't spell gloom for the asset class long term, according to Booth, chairman of the $592 billion investment firm. In fact, today's doomsayers may end up in his colleague Wes Wellington's scrapbook of hyperbolic forecasts that went awry.
"Over the years, he's saved magazine articles where people made forecasts and the ones that turned out to be really awful he highlights," Booth said.
Among equity and debt funds existing since 2003, 73 percent of Dimensional's funds have topped the Morningstar benchmark compared with 14 percent overall. The Austin-based firm has dozens of emerging- and developed-market strategies focused on market cap, value premiums and profitability.
Here's what else Booth had to say:
Where do you see encouraging signs for EMs?
"The global economy seems to be doing pretty well, give or take a bit. That's always a positive impact. So I think these countries win or lose depending on that. If the global economy does well, they do very well and if the global economy does poorly, they typically do very, very poorly. Although during our financial crisis, emerging markets held up pretty well."
Why do you expect higher returns for EM long term?
"Your investment return is the flip side of the company's cost-to-capital. To say they have higher expected returns is to say their cost-to-capital is higher, which everybody agrees it is."
"The key to all these things with investing outside the country is can I get my money back? The last 20 or 30 years have been a pretty good period of time with some hiccups in Malaysia or Argentina, but by and large the markets have continued to open up more and more."
How have those countries changed over your career?
"What's happened to emerging markets over the last couple of decades is they've kind of wised up and realized if they want to attract capital, they better have better trading practices, shareholder rights have to mean something and I would say in a lot of emerging countries now, the quality of the investment climate is as good as a lot of the developed countries."
Where do frontier markets fit into your portfolio?
"We don't play with them. If they meet the minimal standards, we put it in emerging markets. Frontier markets, by and large, are on the other side of the line from our standards. It doesn't mean they're inherently bad. It's just a different kind of investing and a different level of risk."
Does that mean you're looking at Argentina and Saudi?
"Yeah. We look for reasons to include them, not for reasons to exclude them." With a long history of exchange controls, which were only abolished when President Mauricio Macri came to power, "we don't jump in right away. We wait to make sure they're not going back on."
Are you getting in on the crypto craze?
"I don't understand crytpocurrencies. One of the things you'd like to have in a currency is a stable source of value. These cryptocurrencies are fluctuating all over the place. I don't know why you'd call that money. You can call anything money I guess. I can't imagine dealing in cryptocurrencies. The usefulness might be the legal usefulness in interbank settlements. But we're not tempted to be involved with them at this stage."