Trump Frustrated With Erdogan's Refusal to Release Americans, White House Says
(Bloomberg) -- President Donald Trump "has a great deal of frustration," his spokeswoman said, calling again on Turkish President Recep Tayyip Erdogan to release an American pastor and other U.S. citizens as a diplomatic standoff continued to weigh on global financial markets.
"We're going to continue to call on Turkey to do the right thing and release those individuals," including pastor Andrew Brunson, White House press secretary Sarah Huckabee Sanders said at a briefing Tuesday.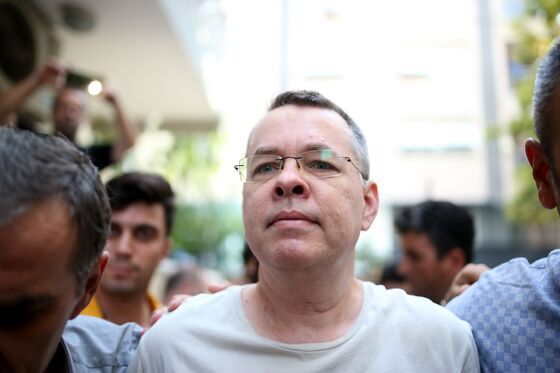 The Turkish lira lost a quarter of its value this month as Trump doubled tariffs on Turkish steel and aluminum imports and slapped sanctions on two of Turkey's government ministers, calling for Brunson to be released. Erdogan vowed Tuesday to boycott American electronics, including Apple Inc.'s iPhones, in a defiance of Trump's demands.
While even a widespread Turkish boycott would do little to dent U.S. economic interests, it shows Erdogan is refusing to give in to market turmoil that's pushed borrowing costs to record highs and threatens to descend the nation into a financial crisis.
While diplomatic tensions rage, the currency rallied for the first time in a week as Turks cashed in dollar savings to take advantage of the huge slump in the local currency. Speculation is also growing that Turkish policy makers will heed calls from corporate and banking executives to raise interest rates to stem the rout.