Russia Probe Exploited by Both Parties to Raise Campaign Cash
(Bloomberg) -- Special Counsel Robert Mueller's Russia investigation hasn't yet become a top issue for most voters. But when it comes to fundraising, Democrats and Republicans battling for control of Congress in November are using the probe to cash in.
Some Democrats are pitching to donors that they'll prevent Mueller's ouster or other interference by President Donald Trump. Republicans are telling contributors that they need to keep control of Congress to block the president's impeachment or continued "witch hunts" by Democrats who want him out of office.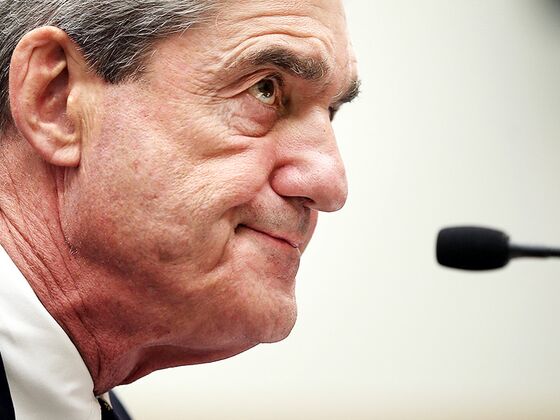 While polls show the broad cross-section of voters are mostly focused the economy, health care, immigration and other issues, the Mueller investigation into possible Trump campaign links to Russia's election interference and the prospect of an attempt to impeach the president energizes core voters -- and loyal donors -- from both parties.
Democrats are fighting to flip at least 23 Republican-held seats in November to win a majority in the House. The party will have a tougher time gaining control of the Senate, where they have 26 seats to defend, compared with just eight for Republicans -- one of the most politically skewed Senate-election maps in history.
With a majority in either chamber, Democrats could expand existing congressional Russia investigations or start new ones. Some Democrats want to pursue impeachment even though party leaders say that's not on their agenda. That could change depending on the outcome of the probe.
David Richardson, a self-described progressive who is one of five Democrats running for a South Florida House seat being vacated by Republican Ileana Ros-Lehtinen, is among those trying to raise money by raising the prospect of impeaching Trump.
An email from his campaign this month said: "Unless we win here, we'll have no chance to pass Medicare for All, no chance to ban assault weapons, and no chance to finally impeach Donald Trump."
Richardson campaign consultant Eric Johnson said a separate impeachment-themed video released this month -- designed as a fundraising appeal -- "is getting tremendous response." The appeal pokes fun at how Democratic candidates aren't supposed to mention impeachment but says Richardson isn't afraid to do so in advance of an Aug. 28 primary.
A series of solicitations by the Democratic party have been focused more on protecting Muller and his work from threats by Trump to dismiss him.
"It's clear the only way we will EVER learn the truth about Trump's Russian ties is if Robert Mueller finishes his investigation," the Democratic Congressional Campaign Committee said in a July email that asked supporters to sign a petition to protect the special counsel, and to send donations.
Republicans are asking for money by painting a dire picture of what might happen under Democratic control, including impeachment.
The political arm of the conservative House Freedom Caucus sought contributions to 10 candidates in a July 26 email saying many Democrats "want to impeach President Trump and continue business as usual in Washington." A Friday appeal from the group, signed by Representative Jim Jordan of Ohio said Democratic control would result in years of "witch hunts and obstruction."
The re-election campaign of Senator Dean Heller, a Nevada Republican, told prospective donors in a May 7 email that Democrats want a Senate Majority "for one reason and one reason only. To Impeach President Trump."
House Intelligence Committee Chairman Devin Nunes of California, a fervent defender of Trump who shifted the focus of his panel's own Russia-election meddling probe to alleged misconduct by the FBI and Justice Department, has asked for money by citing "the politically motivated witch hunt from the media and the left."
Some conservative candidates have been warning that Democratic majorities in Congress could lead to Trump's impeachment over the Russia probe.
Senator Ted Cruz, a Texas Republican, said on Twitter that a statement by Democratic challenger Beto O'Rourke that he'd vote for articles of impeachment is "reckless" and an effort to raise money from the "far left." Congressman Chris Collins, a New York Republican who suspended his campaign Saturday amid an insider trading indictment against him, said Democrats would like nothing more than to elect an "impeach Trump" Democrat in his district.
In many key races, the candidates are mostly avoiding the subject in front of voters. The battle for control of the House and Senate will be determined in swing districts, where neither party dominates and where appeals to independent voters will tend to skip over the most polarizing issues.
Candidates may be holding off raising the Russia investigation in campaign appearances and speeches because they don't want to have to change their positions as new information is released, said Lee Miringoff, director of the Poughkeepsie, New York-based Marist Institute for Public Opinion.
But Miringoff said the fundraising pitches can avoid that problem by using "different angles without being a key part of a candidates' advertising or stump speech."
A July 25 Quinnipiac poll found that 65 percent of Democratic voters would want the House to begin impeachment proceedings against the president if they win back control of the House and 90 percent of Republican voters are against it. Among all voters 55 percent say they are against initiating impeachment of Trump, as do 53 percent of independents.
Ads mentioning the Russia investigation have been rare in broadcast television advertising. Such commercials ran about 1,200 times out of a total of more than 757,000 in the current two-year election cycle, according to data through Aug. 6 from Kantar Media's CMAG, which tracks political advertising.
The numbers don't include broadcast TV and national cable spots highlighting the probe sponsored by billionaire Tom Steyer, who announced Monday he'll spend $50 million on his Need to Impeach campaign to motivate voters to vote for Democratic candidates. Those ads have run thousands of times.
Campaigns declined to breakdown how much any particular fundraising appeal brings in. The recurring use of Russia in solicitations suggests both parties have found an effective message to collect donations from their most ardent supporters.
"A threat of the magnitude of the Mueller investigation to Trump's presidency is a natural motivator for both sides," said Marjorie Hershey, a political science professor at Indiana University. "The Mueller investigation is red meat."