Youths Burn More Than 80 Cars in Southern Sweden Overnight
(Bloomberg) -- More than 80 cars were set ablaze in cities across southwestern Sweden overnight as groups of masked youths threw stones and started fires in what may have been a coordinated action.
In the Frolunda neighborhood of Gothenburg, Sweden's second-largest city, 31 cars burned and 35 were damaged as a group of 6-8 masked youths threw stones and started fires, according to the police's website. A further 15 cars were burned by in the northeastern parts of Gothenburg while car fires were also reported in Trollhattan and Helsingborg.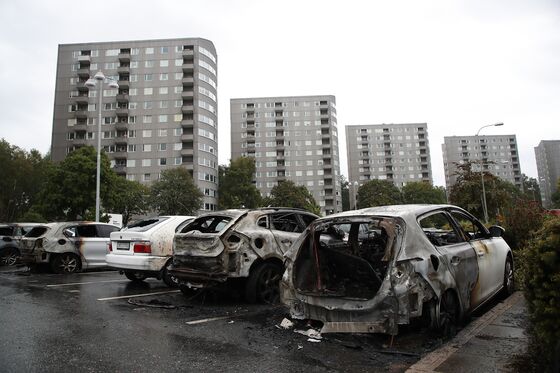 "As a majority of the fires started within a short time period, it can't be ruled out that there is a connection," the police said. It's now interviewing witnesses and looking at surveillance tapes.
In an interview with Swedish Radio, Prime Minister Stefan Lofven turned directly to the youths who set the cars ablaze.
"I get angry, for real.," he said. "Honestly. What are you doing? You are destroying for yourselves, for your parents, for the entire residential area. Society must respond harshly to this."
Sweden is holding a general election on Sept. 9, with crime and law enforcement being one of the key topics.
The nationalist Sweden Democrats, which some polls show could emerge as the biggest party in the election, pounced on the overnight chaos.
"On Sept. 9 we will make Sweden safe again," the party said in a series of tweets.