Lula's Party Launches All-Out Push for His Brazil Candidacy
(Bloomberg) -- His supporters are descending on Brazil's capital by the busloads, his lawyers wage legal battles, and his party stages hunger strikes, sit-ins, and news conferences in defense of his right to bid for the country's top job.
In public, allies of former President Luiz Inacio Lula da Silva are pulling out all the stops to get the imprisoned leftist leader to run in October's election -- an uphill battle that starts with his candidacy's registration on Wednesday despite a corruption conviction. They even threaten not to recognize the vote's result if he can't participate.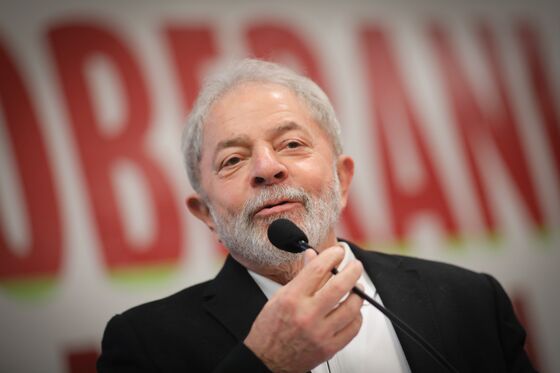 Yet in private many leaders of his Workers' Party say Lula should, and will, eventually stand down if electoral authorities bar him from running as the law establishes. Instead of continuing to fight for his candidacy in court and on the streets, and put at risk the entire election, they want the party's number two choice, former Sao Paulo Mayor Fernando Haddad, to take over the baton.
"Lula has profound respect for institutions," Senator Humberto Costa, one of his closest allies, told Bloomberg News. "He will play within the rules of the game," he said, suggesting the former president and his party would eventually respect any court ruling.
Former Bahia Governor Jaques Wagner, a founding member of the Workers' Party, told O Estado de S.Paulo newspaper that the party doesn't have a "lifetime" to make Haddad known in all of Brazil. His comments reflect concern among some allies that keeping Lula on top of the ticket for too long could damage Haddad's electoral chances.
Doubts over Lula's candidacy exacerbate what is already the most uncertain election since Brazil's return to democracy in 1985. With 13 presidential candidates in the running and no clear favorite other than the former president, it's a wide-open race with voter apathy and indecision at all-time highs. Even if Lula doesn't run, his support could be enough to propel Haddad into a run-off election, polls show. That may unnerve investors wary of his party's pledges to reverse recent market-friendly legislation such as a constitutional spending cap and labor market deregulation.
Voters may not know until three weeks before election day whether Lula, the current leader in opinion polls, can run. That is the absolute deadline for appeals to electoral authorities.
Timeline for Lula's Electoral Bid

Registration

Deadline for filing paperwork with electoral authorities is Aug. 15 by 7 p.m. local time

Legal Challenges

Five-day period for legal challenges against any candidacy starts on Aug. 16

Judge Assigned

A judge from the Superior Electoral Tribunal, or TSE, will be assigned to oversee the case after a legal challenge is made

Defense

Lula's lawyers would then have a seven-day period to present his defense

Decision

Judge in charge of the case has liberty to rule alone, or submit case to TSE plenary; Lula's lawyers can appeal a single-judge decision to the TSE plenary and the TSE decision to Brazil's Supreme Court

Final Deadline

Brazil's electoral law establishes that the legality of all candidacies -- including appeals -- must be ruled upon by Sept. 17 at the latest
Haddad currently has only a fraction of Lula's support in polls and it's unclear how many of those votes would migrate to him. Datafolha pollster found in June that 30 percent of his voters would support whomever the ex-president picked, 17 percent would consider his opinion and 51 percent would definitely reject the candidate he anointed.
Lula, who was once called the most popular politician on Earth by Barack Obama, is now serving a twelve-year prison sentence following his conviction for corruption and money-laundering. Loved by his supporters for pulling millions out of poverty during his two terms in office, he is loathed by many for promoting a type of crony capitalism that fostered corruption and squandered wealth.
In a New York Times op-ed published Tuesday, he wrote that "millions of Brazilians understand" that he's been jailed for political reasons and not for corruption. And yet, Lula was only one of 134 people who were sentenced to jail time totaling 1,983 years as part of the sweeping anti-corruption campaign dubbed car wash.
Just how towering and controversial a figure Lula is in Brazilian politics became evident in the run-up to last week's first televised presidential debate. For days the media, candidates and legal experts engaged in a heated discussion on whether he should have the right to an empty chair with a name tag -- a request that was eventually denied.
Speaking on Tuesday afternoon in Brasilia, Haddad told an audience of businessmen that the Workers' Party was banking on Lula leading Brazil out of crisis. "We want to return to the good times," he said
For the time being, though, the Workers' Party will continue to bet all its chips on its jailed leader.
"If they pull Lula out of the race, it'll be through a lot of violence," the party's chief, Senator Gleisi Hoffmann, told reporters in Sao Paulo on Monday. "That would be an illegitimate election."
The strategy is for the party to ride on the coattails of Lula's popularity as long as possible and continue portraying him as victim of political persecution, said Brasilia-based political scientist Thiago Aragao.
"There's consensus within the party that Lula won't run but a large part of its narrative is to rebel the injustice against Lula," Aragao said in an interview.
Organizers expect around 30,000 Lula supporters to show up for a protest Wednesday afternoon in front of the Superior Electoral Tribunal, the country's top election authority. Many of them belong to the landless peasants movement, one of the grassroots organizations that traditionally backed Lula.