U.K. Police Search Houses in Probe of Parliament Terror Attack
(Bloomberg) -- U.K. police are searching three houses in the middle of the country as part of a counter-terrorism probe into a car attack on Parliament Tuesday that left pedestrians and cyclists injured.
A 29-year-old man was arrested by armed officers after crashing into early-morning commuters and then striking barriers outside the home of the U.K. government. Three people were treated for injuries after the incident, which was similar to a deadly attack last year in central London.
"At this early stage, there is no intelligence of further danger to Londoners or the rest of the U.K. in connection with this incident," the Metropolitan Police said in an email. No other arrests have been made in the case, police said.
Two addresses in Birmingham and one in Nottingham are being searched, police said in an emailed statement. The Ford Fiesta arrived in London around midnight Monday and remained in the center of the capital until the attack, the police said.
The driver hasn't been identified, although police said he is a British national. He isn't thought to be previously known to security services, according to Neil Basu, the U.K.'s counter-terrorism police chief.
"This appears to be a deliberate act," Basu said in a televised press conference in London. "We are treating it as a terrorist incident."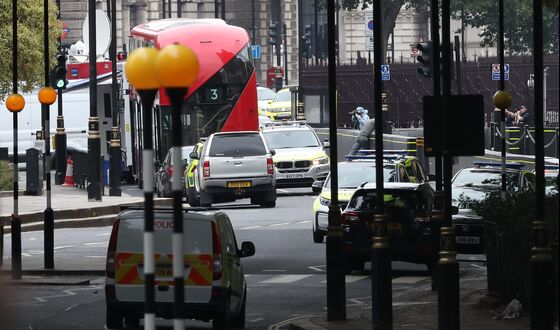 Parliament is in recess, and few lawmakers were likely to have been in the building during the 7:30 a.m. incident. The area is one of the world's major terrorist targets. In March 2017, a man drove a car through pedestrians on Westminster Bridge, before crashing into the railings and running into Parliament grounds through the gates. He killed four pedestrians and a policeman before he was shot dead.
"For the second time in as many years, the home of our democracy, which is a potent symbol of our precious values of tolerance and freedom, has witnessed terrible scenes just yards from its door," Prime Minister Theresa May said in a statement. "The threat to the United Kingdom from terrorism remains severe. I would urge the public to remain vigilant -- but also to come together and carry on as normal."
London is used to living with terrorism, and the threat level is currently at severe, the second-highest level, which means an attack is regarded to be highly likely, according to U.K. security services. The highest level -- "critical" -- is designated when a terrorist attack is expected imminently.
There were 676 active terrorism investigations as of the end of June, compared with "over 500" as of March, the prime minister's spokesman James Slack told reporters in London. Since March 2017, 13 Islamist plots and 4 far-right plots have been foiled, he said.
The attack drew a tweet from U.S. President Donald Trump, who has previously criticized London officials for not taking a hard enough line on terrorism.

Television pictures from the incident on Tuesday showed armed police surrounding a silver car that had hit heavy barriers outside St. Stephen's Gate, the main public entrance to Parliament. Its hood was crumpled and its airbags had been deployed. The police said nobody else was in the vehicle, and no weapons had been recovered.