Rift Grows in Danish Government as Pre-Election Budget Looms
(Bloomberg) -- Denmark's top economic policy makers are on a collision course as the government prepares to unveil its final budget ahead of a general election due by June of next year.
Economy Minister Simon Emil Ammitzboll is urging restraint, weeks after Finance Minister Kristian Jensen flagged that the government would drop its target of zero spending growth to meet higher demand for health care services and to invest more in the police and the military.
"We're members of a parliament in which the pressure to increase public spending is massive," Ammitzboll said in an interview in Copenhagen.
Economists are now warning that added spending could be dangerous for an economy that is starting to face bottlenecks after years of economic growth and falling unemployment.
Read more: Amber warning signs for Danish economy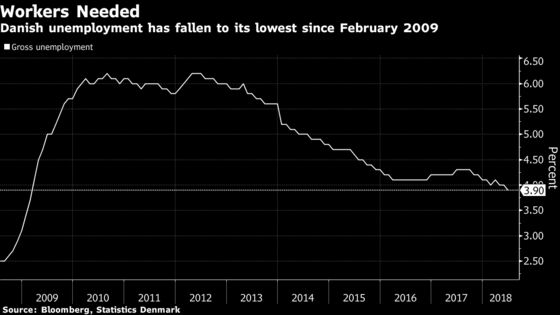 Ammitzboll takes issue with the government's failure to tackle the shortages and its decision to be less fiscally conservative.
"There's a real risk that by being too focused on more spending and by caring too little about the labor supply, Denmark will face problems in the years to come," he said.
Ammitzboll is a member of the Liberal Alliance, a small libertarian party that wants to reduce taxes.
Jensen, who belongs to the right-of-center Liberals, the biggest party in the ruling coalition, sought to address any budgetary concerns by vowing to cap spending. In a weekend interview with newspaper Berlingske, Jensen also refused to commit to tax cuts. The finance minister needs to balance competing requests from Ammitzboll's free-marketeers and from the nationalist Danish People's Party, a strong supporter of the welfare state.
The exchange comes as Denmark's political forces begin to position themselves for campaigning in a general election that Prime Minister Lars Lokke Rasmussen has to call before June 17.