Manafort Betrayal, Stone Associate in Contempt: Trump Legal Update
(Bloomberg) -- Paul Manafort stared icily at Rick Gates as his former right-hand man told a Virginia jury last week that yes, his old boss committed crimes, hid millions of dollars, and cheated the Internal Revenue Service. Gates's testimony was backed by accountants, bankers and a bookkeeper who dealt with Manafort. But Gates also had to fend off attacks on his character, admitting he was also a cheat, thief and philanderer.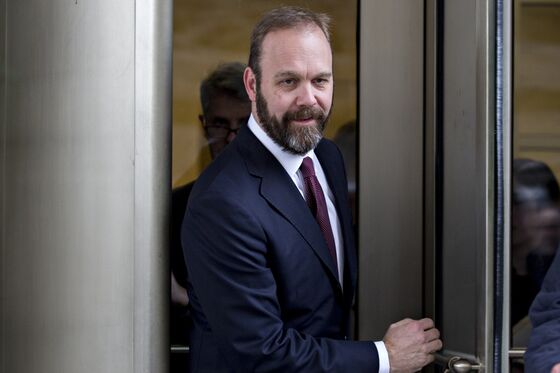 President Donald Trump continued to rage at Robert Mueller as well as at his own Attorney General, Jeff Sessions. But the special counsel carries on, bringing a former Manhattan madam before a grand jury in Washington and getting a contempt citation against a witness who refused to testify.
And Trump's legal foil, Michael Avenatti, may turn out to be the president's political foil as well.
Wrapping up at Manafort Trial
The prosecution is wrapping up its tax- and bank-fraud case against Manafort, Trump's former campaign chairman.
After the blistering pace set by U.S. District Judge T.S. Ellis III, the trial ground to a sudden halt on Friday for an unexplained reason. The judge and lawyers spent half the day huddled behind closed doors, with the trial not resuming until mid-afternoon.
The star of the trial was Gates, who was depicted by the defense as an unprincipled crook who ripped off Manafort and maybe the Trump campaign, and cheated on his wife to boot. But he also described to prosecutors how he helped Manafort hide millions of dollars that he earned from political consulting work in Ukraine in offshore accounts, and helped forge documents that made it easier for Manafort to defraud banks.
The jury heard from plenty of financial experts who backed up those claims. The professionals who helped Manafort, including his bookkeeper and tax accountant, said Manafort was the one in charge and insisted on giving final approval. The accountant said she was aware that Manafort's tax returns contained false information. Bankers testified they wouldn't have approved Manafort's loan requests had they received the correct information from him about his income and debts.
Stephen Calk, chief executive officer of Federal Savings Bank in Chicago, expedited approval of two loans for Manafort totaling $16 million as he pushed Manafort for help landing a job with the Trump administration soon after the 2016 election, a former bank employee testified.
Manafort's defense gets a chance to put its case before the jury this week, although it's not required to do so. It's unclear whether Manafort plans to testify or when jurors will begin deliberating.
Regardless of the verdict in Virginia, Manafort is due to stand trial on more charges in September in Washington. There, he's accused of money laundering, obstruction of justice and acting as an unregistered foreign agent. The D.C. judge revoked his bail and sent him to jail after prosecutors said Manafort tried to tamper with witnesses.
Here are some of recent stories on the Manafort case:
Avenatti Gets Political
Michael Avenatti has been a thorn in the president's side in court, and now he may become one on the stump. Stormy Daniels's lawyer told the Des Moines Register that he was a exploring a run for the presidency.
A harsh critic of Trump, Avenatti, the founding partner at the California law firm Eagan Avenatti LLP, spoke at the Democratic Wing Ding fundraiser on Friday in Clear Lake, Iowa. Past speakers have included former Secretary of State Hillary Clinton, Senator Bernie Sanders and then-Senator Barack Obama, who headlined in 2007 ahead of his key victory in the early caucus state.
Sunday, on ABC, Avenatti said Democrats going up against Trump "better be prepared for a cage match."
Daniels's defamation lawsuit against Trump was transferred from New York to Los Angeles, where the adult movie star whose legal name is Stephanie Clifford is already waging two court battles related to a $130,000 hush payment over her alleged fling with Trump.
Trump and Clifford on Wednesday agreed to have the case moved to federal court in Los Angeles. Only two days earlier, Avenatti had objected to Trump's request to transfer the lawsuit, which accuses the president of falsely tweeting that Clifford lied about being threatened in 2011 not to go public with the story of their alleged relationship.
The U.S. government is keeping under tight wraps millions of pages of documents in the case against Russian operative Maria Butina. The government must share evidence with Butina as part of the discovery process to help her prepare a defense. In a court filing Wednesday, the U.S. asked Judge Tanya Chutkan in Washington for a so-called protective order requiring Butina's lawyers to create a "wall" within its electronic storage facilities, and use encryption for thumb drives to prevent unauthorized access to the files. The judge granted the request.
Butina has been in U.S. custody since her July 15 arrest. The gun-rights activist is accused of working as an unregistered agent of the Kremlin. She was denied bail after prosecutors said she had ties to Russia's intelligence services and oligarchs who could offer her safe harbor. Butina pleaded not guilty. The Russian Foreign Ministry calls her a political prisoner.
The next hearing is scheduled for Sept. 10.
Here's a recent story on the Butina case:
Contempt Finding at Grand Jury
Mueller's investigation of Russia's interference in the U.S. elections veered in an unexpected direction as a former aide to Roger Stone, Trump's long-time adviser, was found in contempt of court by U.S. District Judge Beryl Howell for refusing to testify before the grand jury hearing evidence.
Andrew Miller, who did administrative work for Stone, refused to show up at the grand jury proceeding in Washington. Miller's attorney, Paul Kamenar, said he plans to appeal the contempt order, which was put on hold until the appeal is resolved.
Talks remain under way between Mueller's prosecutors and Trump's lawyers over a potential interview with the president. Trump's team say at least two topics remain off the table: the firing of FBI director James Comey and Trump's comments to Comey about his investigation of Michael Flynn. Lawyer Rudy Giuliani said in an interview Thursday that Trump's advisers think Mueller wouldn't believe the president and would side with Comey. Mueller and Comey worked together at the FBI, and both are former directors of the bureau.
Trump continues to rail against the probe while vacationing at his golf club in Bedminster, New Jersey. And he had a warning that something may be in the offing -- without providing specifics. The president is expected to return to Washington on Monday.
The special counsel's team has now indicted more than 30 people and three Russian companies, and secured five guilty pleas -- with several of Trump's former associates also agreeing to cooperate.
Here are some of recent stories on Mueller's investigation:
The president's Trump International Hotel in Manhattan had a 13 percent surge in revenue from room rentals during the first three months of 2018, thanks to housing some of the associates of the Crown Prince of Saudi Arabia, the Washington Post reported, citing a May 15 letter from general manager Prince A. Sanders that the newspaper obtained.
After the Post published the story, New York Attorney General Barbara Underwood said she was already conducting a separate investigation to see whether Trump had violated the emoluments clause of the U.S. Constitution by taking payments from foreign governments
at his New York businesses.
A lawsuit has also been brought by about 200 Democrats in Congress and another by attorneys general of Maryland and the District of Columbia. A third case, by an ethics watchdog group and restaurant competitors of the Trump Organization, is on appeal after a Manhattan federal judge tossed it out. The cases could force Trump to divest his holdings or put them in a blind trust. At a minimum, the plaintiffs will seek Trump's tax returns.
New York Governor Andrew Cuomo's administration is investigating whether Trump's charitable foundation violated state tax laws, said a person familiar with the probe. That could complicate a separate civil lawsuit against the foundation if it results in a criminal referral to Underwood's office.
The state sued to dissolve Trump's charitable foundation, claiming it persistently broke state and federal laws through improper political activity and self-dealing.
Here's a recent story on the foundation lawsuit:
Trump's former national security adviser, Michael Flynn, who was fired for lying to the FBI and the vice president about his contacts with Russians, is a key cooperating witness in Mueller's probe. He's awaiting sentencing. A judge asked to be updated on the status of his case by Aug. 24.
Former Trump campaign advisers Gates and George Papadopoulos also pleaded guilty to lying to the FBI.
Here are some of recent stories on Flynn:
The U.S. judge overseeing Mueller's criminal case against Russians accused of interfering in the 2016 election agreed to appoint an independent lawyer to review pretrial evidence for possible national security issues before giving it to a Kremlin-linked defendant.
U.S. District Judge Dabney Friedrich in Washington approved a request to appoint a so-called firewall counsel before the government provides evidence to Yevgeny Prigozhin, a longtime associate of Russian President Vladimir Putin. Prigozhin's firm, Concord Management and Consulting LLC, was also indicted.
Mueller's team had argued that if Prigozhin gains access to "sensitive" evidence, he could use it to thwart U.S. efforts to "prevent his continuing criminal activity in Russia and elsewhere" outside the U.S.
The company is among several businesses and 13 people charged in February for engaging in a years-long, multimillion-dollar conspiracy to undermine Hillary Clinton as the Democratic presidential candidate. Pretrial motions are due by Aug. 31.
Here's a story on the Concord case:
The Manafort cases are U.S. v. Manafort, 17-cr-201, U.S. District Court, District of Columbia (Washington), and 18-cr-83, U.S. District Court, Eastern District of Virginia (Alexandria).
The Butina case is U.S. v. Butina, 18-cr-00218, U.S. District Court, District of Columbia (Washington).
The Cohen case is In the Matter of Search Warrants Executed on April 9, 2018, 18-mj-3161, Southern District of New York (Manhattan).
The Russian GRU hackers case is U.S. v. Netyksho, 18-cr-215, U.S. District Court, District of Columbia (Washington).
The hacking indictment is U.S. v. Concord Management, 18-cr-00032, U.S. District Court, District of Columbia (Washington). The DNC case is Democratic National Committee v. the Russian Federation, 18-cv-3501, U.S. District Court, Southern District of New York (Manhattan).
The Clifford cases are Clifford v. Trump, 18-cv-2217, U.S. District Court, Central District of California (Los Angeles); Clifford v. Trump, 18-cv-3842, U.S. District Court, Southern District of New York (Manhattan); and Clifford v. Davidson, 18-cv-5052, U.S. District Court, Central District of California (Los Angeles).
The Playmate case is Bechard v. Broidy, BC712913, California Superior Court, Los Angeles County (Los Angeles).
The Denson case: Denson v. Trump, 18-cv-2690, U.S. District Court, Southern District of New York (Manhattan).
The Flynn case is U.S. v. Flynn, 17-cr-232, U.S. District Court, District of Columbia (Washington).
The Apprentice case is Zervos v. Trump, 150522/2017, New York Supreme Court, New York County.
The emoluments cases are Blumenthal v. Trump, 17-cv-1154, U.S. District Court, District of Columbia (Washington); District of Columbia v. Trump, 17-cv-1596, U.S. District Court, District of Maryland (Greenbelt); Citizens for Responsibility and Ethics in Washington v. Trump, 17-cv-00458, Second U.S. Circuit Court of Appeals (Manhattan).
The Trump Foundation case is People of the State of New York v. Trump, 451130/2018, New York Supreme Court, New York County.
The driver's case is Cintron v. Trump Organization LLC, 653424/2018, Supreme Court, State of New York (Manhattan).