White Nationalist Rally Winds Down Before It Begins as Rain Falls
(Bloomberg) -- It was basically all over before it began as a few dozen white nationalists rallied in Washington Sunday afternoon under rainy skies.
Police separated the group from a much larger contingent of anti-racism demonstrators to prevent a melee like the one a year ago in Charlottesville, Virginia, that cast a shadow over Donald Trump's presidency. No arrests were reported.
Permits for Sunday's "Unite the Right 2" rally indicated that about 400 demonstrators were expected in Lafayette Square, a park adjacent to the White House. But the group was a fraction of that, far outnumbered by police and media. Organizers said some missed the train taking them downtown as a group, while others didn't participate because they were afraid of the public shaming that many of last year's protesters faced after the fact. A soaking thunderstorm didn't help either.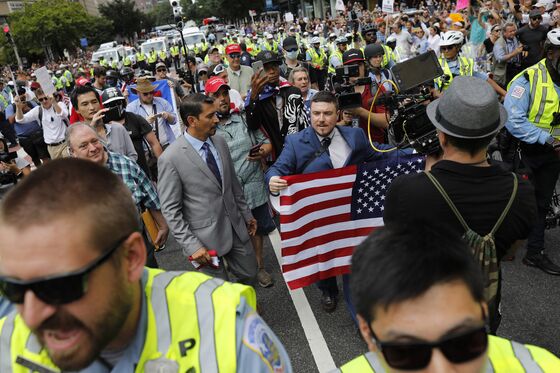 As they arrived, the protesters, including some who covered their faces, carried U.S. flags and held signs with slogans such as "White Lives Matter." A few wore Trump's signature "Make America Great Again" red baseball caps.
Counter-protesters gathered at various downtown locations in a predominantly Democratic city that until recent years was majority black. Many went to the same park as the white nationalists, while others rallied in a plaza near the Trump International Hotel.
When a few dozen people from the Unite the Right rally arrived, counter-protesters yelled "Shame! Shame!" and "Nazis Go Home!"
Many anti-racism activists began the afternoon at Freedom Plaza, blocks from the White House. They rallied before the white nationalists arrived with a series of speeches, poems, music and criticism of Trump. There were signs with messages like "Unite Against Hate" and "Racist-in-Chief."
"We consider this to be a very powerful showing of opposition in Washington, D.C., and in the country by a vary multiracial and large group of people to reject the message of hatred and racism," said Brian Becker, national director of the Answer Coalition, which organized the counter-protests in Lafayette Square.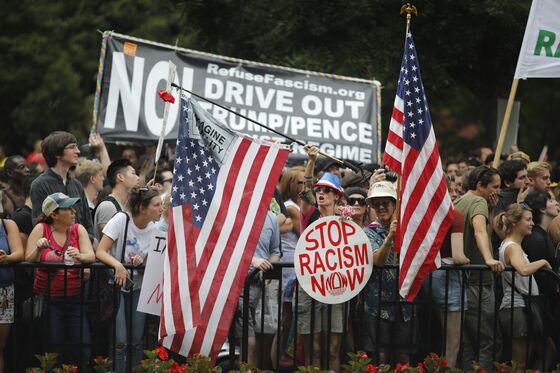 Kim Sienkiewicz, 51, a reading specialist from Bethesda, Maryland, said she bought her family Black Lives Matter t-shirts, which they wore to the rally, last year after Trump's election.
"I'm here because I deplore racism," said Sienkiewicz. "The racism and fascism we see on the rise now has always been here, but this president has made them think it's okay. We need to drive this back into the shadows."
Jason Kessler, organizer of the white-rights protest and the 2017 event in Charlottesville, described the counter-protesters as intolerant.
"This is a pretty moderate demonstration," Kessler said of the nationalists who joined him. "Is this racism epidemic a real thing or is it made up to control people?"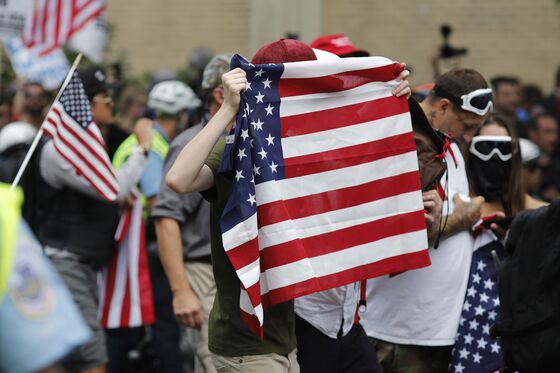 In August 2017, white supremacist demonstrators and counter-protesters squared off in violent clashes in Charlottesville, site of the University of Virginia. The conflict culminated in the death of Heather Heyer, 32, when James Alex Fields Jr., whose social media accounts included posts espousing white supremacy, purposely drove his car into a crowd of counter-protesters.
Marking the anniversary on Saturday, Trump condemned "all types of racism and acts of violence." He was criticized in 2017 for equating the actions of white nationalists with those who came out to protest them.
"I think there is blame on both sides," Trump said during a press conference in the lobby of Trump Tower in New York a year ago. He added that the white nationalist protesters in Charlottesville included "some very fine people."
Criticism came from within the administration, including from Gary Cohn, at the time the president's economic adviser. Some Republican lawmakers also pushed back, although initial statements by House Speaker Paul Ryan and Senate Majority Leader Mitch McConnell didn't mention Trump by name.
The president is at his Bedminster, New Jersey, golf course, and is scheduled to return to Washington on Monday. "The riots in Charlottesville a year ago resulted in senseless death and division," Trump said Saturday on Twitter. "We must come together as a nation."
Coinciding with Sunday's rally was a television appearance by Omarosa Manigault-Newman, the former Trump aide who's accused the president of being a racist and using racial epithets on the set of his former reality TV show.
White House officials pushed back against Omarosa's comments, though senior Trump counselor Kellyanne Conway struggled on Sunday during an ABC interview to name a black person working in the West Wing after the departure of the former "Apprentice" contestant.
Preparations were in the works for Sunday's event for months between law local enforcement agencies, U.S. Park Police and the U.S. Secret Service. Police closed many streets in downtown Washington and cordoned off sections of Lafayette Square to separate the opposing demonstrators.
Police said they were enforcing a complete ban on firearms in and around the demonstration areas on Sunday, even for people with permits from other localities to carry concealed weapons.
Sunday's gatherings were always expected to be tiny by Washington standards. The 2017 Women's March, held the day after Trump's inauguration, drew an estimated 500,000 to 1.5 million people. Events in the nation's capital over the years focused on civil rights, LGBT rights, abortion, ending the Vietnam War and other issues have drawn crowds well into the hundreds of thousands.
Americans say racial tensions are getting worse. In a CBS News poll by YouGov, 61 percent said tensions had increased during the past year. The survey also found that 58 percent disapproved of Trump's handling of racial issues. The survey, conducted Aug. 8 to 10, included 2,238 adults and had a margin of error of 2.5 percent.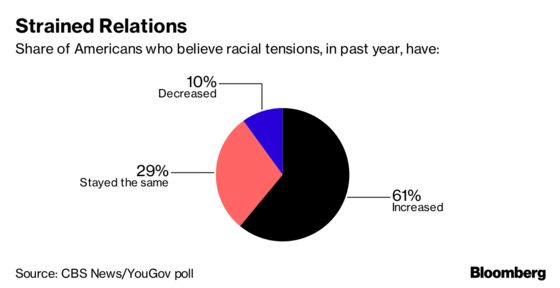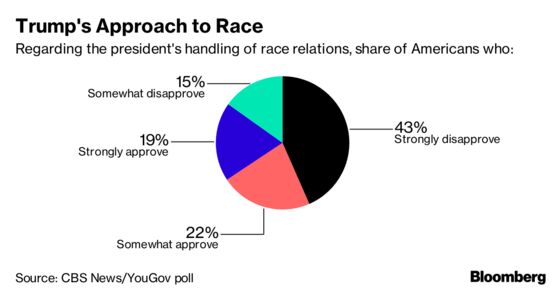 Sunday's events came less than three months before midterm elections to determine whether Republicans maintain their majority in Congress. Democrats and independents are defending 25 seats in the Senate, compared to eight for Republicans, and need to win an additional net 23 seats to take over the House of Representatives.
The president's approval rating remains high among Republican voters, leaving most members of his party in Congress loathe to publicly criticize him.
Polls and recent primary races show Democrats outperforming expectations heading into the final months of the campaign.