Omarosa Gets Rebuke Over Secret Tape Made of White House Meeting
(Bloomberg) -- President Donald Trump is "truly a racist," and a "con" when it comes to diversity, said former White House aide Omarosa Manigault-Newman, days before the publication of a tell-all book about the first year of Trump's administration.
The former reality TV villain also revealed that she made a secret tape of her firing by Trump's Chief of Staff John Kelly in 2017, drawing a rebuke from the White House as administration officials move aggressively to counter claims in the book.
In "Unhinged: An Insider's Account of the Trump White House," Manigault-Newman, who typically goes by Omarosa, accuses the president of having used racial slurs years ago on the set of "The Apprentice" reality TV show, the Guardian newspaper reported, citing an excerpt of the book ahead of Tuesday's release.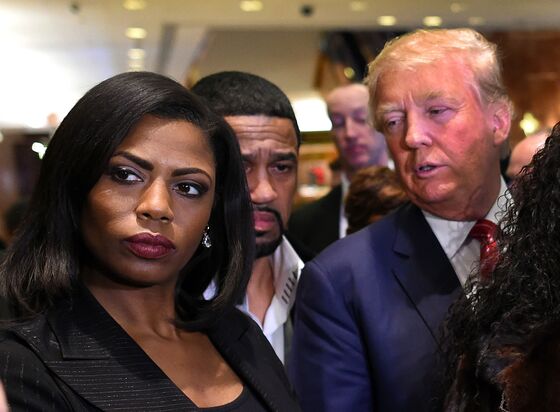 On NBC's "Meet the Press" on Sunday, Omarosa said Trump had never made such comments in her presence but that she'd "heard his voice" on tape "as clear as you and I are sitting here."
A year after violent white nationalist protests in Charlottesville, Virginia, Omarosa said she felt "complicit with this White House deceiving the nation" after going on TV to defend Trump's response to the events at the time.
"You don't know that you're in that situation until it just keeps bubbling and bubbling," she added.
"I wanted to see the best in him," Omarosa said of the president's post-Charlottesville equivocation between the actions of white supremacists and those who opposed them. "He should have been denouncing what we saw as clearly racist Nazis."
Trump "has been masquerading as someone who is actually open to engaging with diverse communities, but when he talks that way -- the way he did on this tape -- it confirmed that he is truly a racist," she said.
Trump adviser Kellyanne Conway said on ABC's "This Week" program that Omarosa has undercut her credibility by previously giving glowing endorsements of Trump, and contradicting herself over whether she was fired or resigned.
"I have never a single time heard him use a racial slur about anyone," Conway said of Trump. "And I also never heard Omarosa complain that he had done that. And so the only thing that's changed is that she's now selling books."
Manigault-Newman, 44, gained renown on the first, highest-rated season of Trump's reality show "The Apprentice" plus two of its spin-offs.
After Trump's election she served as director of communications for the White House Office of Public Liaison, which leads outreach to interest groups, and was one of few blacks in the executive branch. "I was the only African American at the table," she said. "People are making decisions about us, without us."
Omarosa's departure from the White House was publicly described as mutual, but administration officials indicated at the time that she was asked to leave by Kelly. On Sunday, Omarosa released a tape she secretly made of her firing in the White House Situation Room, in which Kelly describes "significant integrity issues."
Kelly's comment that a "friendly departure" meant she could "go on without any type of difficulty in the future relative to your reputation" felt like a threat, she said.
Press Secretary Sarah Huckabee Sanders said the episode proves the former aide's "lack of character and integrity."
The idea Omarosa "would sneak a recording device into the White House Situation Room shows a blatant disregard for our national security," she said in an emailed statement.
On Friday, Sanders termed Omarosa's forthcoming book "riddled with lies."
Trump went further on Saturday, calling the former aide a "low-life" when he met with bikers at his Bedminster, New Jersey, golf course. Omarosa married her second husband in 2017 in the ballroom of Trump's luxury Washington hotel.