Turkish Meltdown a Test for Global Leaders: Balance of Power
If world leaders managed to switch off at all this summer, they are probably switched on again thanks to the turmoil in Turkey.

The lira just posted its worst weekly decline since 2008, raising the prospect of political upheaval in a nation with a key role in several of the world's biggest challenges.

President Recep Tayyip Erdogan told his people to trust in God as their currency tumbled.

European leaders' biggest concern may be for the 2016 deal which saw Turkey stop the flow of refugees into the EU. There are still more than 3 million Syrians in Turkey and reopening the routes into Europe would cause serious problems for German Chancellor Angela Merkel & co.

Vladimir Putin might welcome the prospect of further divisions within NATO, but the Russian leader will be worried about Moscow getting caught up in a wider destabilization of emerging markets. The ruble is already trading at a two-year low following the imposition of fresh U.S. sanctions.

Donald Trump tends to get along with strongmen. But his relationship with Erdogan has soured, particularly after the arrest of pastor Andrew Brunson started riling up his evangelical base.

All the same, the U.S. president probably didn't mean to trigger a run on the lira with his threat of sanctions. But now the genie's out of the bottle.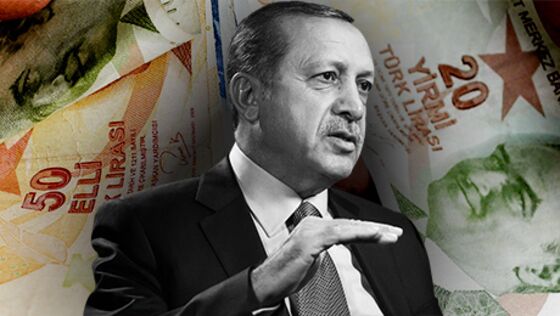 Cease-fire promise | After a four-month buildup of tensions along the Gaza border, Israel and Hamas have veered from confrontation to calm in the fiercest exchange of fire since their 2014 war. Behind the scenes, mediators from Egypt and the United Nations are working to defuse the brewing confrontation. As the talks continue, the casualties have piled up — three Palestinians, including a baby, were killed in Israeli strikes yesterday and seven Israelis were wounded in Hamas rocket attacks.
Outside the box | Facing the barrage of Trump's tariffs, some businesses are ducking for cover in the trade-war version of a demilitarized zone. Andrew Mayeda and Mark Niquette take a closer look at trade zones — areas where goods can be imported with reduced duties — and other creative tools companies are using to avoid levies.
Sanctions proofing | Putin's efforts to insulate Russia against past U.S. sanctions mean the economy is better prepared to weather the new penalties that are rattling the ruble and stocks, Anna Andrianova reports. Still, the restrictions on access to foreign technology and capital make it harder for Putin to reach his goal of lifting growth above the global average to achieve a breakthrough in living standards.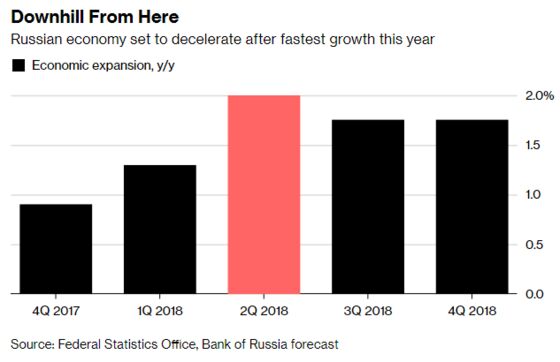 Back channeling | The Trump administration is privately trying to convince Saudi Arabia to dial back hostilities with Canada even as the U.S. maintains a hands-off public approach to the escalating dispute between the two allies. U.S. officials believe Crown Prince Mohammad bin Salman thinks he has license from the U.S. to confront Canada, exploiting trade tension between Washington and Ottawa that emerged at the end of a Group of Seven summit in June.
Border crisis | The same day Trump ordered an end to his practice of separating children from parents illegally crossing the Mexican border, a Salvadoran woman named Raquel arrived in Texas with her two sons. Officials took her children, asserting that she's part of MS-13, the violent gang whose members the president has called "animals." Jennifer Epstein spoke to Raquel — who denies gang involvement — about her fight to reclaim her kids.
What to Watch
- U.S. officials are scrambling after a federal judge ordered U.S. Attorney General Jeff Sessions and Secretary of Homeland Security Kirstjen Nielsen to personally appear before him if the government fails to return a mother and daughter deported to El Salvador.
- Trump's lawyers negotiating with Special Counsel Robert Mueller over a presidential interview are insisting at least two topics remain off limits.
- This weekend marks the one-year anniversary of the deadly alt-right protests in Charlottesville. Demonstrations are planned for Sunday in Washington.
And finally … A billion-dollar cryptocurrency fraud that began in the Indian state of Gujarat has spread all the way to Texas, involving alleged tax evaders, kidnappings and a fugitive politician. If proven, the bitcoin-based Ponzi scheme could exceed the South Asian nation's largest banking scandal. And it's all happening in Prime Minister Narendra Modi's home state, where his decision to ban 86 percent of India's cash back in 2016 may have encouraged the country's infamous illegal money hoarders to become more tech savvy.