Manafort Used Fake Data to Seek $5 Million Loan, Jurors Told
(Bloomberg) -- After watching the betrayal of Paul Manafort this week by his right-hand man, jurors heard drier testimony Thursday that Manafort lied repeatedly about his finances to bankers while seeking real estate loans.
Through those lies about his income, assets and debt he managed to secure bigger loans than he would have otherwise, jurors were told. They saw documents, for example, showing that he inflated income and concealed debt in seeking a $5 million real-estate loan from the Banc of California.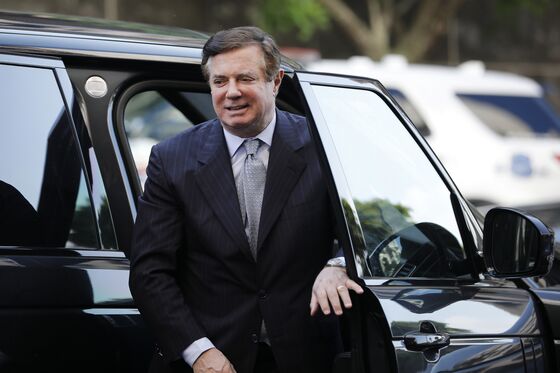 Manafort filed for that loan in March 2016 with his former son-in-law Jeffrey Yohai to buy and rehabilitate homes in Los Angeles, according to a banker called as a witness by U.S. Special Counsel Robert Mueller's prosecutors. Manafort gave the bank a document that said his political consulting income in 2015 was $4.4 million, but other witnesses testified earlier that it was forged and his actual income was closer to $400,000.
He eventually got a $1 million loan, but banker Gary Seferian said even that wouldn't have been approved had they known Manafort submitted a false profit-and-loss statement.
"I would have stopped the application and spoken to my legal department about it,'' said Seferian, near the end of the trial's eighth day in federal court in Alexandria, Virginia.
Manafort, President Donald Trump's former campaign chairman, is accused of bank fraud and tax crimes. Prosecutors say they expect to conclude their case after four more witnesses on Friday. It's not clear whether Manafort, 69, will put on a defense. He's not required to do so.
Earlier on Thursday, jurors heard from Citizens Bank employees about a $3.4 million loan they granted days before Manafort sought money from the Banc of California. Prosecutors say Manafort lied to Citizens Bank about his income and debt in borrowing against a condominium in New York's Soho neighborhood.
Manafort told the bank the condo was a second residence, but didn't disclose that his family rented it out through Airbnb. Had the bank known that, Manafort would have been eligible to borrow far less money, a bank employee testified. Prosecutors stressed that Manafort said on his 2015 and 2016 tax returns that he rented out the property 365 days a year.
Jurors also heard about one of Manafort's shell companies forgiving a purported $1.5 million loan to his consulting firm, which greatly improved his financial picture. The panel previously heard from an accountant who blessed the loan forgiveness letter despite believing it was false. The accountant, who testified with a grant of immunity because she feared prosecution, was fired by her firm after she appeared.
Assistant U.S. Attorney Uzo Asonye questioned Seferian about how the bank analyzed Manafort's assets and liabilities statement. Manafort said his estate in Bridgehampton, New York, was worth $25 million, but the banker said he discounted it because it was in the name of Manafort's wife.
Manafort never listed the $3.4 million Citizens Bank loan on his initial loan application at Banc of California. Seferian said the bank would have wanted to know about it.
In analyzing the loan, Seferian wrote in May 2016: "Jeffrey Yohai has no experience in the Beverly Hills market with flipping or rehabbing very expensive houses.'' He also said that Yohai offered "very weak financial support.''
A $5 million loan was out of the question, a $2 million loan was "too rich,'' but the bank concluded that Manafort could repay $1 million, Seferian said. Manafort received the loan in mid-May 2016, about two weeks before becoming Trump's campaign chairman.
Yohai pleaded guilty in a fraud investigation and is cooperating with government investigators, according to a person familiar with the probe.
And although U.S. District Judge T.S. Ellis III set down rules prohibiting almost any mention of Manafort's role in the Trump campaign, that crept into the trial nevertheless.
Defense attorney Kevin Downing asked Manafort's former right-hand man Rick Gates on Aug. 7: "In terms of your cooperation with the Office of Special Counsel after you took your plea, did you have occasion to be interviewed by other members of the Office of Special Counsel about the Trump campaign?"
Ellis and the lawyer then conferred at the bench, out of earshot of jurors and courtroom spectators. Ellis sealed that portion of a trial transcript. In his order, Ellis said it'll stay sealed "until the relevant aspect of the investigation is revealed publicly, if that were to occur."
The case is U.S. v. Manafort 18-cr-83, U.S. District Court, Eastern District of Virginia (Alexandria).