Trump's Lawyers Say Questions on Flynn, Firing Comey Off-Limits
(Bloomberg) -- As Donald Trump's lawyers continue negotiating with Robert Mueller over a presidential interview, they say at least two topics remain off the table: the firing of FBI director James Comey and Trump's comments to Comey about his investigation of Michael Flynn.
If asked, the president would tell the special counsel that he didn't urge Comey to stop investigating Flynn, his former national security adviser, and didn't fire Comey to cut off his investigation into Russian interference in the 2016 campaign, Rudy Giuliani said in an interview Thursday.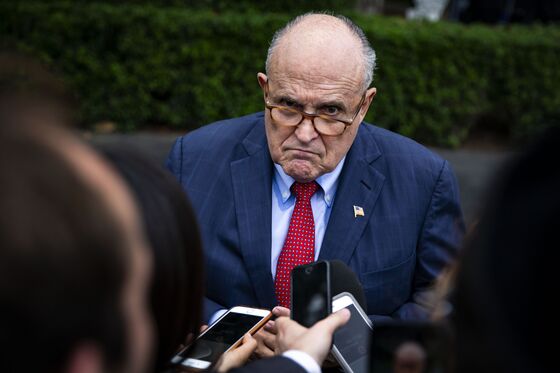 But the president's personal lawyer said Trump's advisers think Mueller wouldn't believe him and would side instead with Comey. Mueller and Comey worked together at the FBI, and both are former directors of the bureau.
Both questions about whether Trump sought to obstruct justice in the Russia probe pose the same risk, Giuliani said: that Mueller could send a report to Congress concluding Trump had lied. That, Giuliani said, could lead to Trump's impeachment if Democrats win control of the House of Representatives in the November elections.
"They know the answers to that," Giuliani said of the obstruction questions. "Why are they seeking him to repeat it? The only reason we can surmise is they want to set up a contradiction between him and Comey, and their selection would be Comey as the person telling the truth."
Trump's lawyers sent a letter to Mueller on Wednesday with a counter-proposal to terms for an interview that Mueller submitted to them last week, as the two sides near the final stages of more than seven months of negotiations over the scope of such an encounter. The latest proposal from the Trump team is close to a final offer, and there's little room left for compromise, Giuliani said.
If Mueller refuses the restrictions sought by Trump's advisers, the special counsel could seek a subpoena for Trump to testify before a grand jury. That could trigger a protracted constitutional fight that could go to the Supreme Court.
Giuliani said Trump was involved in formulating the strategy behind the latest letter and is up to speed on its contents. He said he may go to the president's golf estate in Bedminster, New Jersey, to discuss the issue with him further. Trump hasn't begun preparing for a possible interview and won't until a final decision is reached, Giuliani said.
The interview prep could last several hours a day for about seven to 10 days, he said. Unless the two sides are able to reach an agreement within days, that timing raises questions about Giuliani's public insistence that Mueller wrap up his probe and issue a public report by early September to avoid taking action any closer to the November election.
On the question of whether Trump fired Comey to obstruct the Russia investigation, Giuliani said Mueller can get his answer from Trump's interview with NBC News anchor Lester Holt. While Trump brought up the Russia probe as a reason in that interview, as has been frequently noted, his lawyers are focusing instead on a comment later that he knew that ousting Comey would only prolong the investigation.
Still, Giuliani said he wouldn't be willing to give that same answer to Mueller, even in writing, unless there was an assurance that it wouldn't be used to charge Trump with lying.
Flynn was forced out by Trump in February 2017 for misrepresenting discussions he had with the Russian ambassador to the U.S. He later pleaded guilty to lying to the FBI and has been cooperating with Mueller's investigation.
Comey wrote in a memo at the time, and later testified to Congress, that in a private Oval Office meeting Trump told him "I hope you can see your way clear to letting this go, to letting Flynn go. He is a good guy. I hope you can let this go."
Trump has denied saying that, though he has never given his account of what happened in that meeting with Comey.
"We could tell him to lie and he would be better off lying because we can argue that it wasn't a crime" to tell Comey to drop the Flynn investigation. "But it isn't true. Things are a lot more complicated than just go in and tell the truth."
In a typical investigation where two people give differing statements, prosecutors try to find additional witnesses or evidence, such as emails or notes. If they feel there's enough evidence to prove one side was lying they will charge the person with making false statements to federal investigators.
In the dispute concerning Flynn, the memo Comey wrote at the time could provide such evidence, as could anyone else he told about the Oval Office encounter shortly after it happened.
Current Justice Department guidance says that a sitting president can't be indicted, but rather should be referred to Congress for impeachment, though those guidelines aren't necessarily binding. Giuliani has said Mueller's team indicated they would follow the current guidelines, so any wrongdoing they find would be sent to Congress rather than playing out in court.
Mueller has made no public comment on any subject since he was appointed by Deputy Attorney General Rod Rosenstein in May 2017, after Trump fired Comey.