Ukraine's Dwindling Coffers Are Making Central Bankers Fret
(Bloomberg) -- Ukraine's government coffers are running low and the central bank is worried.
The Finance Ministry's account for paying pensions and public-sector salaries has plunged to its lowest in more than four years as budget revenue fails to meet the plan. Deficit goals remain intact and financing should be on the way from Eurobond sales and foreign aid. But help won't arrive until differences with the International Monetary Fund are settled.
"There's no problem with the budget gap -- there's a problem with liquidity," central bank Deputy Governor Dmytro Sologub said in an interview. "The deficit may not exceed the target, but there'll be a shortfall and the government will need money to cover it. The problem is that there are very few sources of financing available."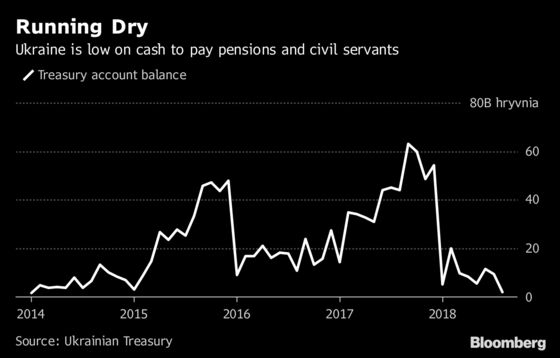 The answer lies in resuming Ukraine's $17.5 billion bailout, sealed in the wake of its second pro-European revolution in a decade. While the next $1.9 billion tranche, once approved, will all end up in foreign reserves, an agreement with the Washington-based lender would unlock other aid and allow the government to sell debt abroad.
Acting Finance Minister Oksana Markarova told Bloomberg last month that a deal on the latest disbursement, postponed for more than a year over reform hold-ups, is "very close." And there's no immediate risk to Ukraine's solvency. There's the equivalent of 20.9 billion hryvnia ($770 million) in FX accounts, according to Markarova, who says "all payments are being made on time." Reserves, while dipping last month, are almost $18 billion. Gross domestic product is growing.
The economy "is doing relatively well and recovering," according to Tomas Fiala, chief executive officer of investment bank Dragon Capital in Kiev. But he said in an interview that the recent deterioration in liquidity has become a concern. "We'd want to see this resolved as soon as possible."
The Finance Ministry raised more than 12 billion hryvnia this month at two debt auctions and still plans to receive dividend payments from state-owned energy company Naftogaz as well as profits from the central bank. "Liquidity overall is enough to finance the country's needs and nothing is under threat," the ministry said in an emailed response to Bloomberg questions.
The treasury-account balance had dwindled to 2 billion hryvnia on Aug. 1, a level not seen since ex-President Viktor Yanukovych's regime crumbled. As well as the costly military conflict with Russian-backed insurgents, privatization revenue hasn't materialized, tax receipts are lagging and hryvnia strength lowered proceeds from customs duties.
The currency recently lost its crown as the world's best performer this year. Further IMF delays would risk it succumbing to the chaos afflicting other emerging markets and derail plans to sell as much as $2 billion of foreign debt.
"Even if we have the IMF's help, little time remains by year-end," Oleg Churiy, another deputy central bank governor, said in the same interview. "If there are any market fluctuations in that period, it will be very difficult to raise money."
Sologub is also optimistic on the chances of getting the IMF disbursement this year. But he has a warning.
"The central bank has a very tough position," he said. "It won't finance the budget gap."