Russia Blasts New U.S. Sanctions Plan as Ruble Slides
(Bloomberg) -- Russia threatened to retaliate for a new round of sanctions announced by the U.S., as the ruble slid amid the spiraling tensions between the Cold War rivals.
The U.S. said it was imposing the new restrictions to punish President Vladimir Putin's government for the March 4 nerve-agent attack on former spy Sergei Skripal and his daughter in the U.K.
The moves came just days after a bipartisan group of senators proposed a law mandating "crushing sanctions" -- including on purchase of new sovereign debt and on big state banks -- to punish Russia for election interference.
The threatened measures spooked investors, driving the ruble to the lowest levels since 2016, though it later made up some of the drop. Stocks like Aeroflot and VTB, which could be targeted by some of the new restrictions, fell more than 7 percent but recovered most of their losses.
"It's hard to tell the extent of the sell-off," said Viktor Szabo, a money manager at Aberdeen Standard in London. "The question is whether these sanctions will reach key energy and financial names and also the sovereign. All of these are mentioned in at least one of the draft bills and add the August low liquidity environment, which amplifies the market moves."
After last month's summit in Helsinki, where President Donald Trump was widely criticized for failing to call Putin to account over the election meddling, the U.S. administration is under pressure to take tougher steps against Russia, even as Trump himself has called for closer ties. For Putin, a meeting that seemed a triumph is increasingly looking like a liability as hopes of rapprochement with Washington are put off.
"Such measures are absolutely unfriendly and can hardly be associated with the constructive -- difficult but constructive -- atmosphere at the last meeting of the two presidents," Kremlin spokesman Dmitry Peskov said on a conference call.
The latest U.S. restrictions are required under the 1991 Chemical and Biological Weapons Control and Warfare Elimination Act, which mandates punishment of countries that use chemical weapons in violation of international law. The first wave of new sanctions is to take effect Aug. 22. More sweeping measures could come 90 days later.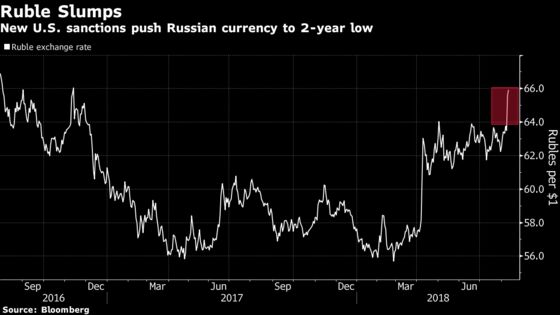 The initial round of these sanctions will limit exports to Russia of U.S. goods and technology considered sensitive on national security grounds, including electronics, lasers and some specialized oil and gas production technologies, according to a State Department official who briefed reporters on condition of anonymity Thursday. The official said the action could block hundreds of millions of dollars in exports. Waivers will be allowed for space-flight activities and U.S. foreign assistance.
Russia's response was defiant but stopped short of specific measures pending more details on the U.S. plans. Officials said Russia may respond by imposing restrictions on trade with the U.S. under a law passed earlier this year in response to an earlier wave of penalties. That could include cutting off supplies of rocket engines needed for U.S. space launches, one official said, as well as aviation.
"The law allows the government to take retaliatory measures that are appropriate to the sanctions pressure," said Dmitry Mezentsev, chairman of the economic policy committee in the upper house of parliament. "The Russian economy is big and stable enough that we aren't scared by steps like this."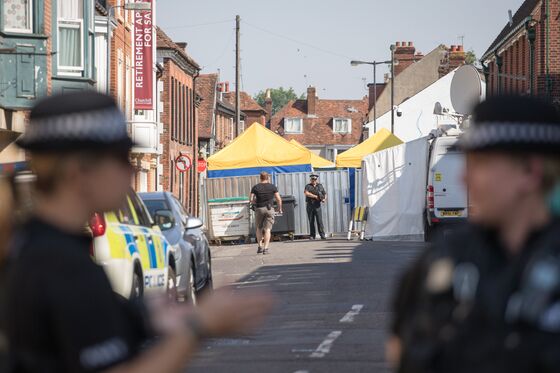 Under the 1991 law -- invoked previously only against North Korea and Syria -- a second, far more extensive round of sanctions would follow later unless Russia meets conditions including providing assurances it will no longer use chemical or biological weapons and will allow on-site inspections to verify it has stopped doing so, the official said.
Russia Thursday repeated its denials that it has the weapons or used them and held out little hope for compromise.
"Demands that are obviously unacceptable for us are being made as a condition of lifting sanctions," Russian Foreign Ministry spokeswoman Maria Zakharova told reporters in Moscow Thursday.
The added sanctions could include a downgrading in diplomatic relations, blanket bans on the import of Russian oil and exports of "all other goods and technology" aside from agricultural products, as well as limits on loans from U.S. banks. The U.S. also would have to suspend aviation agreements and oppose any multilateral development bank assistance.
The additional sanctions also could be averted if Trump declared that waiving them would be in the U.S. national interest, a politically risky move in light of criticism that he's been too soft on Russia on issues including interference in the 2016 presidential campaign.