Pakistan Will Add 60,000 Troops to Patrol Afghan Border
(Bloomberg) -- Pakistan will add as many as 60,000 troops to boost its patrols along its disputed border with Afghanistan in an effort to curb the flow of insurgents passing between the two nations, according to military officials familiar with the matter.
Forty percent of the troops have already been recruited in the exercise, which is expected to take two years, the officials said, asking not to be identified so they could discuss sensitive troop movements. About 13 percent of a fence planned along the 1,456 mile-long disputed border has also been completed, they said. The armed force's media department didn't respond to a request for comment.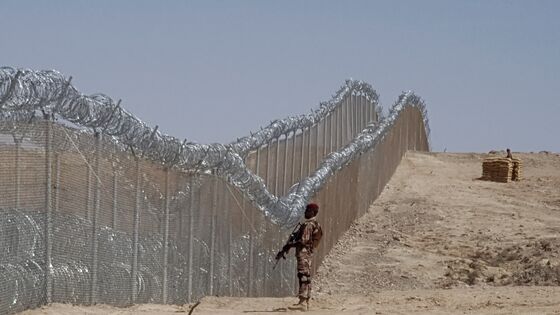 The move will consolidate Pakistan's border operations, which have been beefed-up in recent years after widespread insecurity wracked the country following the U.S. invasion of Afghanistan. Domestic terror-related violence is now at its lowest in more than a decade. The army, which has 661,000 regular and paramilitary troops, have previously been more focused on the country's eastern border with arch-rival neighbor India, with which it's fought three wars against since British India's partition in 1947. The two continue to contest the disputed region of Kashmir.
Pakistan has come under increasing pressure to act against the Afghan Taliban and the affiliated Haqqani network since President Donald Trump accused Islamabad of allowing them safe haven. In January, Trump suspended military aid to the nuclear-armed nation and accused Pakistan of giving "lies and deceit" in return for years of U.S. funding.
"I don't think this will satisfy the U.S.," said Rashid Ahmed Khan, the head of international relations at University of Central Punjab in Lahore. "It's one of the most porous borders in the world -- if one side continues to oppose it, then this can't be that effective," he said, referring to Afghan objections.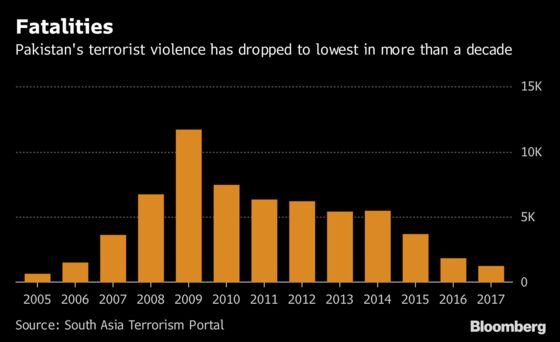 Both Pakistan and Afghanistan have denounced the other for harboring insurgents, prompting relations to drastically sour in the past year. Afghan President Ashraf Ghani has said Pakistan is waging an "undeclared war of aggression" against his nation and has threatened armed confrontation over the fence construction across the disputed Durand Line, which divided the largely ethnic Pashtun communities in the region during British colonial rule.
Pakistani officials have said the fence across the mountainous border is needed to stop the flow of militants crossing into both countries. Islamabad has often blamed Afghan nationals and refugees for bombings and attacks in Pakistan. More than 2 million refugees live in Pakistan and the government has said those camps are breeding grounds for insurgency.
The border is porous and has 235 crossing points, some frequently used by militants and drug traffickers, of which 18 can be accessed by vehicles, according to a report by the Afghanistan Analysts Network research group in October.
"It may not stop every terrorist, but it will deter them," said Ikram Sehgal, a former military officer and chairman of Pathfinder Group, Pakistan's largest private security company. "If you are serious about no encroachment, this is necessary."
However, the AAN report said the Taliban can move with ease between the two countries in the often lawless border lands and are usually waved through by Pakistan security forces. Pakistan's military has long denied supporting militant groups.
After winning last month's national election, incoming Prime Minister Imran Khan promised to work for peace in Afghanistan and told Ghani in a call after his victory that he would visit Kabul at an unspecified time.
"If there is peace in Afghanistan, there will be peace in Pakistan," said Khan in a televised victory speech from Islamabad last month.
However, there are questions as to how much influence he will have over foreign policy, which has long been the domain of the military. Pakistan's generals are accused of supporting the Afghan Taliban to counter its fears of Indian encirclement and influence in Afghanistan.
Pakistan's forces have directly ruled the nation for almost half of its 71-year history and has defined the nation's role in world affairs for decades. It continues to assert its authority on the civilian government and the run-up to the election this year was tarred by widespread allegations of military manipulation.
Analysts also see Khan as a pliant prime minister who won't challenge the army's hold over foreign and national security policies. Both Khan and the army have denied the allegations.