Manafort Dodged Taxes on $16.5 Million Jury Told: Trial Update
(Bloomberg) -- Rick Gates, the star witness in Paul Manafort's fraud trial, concluded his testimony Wednesday with high drama. After only eight minutes with defense attorney Kevin Downing, a prosecutor asked questions designed to restore his credibility in the eyes of the jury. Downing then stepped back in with a bombshell, suggesting Gates's "secret life" included multiple extramarital affairs. After Gates finished, an FBI forensic accountant and an IRS revenue agent testified about Manafort's accounts in Cyprus.
IRS Agent Says Manafort Didn't Report Income (5:35 p.m.)
Manafort failed to report a total of $16.5 million of income on his tax returns from 2010 to 2014, an Internal Revenue Service agent told jurors at the end of Wednesday's testimony. Over that period, Manafort reported almost $14 million, prosecutors say.
Revenue agent Michael Welch said he analyzed 32 foreign bank accounts associated with Manafort to determine whether he accurately reported his income from his political consulting work in Ukraine and other sources. Welch used charts to show how Manafort, 69, routed income from Cypriot accounts to pay for personal expenses such as landscaping, custom suits and home improvements on his mansion in the Hamptons.
Manafort underreported his income by $1.6 million in 2010, $1.4 million in 2011, $9.2 million in 2012, $2.9 million in 2013, and $1.3 million in 2014, according to the charts. Welch said that's a conservative estimate which doesn't include potential business expenses, such as 132,000 euros to International Yacht Collection LLC and $45,000 to a Florida dentist specializing in reconstruction.
"The money should have been reported when it was deposited into the foreign bank accounts," Welch said. "That did not occur."
Welch also said Manafort failed to disclose foreign accounts on his tax returns -- a step known as checking the box. He also said that Manafort should have filed separate reports with the Treasury Department indicating he had foreign accounts valued at more than $10,000.
At the end of the day, Prosecutor Greg Andres said that he expects eight more witnesses by Aug. 10, when the government will rest its case. U.S. District Judge T.S. Ellis III then told jurors that Manafort is presumed innocent and not required to call any witnesses, if he so chooses.
"It's sort of like poker," Ellis said. "You don't have to show your hand until you're called."
Manafort Called Offshore Accounts His, Witness Says (3:45 p.m.)
From the witness stand, Morgan Magionos, an FBI forensic accountant, read into the record email messages in which Manafort directed wire transfers from Cypriot bank accounts that he said belonged to him. With the emails, prosecutors sought to show that Manafort controlled undeclared accounts that took in money from his Ukrainian clients and sent money to the U.S. for his personal use.
Magionos also walked jurors through charts breaking down the movement of Cyprus money to specific vendors and for use in a series of New York real estate transactions.
Between 2010 and 2014, more than $15.6 million flowed from foreign accounts to Manafort vendors and the purchase of real estate in Virginia and New York, Magionos said.
"One could get lost with the movement of all these moneys," Ellis mused from the bench. Several jurors could be seen busily jotting down notes as Magionos spoke. With her direct testimony concluded, the defense now has the opportunity to question her facts and figures.
31 Cyprus Accounts Tied to Manafort (1:46 p.m.)
Magionos testified that she reviewed 31 accounts tied to Manafort in Cyprus, St. Vincent and the Grenadines and the U.K., and Manafort was listed as the beneficial owner on at least some of them.
In several instances, Manafort signed documents to open accounts, and a copy of his passport was found in the files, she said. On some accounts, the beneficial owners were listed as either Manafort, Gates or his Ukrainian translator Konstantin Kilimnik, she said.
The evidence could be crucial for prosecutors who seek to prove that Manafort controlled foreign accounts that lay at the heart of tax charges against him. Prosecutors say he failed to disclose offshore accounts and income on his tax returns and didn't report foreign accounts as required. Jurors have heard testimony that Manafort transferred money from those accounts to pay for cars, custom suits, landscaping services and other luxuries.
Magionos said she reviewed documents spanning from 2010 to 2014 from the Bank of Cyprus, Hellenic Bank, Royal Bank and HSBC Group AG accounts in the U.K.
Manafort closed his Bank of Cyprus accounts in 2013 and transferred the money directly to accounts at Hellenic Bank, Magionos said.
Before Magionos testified, the judge heard objections from Manafort attorney Richard Westling, who argued that the exhibits duplicated other evidence. Ellis questioned whether prosecutor Greg Andres could shorten his case and skip some of the evidence. Andres said it was crucial to help jurors understand the flow of Manafort's money.
"Judges should be patient," Ellis said. "They made a mistake when they confirmed me. I'm not very patient. So don't try my patience, either of you."
Jurors had previously heard testimony that several employees of a Cyprus law firm were listed as directors on accounts that paid for Manafort's lavish lifestyle. Magionos testified that she reviewed bank records obtained through a treaty request and by issuing subpoenas to Manafort's company and HSBC.
'Many Mistakes' and 'I Regret Them,' Gates Says (11:52 a.m.)
Gates finished his testimony Wednesday after admitting that his secret life of cheating on his wife was more extensive than he had indicated earlier.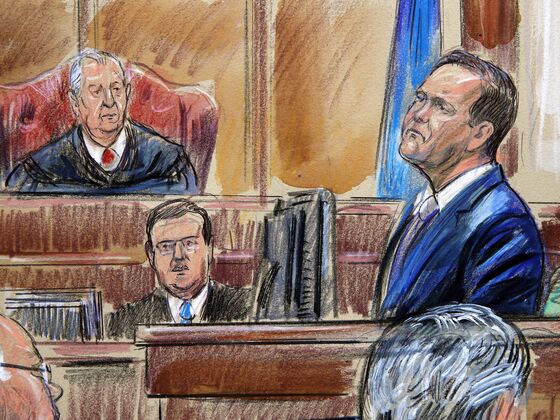 Gates, Manafort's right-hand man in the consulting business and in the Trump campaign, acknowledged Tuesday that he had an affair aided by money he stole from his boss and that he rented an apartment in London for two months. Gates said it was a mistake a decade ago that he regretted.
But on Wednesday, Downing suggested that Gates had withheld the extent of his philandering from prosecutors working for Special Counsel Robert Mueller. Downing asked Gates whether he had told prosecutors that he had four extramarital affairs.
Andres, the prosecutor, and the judge met in a sidebar conference with lawyers. The judge appeared to sustain the objection because Gates never answered the question. Downing had made his point.
Downing then asked whether Gates's "secret life" spanned the four-year period from 2010 to 2014, when he was embezzling from Manafort.
"I've made many mistakes over many years, and I regret them," Gates said.
Downing pressed again on whether that secret life covered those four years, Gates said it did.
After questioning Gates for two hours on Tuesday, Downing finished in less than 10 minutes on Wednesday. Andres sought to rehabilitate Gates with a series of rapid-fire questions about financial machinations underpinning the tax- and bank-fraud case against Manafort. He also asked Gates about his initial admission of the affair in London.
Gates said that relationship lasted five months and that he told his wife and Manafort about it. On Tuesday he had indicated that the affair lasted just two months.
"Was he supportive?" Andres asked, referring to Manafort. Gates said yes.
"Did he fire you?" Andres asked. Gates said he didn't.
Gates, who pleaded guilty and is cooperating with Mueller's prosecutors, spent less than 70 minutes on the witness stand on Wednesday.
Lying, Stealing and Cheating: The Gates Testimony (8:48 a.m.)
Gates has admitted he stole money from his former boss to pay for an extramarital affair, lied to Mueller and may have submitted false expenses to President Donald Trump's inaugural committee.
Gates, who pleaded guilty and is cooperating with Mueller's prosecutors, testified in federal court in Alexandria, Virginia, that he helped Manafort falsify documents and move millions of dollars from offshore accounts that were hidden from U.S. tax authorities.
On Tuesday, Downing mocked and belittled Gates, browbeat and embarrassed him, and branded him repeatedly as a liar unworthy of the jury's trust and respect. Gates wobbled in the first hour and appeared uncertain, but then regained his footing in the last hour of questioning.
Downing is expected to use his remaining questions to try to shred Gates's credibility and create doubt in the minds of jurors.