Gates Says He Stole, Lied and Cheated But Trust Him Anyway
(Bloomberg) -- Rick Gates, the star witness in Paul Manafort's fraud trial, admitted that he stole money from his former boss to pay for an extramarital affair, lied to Special Counsel Robert Mueller, and may have submitted false expenses to President Donald Trump's inaugural committee.
But even under two hours of withering cross-examination, Gates stuck to his basic account, insisting that he's telling the truth now about how he helped Manafort hide millions of dollars from U.S. tax authorities and lie to banks to obtain loans.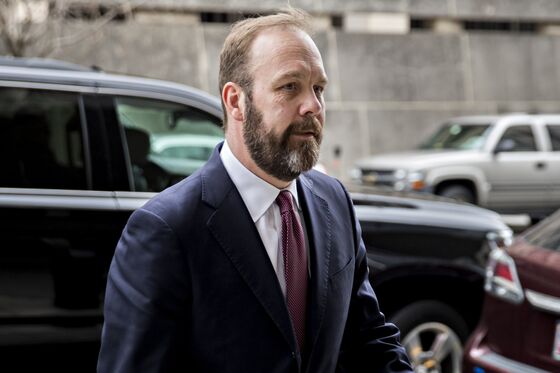 Gates, who pleaded guilty and is cooperating with Mueller's prosecutors, has testified over two days, detailing his criminal conduct in helping Manafort hide the money he made as a political consultant in Ukraine. He said he lied to Manafort's accountants and bookkeepers, used offshore accounts in Cyprus to move millions of dollars for him, and fabricated several documents to deceive banks when his boss was drowning in debt.
Manafort's lawyer Kevin Downing mocked and belittled Gates, browbeat and embarrassed him, and branded him repeatedly as a liar unworthy of the jury's trust and respect. Gates wobbled in the first hour and appeared uncertain, but he regained his footing in the last hour of questioning.
"I'm here to tell the truth,'' Gates said. "I'm taking responsibility for my actions. Mr. Manafort had the same path. I'm here. I've accepted the responsibility, and I'm trying to change.''
Downing began undermining Gates's credibility in federal court in Alexandria, Virginia, even as he faces the arduous task of overcoming a raft of emails and other documents that suggest Manafort's guilt.
Downing suggested that Gates stole $3 million through 40 wire transfers from Manafort's accounts in Cyprus. Gates admitted to stealing hundreds of thousands of dollars. He said Manafort authorized some of the transactions, although he couldn't identify which ones. The question of just how much Gates stole from the brilliant political strategist who initially hired him as an intern out of college was left unresolved.
Downing asked whether money was stolen from Manafort to pay for "the secret life of Rick Gates." Manafort's former deputy responded: "There was a time 10 years ago when I had a relationship." The married father of four said the relationship lasted two months and involved an apartment in London.
Gates denied Downing's suggestion that he used money stolen from Manafort's Cypriot accounts to pay for a trip to Las Vegas, audio equipment and groceries from a Whole Foods in Virginia. But Gates conceded that he took business trips to Las Vegas with an accused fraudster, Steven Brown, using money from Manafort's accounts in the U.S. Downing asked if Gates had submitted personal expenses to the Trump inaugural committee. "I don't recall,'' Gates replied. "It's possible.''
Downing chided Gates for refusing to use the word "embezzlement'' to describe the money he took from Manafort. Gates finally conceded: "It was embezzlement from Mr. Manafort."
Pressed by Downing and U.S. District Judge T.S. Ellis III, Gates admitted that many of the expenses weren't approved by Manafort. "I submitted expense reports over several years that were not authorized," Gates said.
Such reluctant concessions contrasted sharply with his crisp air of authority in answering friendlier questions from prosecutor Greg Andres. Before cross-examination began, Andres showed jurors an email that Manafort sent Gates in April 2015 expressing dismay at the U.S. tax bill he faced and his disappointment in his deputy for not managing the problem more effectively.
It read: "Rick, I just saw this. WTF? How could I be blindsided like this? You told me you were on top of this. We need to discuss options. This is a disaster."
The themes of trust and betrayal played beneath the surface of Downing's questions. Jurors will have to consider Manafort's claim that he was too busy shaping politics in Ukraine to pay attention to the details of paying for his lavish lifestyle. Responding to prosecutors, Gates said Manafort signed off on crimes that let him live large even as his Ukrainian work dried up and he ran out of cash.
Gates denied benefiting from the crimes he committed to help Manafort. But Downing seemed incredulous, saying Gates secretly lined his pockets and lied to Mueller. He's testifying only to save him himself from a longer prison term than the 57 to 71 months he faces under advisory guidelines, Downing suggested. But Gates insists he's now seen the light.
"I was living beyond my means,'' Gates said. "It was a difficult time. I regret it. I'm taking responsibility for it, and I'm sorry.''
Gates, who wore a navy suit, a starched white shirt, and a light blue tie, conceded that he could have faced from 50 to 100 years in prison if he hadn't made the deal with Mueller.
Prosecutors have agreed to not oppose a bid by Gates' lawyer for a sentence of probation, if his cooperation is satisfactory.
Downing will finish his cross-examination on Wednesday. Prosecutors have said they hope to conclude their case by the end of the week.
The judge, who's clashed with prosecutors throughout the trial, couldn't resist injecting his view of Gates's testimony. Near the end of the day, Gates said: "Mr. Manafort was very good about keeping track of the money.''
"Not the money you stole from him,'' Ellis cracked. "So he didn't do it that closely.''