Abortion Legalization Bill Goes to a Vote in Argentina Senate
(Bloomberg) -- Argentina's Senate is expected to vote Wednesday on a proposal to legalize abortion that has divided the population and drawn international attention to the South American country.
The session is scheduled to start at 10 a.m. local time and voting isn't likely to begin before the evening. The lower house narrowly approved the bill, but the Senate is likely to reject it based on counts from the nation's largest newspapers. President Mauricio Macri said he won't pressure his party members to vote in any particular way and won't veto the bill either.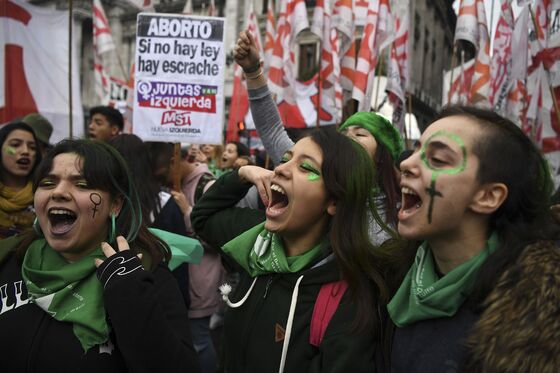 Macri surprised both those in favor and against abortion when he announced in March that he was putting the issue up for discussion. The debate has drawn international attention, with actress and activist Susan Sarandon lending her support to the legalization of the procedure and Amnesty International buying a full-page advertisement in The New York Times this week backing the proposal.
While abortion is illegal in Argentina, hundreds of thousands of women are believed to get the procedure at local clinics each year, according to human rights groups. Due to lack of regulation and oversight, complications and health issues are common for them. Few nations in Latin America, where the Catholic Church has a strong influence, have completely legalized abortion. Uruguay is an exception.