Salvini Accuses Spain of Fueling European Immigration Crisis
(Bloomberg) -- Italy's deputy prime minister, Matteo Salvini, said Spain is fueling the European immigration crisis, snapping back at criticism from officials in Madrid.
"We don't respond to insults from a government and ministers who favor immigration that's run out of control," Salvini said in comments reported by news agency Ansa.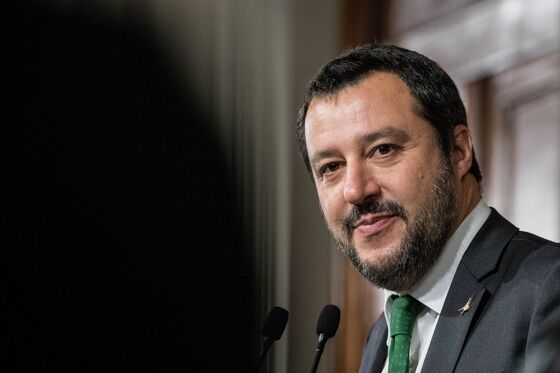 Spanish Foreign Minister Josep Borrell said in an interview with German newspaper Handelsblatt released Monday that Salvini's hard-line immigration policy was hurting not just Spain but the whole of Europe.
Rome and Madrid have found themselves on opposite sides of the immigration debate since Socialist Prime Minister Pedro Sanchez took office in Spain June 1. Among his first decisions was to open the Spanish port of Valencia to a rescue ship carrying more than 600 migrants after Salvini had refused it permission to dock in Italy.
Salvini has tapped into Italians' concerns about immigration to seize the initiative within the country's populist coalition and drive the issue to the top of the agenda in Europe. In June, European Union leaders agreed to toughen border controls and set up holding centers for asylum seekers after Italy threaten to block the rest of its business.
On Monday, the Spanish executive granted permission for another ship with 87 migrants on board to disembark in the southern port of Algeciras.
While Borrell criticized Italian policy in his Handelsblatt interview, he also recognized that Italy has borne the brunt of Europe's immigration crisis in recent years.
"In Italy 625,000 illegal migrants have arrived over the past three years. In Spain so far this year there have been 25,000," Borrell told Handelsblatt. "That's a whole other dimension."