Pound May Slump 10% on No-Deal Brexit
The pound just can't get a breather.
The currency stayed below $1.30 Tuesday, after touching its lowest level in 11 months the previous day. Sterling was pressured after U.K. International Trade Secretary Liam Fox said over the weekend that the likelihood of a no-deal outcome is as high as 60 percent. As Britain lurches closer to the March 2019 deadline for its official exit from the European Union, growing concern about a disorderly divorce has driven the pound down even after the Bank of England raised interest rates last week.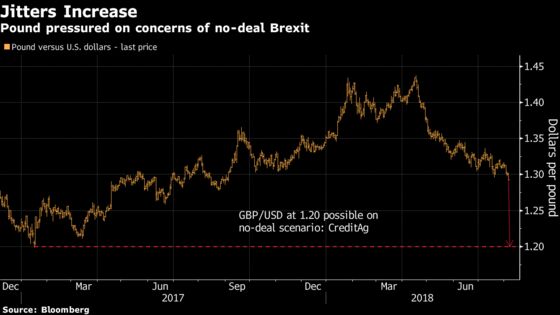 Sterling could drop further by about 10 percent as markets grow increasingly jittery about U.K.-EU negotiations turning sour, according to analysts. Nine-month risk reversals in sterling-dollar, which cover Britain's official departure date, are currently at the most bearish in 17 months, while implied volatility on the same tenor has jumped to the highest since March.
Here's what strategists said:
Credit Agricole (Valentin Marinov)
While there's hope the two sides will likely move closer to a compromise, "chances are that this may only happen if there is sufficient market pressure or even duress on the politicians," according to Marinov, head of Group-of-10 currency strategy
The 60 percent chance of a no-deal Brexit "is above what most clients had penciled in at this stage"

"In addition, there may be some concerns that the political noise in Westminster will return as Fox may be preparing the ground for a potential resignation"

GBP/USD could drop to 1.20 in the event of a no deal -- 1.20 is the long-term fair value of the currency pair under a very hard Brexit, Marinov said

Alternatively GBP/USD could move to 1.39 or higher if "no deal" Brexit is avoided
Rabobank International (Jane Foley)
"We've learned since the Bank of England interest-rate hike that this is all about politics now for the pound," said Foley, head of currency strategy
If commentators start "changing their views away from a soft Brexit to a hard Brexit, sterling would fall quite hard"
Pound won't become a buying opportunity until there's more clarity on Brexit, she said
Though not Foley's base-case scenario, sterling could weaken by about 10% from current levels around 89.30 pence per euro to touch parity if a soft-Brexit looked unlikely, she predicts, adding the British currency could fall to around $1.13 given the outlook for more dollar strength
Toronto-Dominion Bank (Ned Rumpeltin)
In EUR/GBP, "a move above 0.9250 would be consistent with a scenario where the markets were seriously considering the possibility of the U.K. crashing out without a deal," according to Rumpeltin, the European head of foreign-exchange strategy
Sterling looks like it could break out of its trading range against the euro that has been in place for nearly a year, he said

"From our perspective, that is the place to look for gauging the extent to which the moves we're seeing more broadly in the pound reflect U.K.-specific risks or are a consequence of a larger dynamic in the U.S. dollar"

Baseline for many is still a "reasonable, albeit somewhat hopeful, outlook"

But Rumpeltin predicts "we are likely to go through a cycle where the market prices in a real risk of a no-deal outcome"

It could challenge the "current narrative of 'the political noise is bad for now but it's all a negotiating ploy by both sides and everything will be alright in the end"'
Commerzbank AG (Thu Lan Nguyen)
Worries of a no-deal outcome have increased on Fox's comments "but only marginally"
EUR/GBP risk reversals "are indeed edging up but if you look at the levels, they are still nowhere near the 2016 highs"
Suggests that "either the market thinks a 'no deal' situation will not affect sterling as much, or it is still not pricing it in sufficiently. I think the latter is actually the case"
"GBP initially lost 10% after the referendum, so this is the minimum" that sterling would lose on a trade-weighted basis, Nguyen predicts, if there was a real risk of the U.K. leaving the EU without a deal