Paul Laxalt, Reagan's 'First Friend' in U.S. Senate, Dies at 96
(Bloomberg) -- Paul Laxalt, the Republican U.S. senator from Nevada who was President Ronald Reagan's closest friend and confidante in Congress, has died. He was 96.
Laxalt died Monday at a Virginia health care facility, according to the Associated Press, citing The Ferraro Group, a public relations firm. No cause of death was given.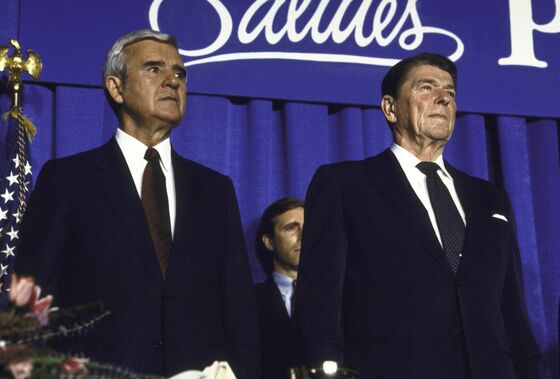 A senator from 1975 to 1987, Laxalt served as campaign chairman of all three Reagan presidential bids -- unsuccessful in 1976, victorious in 1980 and 1984 -- and enjoyed unusual access to the Reagan White House. With the approval of Majority Leader Howard Baker of Tennessee, Laxalt attended top-level meetings even though he held no post in the Republican Senate leadership. He became known as the "First Friend."
"I had the privilege of serving in a role that caused me to have one foot in the Senate and one foot in the White House," Laxalt said at a 2000 hearing on legislation that awarded the Congressional Gold Medal to Reagan and his wife, Nancy. "I served, in a sense, as the president's eyes and ears on Capitol Hill, while also serving as a link to the White House for my colleagues in Congress."
Reagan, who died in 2004, met Laxalt while both were supporting Barry Goldwater's presidential campaign in 1964. They grew closer during their time as governors of neighboring states, Nevada and California.
"Ronald Reagan valued his counsel, in part because they were both genial conservatives who shared a gift for attracting Democratic and independent voters, as Laxalt had done in campaigns for governor and senator in his home state," Reagan biographer Lou Cannon wrote in "Governor Reagan: His Rise to Power."
Laxalt, as Reagan's point man on political matters involving the Interior Department, played a central role in the selection of James Watt as interior secretary, according to Cannon.
After Watt mocked affirmative action in a 1983 speech --"I have a black, I have a woman, two Jews and a cripple. And we have talent," he said, describing the makeup of a commission reviewing Interior's coal-leasing program -- it was Laxalt who advised Watt "to resign gratefully," which he did, Cannon wrote.
Paul Dominique Laxalt was born Aug. 2, 1922, in Reno, Nevada, and raised in Carson City, the first of six children of immigrants from the Basque region of southern France. His mother, the former Therese Alpetche, ran the French Hotel in Carson City; his father, Dominique, raised sheep.
Laxalt attended public school in Carson City and then, for three years, Santa Clara University in California. Following his service as a U.S. Army medic during World War II, he completed his undergraduate degree and earned his law degree at the University of Denver in 1949.
He was district attorney of Ormsby County from 1950 to 1954 and city attorney for Carson City from 1951 to 1954, according to his congressional biography. He ran successfully for lieutenant governor in 1962, serving in that role from 1963 to 1967 during the second term of Governor Grant Sawyer, a Democrat.
In 1964, while lieutenant governor, he ran for U.S. Senate against the Democratic incumbent, Howard Cannon, and lost by fewer than 100 votes. He then challenged Sawyer for governor in 1966, and won.
Laxalt took office at the start of 1967, just as Reagan was taking over in California. The two Republican governors worked together on a bi-state agreement that created the Tahoe Regional Planning Agency to oversee development at Lake Tahoe, the resort area that straddles their border.
Also as governor, Laxalt helped Howard Hughes, the billionaire aviator, filmmaker and recluse, obtain the gaming license that enabled him to purchase several Las Vegas casino hotels.
"He was a savior of Las Vegas at a time when it was very close to going into bankruptcy," Laxalt told Nevada magazine.
Laxalt left office in 1971 after declining to seek a second term as governor. With his family, he helped build and run a casino hotel, the Ormsby House, in Carson City. His role there led to one of the biggest disputes of his career.
The Sacramento Bee and two sister newspapers reported in 1983 that the Internal Revenue Service had suspected that money was "skimmed" from the casino's profits to avoid payment of taxes. Laxalt sued the publisher, McClatchy Newspapers, for libel. In 1987, as the case was nearing trial, the two sides settled. Without retracting its initial story, McClatchy agreed to a statement saying, "Extensive discovery taken in this libel action has not shown that there was a skim at the Ormsby House."
In 1974, Laxalt won election to the U.S. Senate, defeating Democrat Harry Reid -- who would succeed him in the Senate 12 years later and rise to leader of Senate Democrats.
When Reagan began his challenge to President Gerald Ford in 1975, Laxalt was his only Senate supporter.
"As a U.S. senator and former governor, Laxalt was the only member of the entourage to approach Reagan as an equal," Cannon wrote. While other top campaign aides addressed Reagan as "governor," Laxalt called him "Ron."
In 1987, as Republicans began jockeying to succeed Reagan, Laxalt made a brief run for the nomination. He never relished the nuts and bolts of campaigning -- or governing, for that matter -- and he called his presidential bid "the four most miserable months of my life."
He had six children with his first wife, the former Jackalyn Ross. That marriage ended in divorce. He married the former Carol Wilson in 1976.