North Korea's Pompeo Problem Exposes Widening Rift on Talks
(Bloomberg) -- North Korea appears to have a Pompeo problem.
The widening gulf between Secretary of State Michael Pompeo's description of nuclear talks with North Korea and Pyongyang's criticism of his efforts is adding further confusion to the status of negotiations intended to achieve the "complete denuclearization of the Korean Peninsula."
North Korean officials and state media have in recent weeks repeatedly rebutted the top U.S. diplomat's characterization of events and suggested the administration has a myopic focus on denuclearization while ignoring issues, such as bringing about a final resolution of the Korean War. Even as President Donald Trump and North Korean leader Kim Jong Un exchange optimistic messages about their push for peace, Pompeo has increasingly become a target of public disparagement from Pyongyang.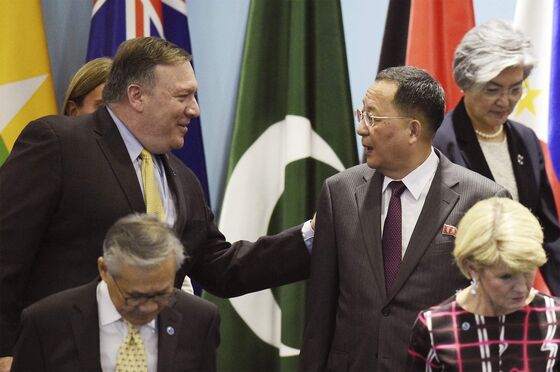 The latest broadside came after Pompeo said he had a "quick, polite exchange" with North Korean Foreign Minister Ri Yong Ho on the sidelines of Association of Southeast Asian Nations meetings last week in Singapore. Pompeo brought Ri a letter from Trump to Kim during the chat and said later that he's "optimistic that we will get this done."
But he also pressed other nations to maintain a sanctions regime that has already shown signs of weakening.
The North Korean response? Pompeo's State Department is obsessed by "outdated gangster-like logic" and a "monarchical way of thinking" in what has amounted to "an unprecedented tragicomedy." Ri, speaking after Pompeo left the Asean meeting, cited Pompeo's "unilateral demands" and said "impatience is not helpful at all for building confidence."
The official mouthpiece of Kim's Workers' Party, the Rodong Sinmun, published an editorial Monday titled: "U.S. Will Get Nothing With Its 'Pressure Diplomacy."'
"Everything in the future will be decided depending on how much the U.S. will attach importance to the trust and respect, escaping from the old view on 'sanctions and pressure,"' the paper said, in an editorial also published by the state-run Korean Central News Agency.
That echoed the rhetorical gap that emerged after Pompeo's trip to Pyongyang last month. The secretary of state described that visit as "productive" and undertaken "in good faith." North Korea called the U.S. strategy "cancerous" and the secretary of state's demands as "gangster-like."
North Korea has a long history of over-the-top condemnations of the U.S., and Trump last year responded in kind with his warning of "fire and fury." But Trump's first-of-its-kind summit with Kim on June 12 in Singapore fostered expectations the two sides could achieve a breakthrough.
The U.S. president even said in a Twitter post after meeting Kim that "there is no longer a Nuclear Threat from North Korea," citing the regime's decision not to test additional missiles or nuclear bombs as evidence his strategy is working.
In what has amounted to a request to "trust me," the secretary of state has repeatedly said that -- behind closed doors -- the North Koreans have affirmed their commitment to eliminating their nuclear program.
But Pompeo also told senators last month that North Korea continues to produce fissile material. A subsequent report in the Washington Post signaled that Kim's regime also is continuing work on its intercontinental ballistic missile program.
With little to show almost two months after Trump and Kim shook hands at their summit in Singapore, Pompeo will probably come under increasing pressure to show progress. Analysts say early steps would include providing a time line to receive an inventory of North Korea's nuclear weapons and facilities and for having international inspectors enter the country.
So far, though, the regime's only tangible step has been handing over what it says are U.S. remains from the Korean War -- a U.S. priority, but not one related to giving up a nuclear weapons program.
"There's no one in this administration starry-eyed about" the idea that Kim's regime will completely rid itself of its nuclear weapons capability, National Security Adviser John Bolton said on "Fox News Sunday." He added that Trump was giving Kim a "master class" in how to hold open a door and that a point may come when the president concludes Kim isn't acting in good faith.
As Pompeo's public descriptions of his work increasingly contradict North Korea's, the question is what it will take for the U.S. to decide to close that door, and whether the familiar tensions between the two sides will return or even intensify.