Turkey May Be Locked Out of Bond Market as U.S. Sanctions Bite
(Bloomberg) -- The summer holiday in the bond market may be a long one for Turkey.
New dollar issuance, including government and corporate-sector bonds, has dried up, with no sales recorded since April, according to data compiled by Bloomberg. And with corporate-bond losses among the worst in emerging markets amid a plunge in the lira, the dollar-debt market may be shut for some time to come.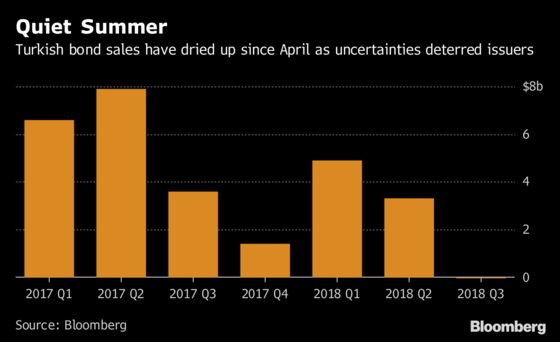 The U.S. announced sanctions on two Turkish ministers last week over its continued detention of an American pastor on espionage and terrorism-related charges. Yields on Turkish debt soared and the lira sank to new lows as President Recep Tayyip Erdogan vowed to retaliate, and said the country's economy is under attack. The lira has weakened 7.4 percent against the dollar this month, extending this year's slide to 28 percent.
"I would say right now the primary market is closed to Turkey," said Meno Stroemer, the Zurich-based head of corporate bonds at Fisch Asset Management AG, which oversees about $10 billion. "You have the U.S. sending a loud message that an escalation of sanctions is very much on the table. We have seen what the sanctions can do in Russia and things can get very complicated and problematic; that is clearly a risk investors are dealing with."
Bondholders investing in hard-currency corporate debt from Turkey lost 10 percent this year, even more than they did in Argentina, which had to go to the International Monetary Fund for emergency funding. Turkish banks accounted for four of the 10 worst-performing corporate bonds this year, according to data compiled by Bloomberg.
The average yield on Turkish dollar debt of 8 percent compares with 7.42 percent for Nigeria and 7.26 percent for Pakistan, countries that have much lower credit ratings. Even that may not be enough to compensate investors for the risks of further U.S. sanctions.
"Foreign investor demand can still be managed with yields on offer up to a certain degree," said Okan Akin, a credit analyst at AllianceBernstein Ltd. in London. "If the U.S. sanctions worsen, Turkey can be completely locked out of markets, which is a non-negligible risk as things stand at the moment."
Dollar-denominated June 2028 bonds of Turkiye Is Bankasi AS lost 27 percent, while Akbank TAS's March 2027 securities declined 23 percent. High yields in the secondary market may mean that issuers will wait for asset prices to stabilize before testing the waters, even though they have $17 billion foreign-exchange debt coming due by the end of next year, according to data compiled by Bloomberg.
"In current market conditions any new issue in dollars will have to come at significant discount to secondary levels," said Andrey Kuznetsov, a money manager at Hermes Investment Management in London, which oversees $43 billion. This "is likely to prove unattractive to issuers who can wait for more favorable market conditions," he said.
The cost of insuring Turkish debt against default this week closed above 345 basis points for the first time since 2009, according to CMA prices.
"We had a massive selloff and at this point it looks like there is no end in sight," said Claudia Calich, a money manager at M&G Ltd. in London, which manages $454 billion. "In theory they should have access to the market but in practice the story is looking quite complicated, to say the least."