Ex-Comedian Expects to Get Mandate to Form Slovenian Government
(Bloomberg) -- Slovenia's comedian-turned-mayor Marjan Sarec expects to receive a mandate next week to form the euro-zone country's next government and break a political deadlock following inconclusive June elections.
Sarec's list, along with four other parties, will nominate him as prime minister to parliament Wednesday, with a vote planned for Aug. 13. Runner-up in the election, he's trying to create a minority coalition with the parties of former Prime Ministers Miro Cerar and Alenka Bratusek, as well as the Social Democrats, the Ljubljana-based Delo newspaper reported, citing Sarec. The coalition will also receive the tacit support of the leftist Levica party, which won't officially take part in the future cabinet.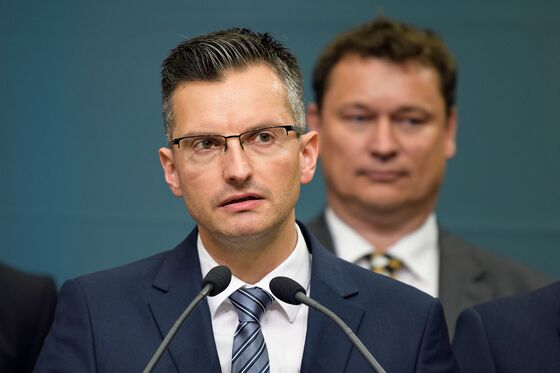 The agreement will break a stalemate after the June 3 vote and prevent its winner, Janez Jansa from securing a third term as prime minister. Jansa is an ally of Viktor Orban, a champion of "illiberal democracy" and a standard bearer for anti-establishment forces across the European Union. While he came out ahead of Sarec, Jansa was shunned by most other parties in coalition talks for running a staunchly anti-immigrant campaign.
"It is right to put on the table what we've agreed, to submit the nomination and cut the Gordian knot that has been hanging over our heads the whole summer," Delo quoted Sarec as saying in an interview published Tuesday. "Those who support the government will show they're serious, and those who do not, will only prove they have no serious intentions."
The parties in the planned coalition will control 38 of parliament's 90 seats. With the nine more controlled by Levica, they'll be able to muster a slim but fragile majority that will face constant tension because of the conflicting platforms, which range across the center and left of the political spectrum.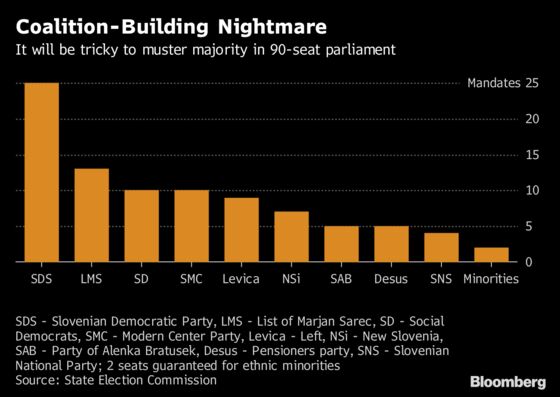 The next government will have two main tasks. It must address the sale of state owned lender Nova Ljubljanska Banka d.d. after the previous government missed an end-2017 deadline imposed as part of a 2013 financial-sector bailout. It must also choose a new head of the central bank after its former chief, Bostjan Jazbec, left the post. The National Bank of Slovenia's governor also sits on the European Central Bank's Governing Council.
Sarec has pledged to sweep Slovenia's elite out of state institutions and to sell most of NLB to avoid triggering another financial-sector bailout. The country of 2 million staged a taxpayer-funded rescue of its state-owned lenders in 2013 after years of mismanagement drove them to the brink of insolvency and almost triggered the need for a Greece-style bailout.