Diners Indulge Less If Menus List Calories
(Bloomberg) -- Better data leads to better decision-making -- except when it comes to dessert.
When sit-down restaurants listed their menu calories, consumers cut their consumption in appetizers and entrees. That said, they left their sweets order unchanged, based on a new working paper from the National Bureau of Economic Research. It's our lead item in this week's economic research roundup, which also looks at a blog post on the global distribution of gender pay gaps, a paper on whether macroprudential policy could have prevented the 2007-2009 financial crisis, and an analysis on the return of political business cycles in the U.S.
Check this column each Tuesday for the latest economic research from around the world.
The Impact of Information Disclosure on Consumer Behavior: Evidence from a Randomized Field Experiment of Calorie Labels on Restaurant Menus
Published August 2018
Available on the NBER website
Calorie counts printed on restaurant menus prompt diners to consume less. Cornell University's John Cawley and his co-authors collected detailed data from two restaurants, taking down numbers on everything from individual food orders to whether patrons shared a plate over the course of thousands of visits. They found that printed calorie information reduced calories ordered by 3 percent (or 45 calories a meal, roughly equivalent to a large plum or an Oreo cookie). That decrease came from entrees and appetizers, not from drinks or desserts.
Considering how often Americans generally eat at restaurants, that calorie reduction would lead to a one-pound weight loss over the course of three years, the researchers estimate. That figure might be conservative: the study can only observe ordering, not consumption, and diners might eat less of what they order when they know its calorie content.
(Demo)graphic: Global Gaps
Equal Pay Remains a Global Issue
Published Aug. 6
Available on the IMFBlog website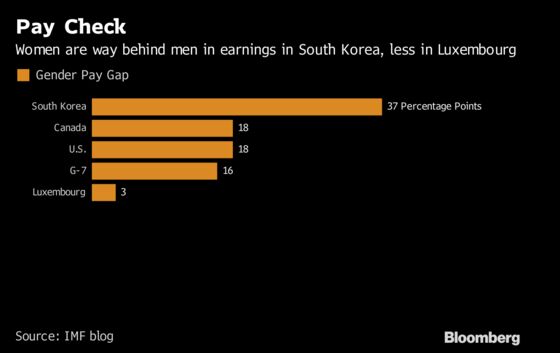 It's no secret that men make more than women, but those disparities vary widely by nation. Factoring in hours worked, type of employment, education levels, age and experience, women and men in South Korea have a 37 percentage point earnings gap. The U.S. and Canada hover around 18 points, while the Group of Seven nations average gap clocks in at 16 percentage points.
Would Macroprudential Regulation Have Prevented the Last Crisis?
Published August 2018
Available on the Bank of England website
Bank of England researchers suggest that America's Financial Stability Oversight Council -- set up in the wake of the 2007-2009 financial crisis to identify and respond to system risks -- wouldn't have had the powers needed to stem the fallout from the collapse of the 2000's real-estate bubble. The authors note that FSOC doesn't have macroprudential levers under its direct control. While a regulator modeled on the U.K.'s Financial Policy Committee could do the trick, it would have required "political backing to widen the perimeter of regulation" so that it could oversee non-bank financial institutions.
"The fact that even in hindsight we believe it would have been hard to handle this crisis makes us humble," the BOE's David Aikman and his co-authors write. "Policy frameworks should be calibrated with some built-in 'slack' to account for the fact that elevated risks may not always be obvious in real time."