Congo Opposition's Kamerhe Registers to Run for President
(Bloomberg) -- A second leading opposition politician in the Democratic Republic of Congo registered for December's presidential election.
"The congress of my party has designated me as its candidate," Vital Kamerhe, who finished third in the last vote in 2011, told reporters as he left the electoral commission in the capital, Kinshasa, on Monday.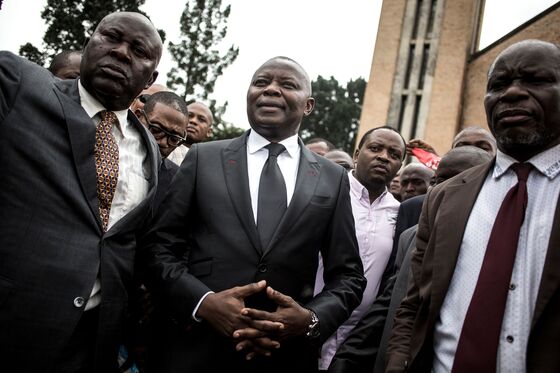 Parliamentary and presidential elections are due to take place on Dec. 23, more than two years later than originally scheduled. Kamerhe is the second opposition heavyweight to file his bid to replace President Joseph Kabila, who's been in power since 2001.
Congo's constitution prevents Kabila, elected in 2006 and 2011, from seeking a third term, but the president's continuing refusal to rule himself out is fueling opposition suspicions that he plans to change or reinterpret the rules. The president's coalition has launched private consultations to choose its candidate -- with some members urging Kabila to run again.
Jean-Pierre Bemba, an opposition leader acquitted of war crimes at the International Criminal Court in June, returned home last week after a decade in detention to register on Aug. 2. Felix Tshisekedi, the leader of Congo's largest opposition party, is expected to file his papers Tuesday.
Another prominent Kabila opponent, Moise Katumbi, in self-imposed exile since 2016, said he was blocked from crossing into Congo from Zambia on Aug. 3 and 4. Kabila is trying to prevent him from running for president, according to Katumbi.
The registration of presidential candidates closes on Aug. 8.
Kamerhe, Bemba, Tshisekedi and Katumbi have all spoken favorably of eventually uniting behind a single candidate to fight the nominee of Kabila's coalition.
"We must give the people a democratic handover of power," Kamerhe said. "We must give them a single opposition candidate. The golden rule is flexibility."