Russian Lawmakers Invited to U.S. as Butina Protest Floated
(Bloomberg) -- U.S. Senator Rand Paul said he invited Russian lawmakers to Washington at talks in Moscow that his hosts called a signal to President Donald Trump. One legislator said they may use the visit to protest in support of Maria Butina, who's accused of being a Russian government agent.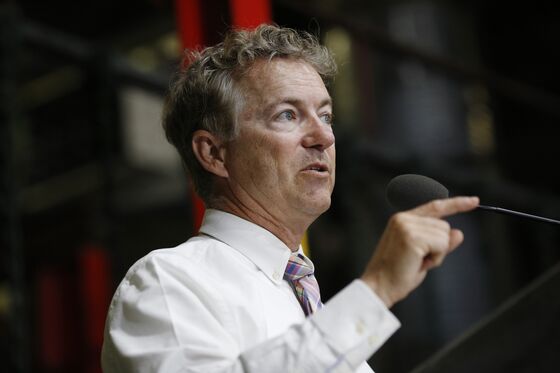 Paul told reporters Monday that he issued the invitation at a meeting with members of the international relations committee of Russia's upper house of parliament, including the chairman, Konstantin Kosachyov, and Sergey Kislyak, the former Russian ambassador to the U.S.
The Republican lawmaker's visit comes after the White House last month put off an invitation from Trump to Russian President Vladimir Putin amid a political storm over their summit in Helsinki, and after a bipartisan group of senators introduced legislation to impose "crushing sanctions" on Russia for interfering in U.S. elections.
The head of the lower house of parliament's international relations committee, Leonid Slutsky, asked Paul to "raise your voice in defense of" Butina and seek her release from custody, the Interfax news service reported. "Maybe we'll hold some sort of action in her defense" during the proposed visit to Washington, Slutsky said after the meeting, according to the state-run RIA Novosti news service.
Russian officials have rallied behind Butina, a gun-rights activist, since her July 15 arrest in the U.S. on charges of conspiracy and failing to register as a foreign agent. Butina, who's pleaded not guilty, is being held in custody. The Russian Foreign Ministry has called her a political prisoner.
Paul, who's a member of the Senate Foreign Relations Committee, "has access" to Trump and top U.S. officials "and we expect that we will be able to convey our signals through him" of a desire to establish dialogue, Kosachyov said, according to RIA Novosti. The visit to Washington may take place before the end of the year, he said.
The discussions with Paul included allegations of Russian meddling in U.S. elections, which "didn't happen and won't," Kosachyov said. Russian lawmakers are "ready to discuss this question in a reasoned manner" with U.S. counterparts, he said.
Special Counsel Robert Mueller is investigating Kremlin interference in the 2016 presidential campaign, after the U.S. intelligence community concluded that Putin ordered efforts to undermine Democratic candidate Hillary Clinton and aid Trump. The Senate is also probing the allegations.
Meanwhile, the Foreign Ministry explained what former Hollywood action-movie star Steven Seagal will do after he was named Saturday as Russia's special representative for improving cultural and humanitarian relations with the U.S. Seagal, who became a Russian citizen in 2016, will develop cooperation in culture, science, education, sport and youth exchanges as well as "promote the heritage of Russian America and other pages of our common history," it said Monday in a website statement.