Trump Backs Kris Kobach for Kansas Governor Over Republican Incumbent
(Bloomberg) -- President Donald Trump endorsed Kansas Secretary of State Kris Kobach over the sitting Republican governor Jeff Colyer in Tuesday's primary, overriding advice from his own political advisers and boosting the chances of a polarizing figure who has garnered national attention for his views on immigration and voting rights.
Trump made the endorsement Monday despite concerns raised by establishment Republicans in Washington and Kansas that a victory for Kobach could open the door for Democrats to win the governor's race.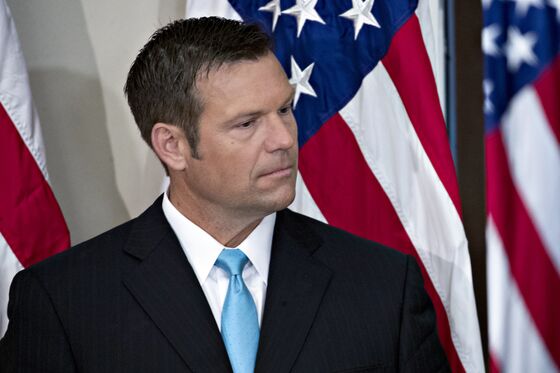 The president's intervention could be decisive in a tight race. Kobach and Colyer each have the support of about 32 percent of likely Republican voters, according to a statewide poll conducted by JMC Analytics and Polling released Friday. Trump's political advisers had urged him not to get involved in the Kansas race, a person familiar with the matter said.
"Kris Kobach, a strong and early supporter of mine, is running for Governor of the Great State of Kansas," Trump tweeted Tuesday while vacationing at his golf property in New Jersey. "He is a fantastic guy who loves his State and our Country - he will be a GREAT Governor and has my full & total Endorsement! Strong on Crime, Border & Military. VOTE TUESDAY!"
The president's son, Donald Trump Jr., has previously campaigned for Kobach.
Kobach earned national attention for his work heading a now-disbanded panel commissioned by the White House to prove the president's unsupported claim that there was widespread voter fraud in the 2016 election. The panel was eliminated in January without presenting findings or any evidence of fraud, with White House officials blaming legal challenges.
Maine Secretary of State Matthew Dunlap, a Democrat and a member of the panel, on Friday released documents from the group's work that he said showed evidence of a "troubling bias" on the part of Republican commission members and underscored the lack of evidence of broad voter fraud.
Kobach's hardline stance on immigration mirrors that of the president, as does his defense of the "birther" movement, in which conspiracy theorists -- Trump foremost among them -- promoted the falsehood that former President Barack Obama was born outside the U.S. Critics have said Kobach's allegations that immigrants commit a disproportionate share of crimes have been proven wrong by empirical studies.
But while many Republicans worry Kobach's hard-right views could rally Democrats and turn off moderate voters, the Kansas Republican has argued his candidacy would motivate the Republican base. Critics say a Kobach victory could motivate liberals and influence competitive U.S. House of Representatives races.
Kobach thanked Trump for his "support and endorsement" in a tweet Monday.
Colyer campaign spokesman Kendall Marr said in a statement, "We respect the Trump family's loyalty" but the incumbent governor "is the only candidate who can defeat the Democrats."
Trump on Monday also urged Twitter followers to support Senate candidate John James in the Michigan Republican primary on Tuesday, praising him as "a potential Republican Star."
James, who had been tied with opponent Sandy Pensler in an Emerson College poll taken July 19-21, appears to have surged after Trump endorsed him on July 27. James led Pensler by 14 percentage points in a Mitchell Research poll taken July 30.