Uproar Over Israel's Definition of Itself Crosses Ethnic Lines
(Bloomberg) -- It's taken a backlash by Israel's staunchest Arab supporters to spark one of the biggest outpourings of discontent with the Netanyahu government in years.
In a country where distrust between Arab and Jew runs deep, Israel's Druze community, which practices a secretive offshoot of Islam, has bridged the two worlds by integrating more than any other minority into the Jewish state and sending its sons to serve alongside Jewish soldiers. Their exclusion from a contentious law enshrining Israel's Jewish character has provoked a sense of betrayal, and an uncharacteristically powerful response.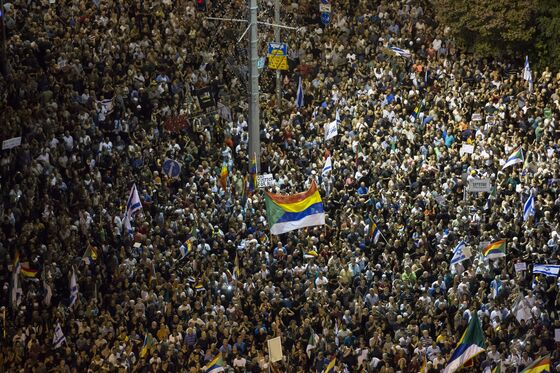 Led by Druze dignitaries, about 100,000 community members and Jewish supporters rallied Saturday in Tel Aviv against legislation that Prime Minister Benjamin Netanyahu deemed "essential to guaranteeing Israel remains a Jewish state." Supporters contend the law is a bulwark against those who reject Jewish statehood, but critics say it undercuts democracy by marginalizing the country's 21 percent Arab minority.
What began in 2011 as a bid to codify the fundamental tenet of Zionism -- the establishment of a Jewish homeland in the Land of Israel -- has become the latest in a series of polarizing decisions the government has taken as Netanyahu gears up for elections next year under a cloud of corruption allegations. A demonstration two weeks ago drew a similar-sized crowd outraged by his decision, under pressure from ultraOrthodox Jewish coalition partners, to withdraw his support for gay surrogacy.
Other controversial moves the current parliament and government have taken include:
barring groups critical of the military's treatment of Palestinians from speaking in schools
promoting a law allowing parliament to overrule Supreme Court vetoes
barring a Jewish-American activist and the mayor of a Paris suburb from entering the country over their support for the anti-Israel boycott movement
Israeli leaders have argued for years that the state's Jewish identity needs to be anchored in a Basic Law, which carries the weight of a constitutional provision, and not just in the 1948 Declaration of Independence. Nearly all Zionist political parties support formally defining Israel as a Jewish and democratic state.
What rankles many about the legislation approved last month is not what it says but what it omits: the Declaration of Independence's commitment to "ensure complete equality of social and political rights to all its inhabitants irrespective of religion, race or sex." The principle of equal rights for all citizens is enshrined in another Basic Law, passed in 1992.
For Israel's more than 140,000 Druze, who have lost hundreds of children in the Jewish state's wars, the nation-state law formalized the discrimination they feel as Arab citizens. At least three Druze military officers resigned, and Druze leaders demanded the legislation be amended to acknowledge their community's special bond with the state.
The outrage extends far beyond their community. A Muslim lawmaker from the opposition Labor party quit parliament, declaring he wouldn't lend legitimacy to a "destructive, racist, extremist parliament." Prominent Jewish Israeli artists spoke out, and at least one former military chief of staff and two former spymasters attended Saturday's demonstration, where protesters called for "Crime Minister" Netanyahu to resign.
"I hope the prime minister sees this huge turnout and amends the law," said Zaher Dabdu, a Druze from Yarka in northern Israel.
Petitions to overturn it already have been submitted to the country's highest court.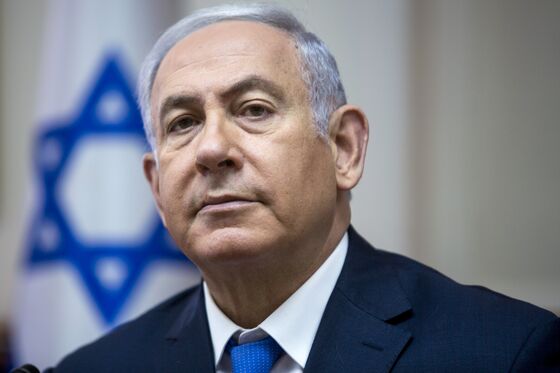 Netanyahu has said the law will not be changed, though he has been trying to work out an accommodation with Druze leaders, and Arab communities have been promised extra funding.
Some Arabs in Israel and the Palestinian territories object to any law enshrining Israel's Jewish identity, arguing that Jews don't constitute a people entitled to national self-determination. Palestinian Authority President Mahmoud Abbas, whose refusal to accept Israel as a Jewish state has become an issue in peace talks, contended that Israel itself didn't legally define itself as a Jewish state; backers of the nation-state law say it blunts that argument.
The tension between Jewish identity and democracy had hindered the legislation in the past, but momentum to approve it grew as elections draw nearer. Politicians are saying the government is unlikely to serve out its full term, with a vote possible next spring.
Polls show Likud gaining three seats, or 33 of parliament's 120, if elections were held today, making Netanyahu likely to win a fifth term. They also show his popularity intact despite possible indictment on charges of bribery and influence-peddling.
Netanyahu accuses his political opponents of inciting opposition against the nation-state law.
"The attacks from leftist circles that identify themselves as Zionists are absurd and reveal the depths to which the left has fallen," he said last week.
Netanyahu has a habit of using divisive issues in his campaigning, said Reuven Hazan, a political scientist at Hebrew University in Jerusalem.
"Here, he can say, 'I am protecting the Jewish nature of the state. Do you really want those left-wing, tree-hugging, gay, Arab-loving peaceniks?'" Hazan said.
Only 44 percent of the public thinks such a law was necessary at this time, according to a Tel Aviv University poll. The survey questioned 600 Israeli adults between July 24 and July 26 and has a margin of error of 4.1 percentage points.