South Sudan Rivals Sign Deal Seeking to End Five-Year War
(Bloomberg) -- South Sudan's warring parties signed a peace deal granting rebels key positions in a transitional government, the latest bid to end an almost five-year conflict that's claimed tens of thousands of lives.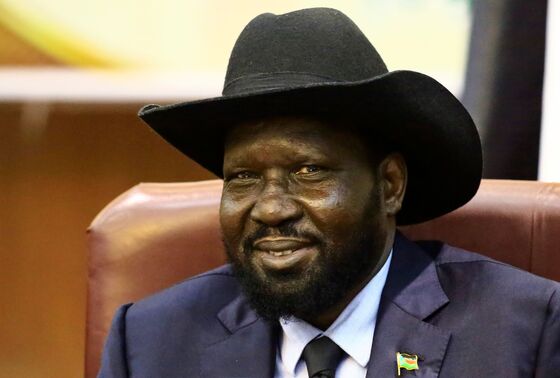 The accord will restore rebel leader Riek Machar as President Salva Kiir's deputy, while appointing four other vice presidents and adding new posts for ministers and lawmakers. Following the collapse of a similar pact in July 2016, it will be the second attempt at a power-sharing government since the start of the civil war in the East African nation.
Kiir and Machar signed the deal -- which came after weeks of incremental agreements -- Sunday in Khartoum, the capital of neighboring Sudan. Other opposition politicians and rebel groups also took part in the ceremony.
"We shall rededicate ourselves soberly, our people, and go for peaceful transforming of power through dialogue and ballot boxes rather than the bullets of the guns," Kiir said after signing.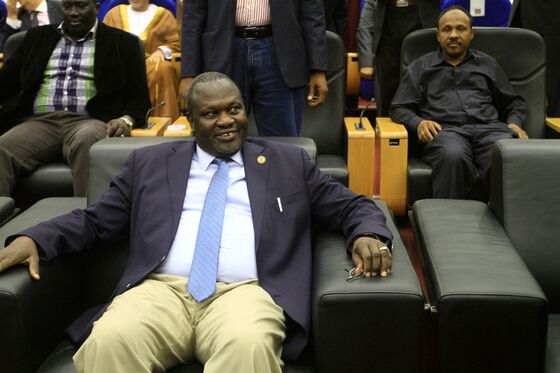 Celebrations erupted late Sunday in the streets of South Sudan's capital, Juba, where a peace agreement is long-awaited. The nation has faced economic chaos because of a decline in oil income, while 4 million people have fled their homes and some areas have been on the verge of famine. Both government forces and rebels have been accused of atrocities and the United Nations Security Council recently imposed an arms embargo.
The warring parties now have eight months to form the government that's supposed to last 36 months and eventually usher in South Sudan's first elections since it seceded from Sudan in July 2011.
Kiir and Machar, who was fired as Kiir's deputy months before the war erupted in December 2013, signed a broadly similar deal in 2015. It collapsed weeks into its enactment the following year, spurring a new wave of violence that fueled Africa's biggest refugee crisis. Machar eventually fled into exile and has yet to return to South Sudan.
Crude production at one of South Sudan's main oil fields in what was formerly known as Unity state will resume next month, Sudanese President Umar al-Bashir said at the ceremony. The two countries are working together to rehabilitate the production facilities and will conduct joint security patrols to protect the fields, he said.
South Sudan currently pumps about 135,000 barrels a day, down from the approximately 350,000 barrels it was producing on independence. The landlocked nation pays Sudan to transport its oil by pipeline to a Red Sea port.
Among the peace deal's conditions:
Five vice presidents to be appointed: Machar and two representatives apiece from the government and opposition sides; one post is to be taken by a woman
The government will have 35 ministers, up from current 30; 10 deputies will be added for ministries deemed key
Parliament will be expanded to 550 lawmakers from 400
Transitional government to be funded by donors and proceeds from oil production
A committee will be formed to review South Sudan's number of states and their boundaries and submit a report within 90 days; if for some reason one isn't prepared, a referendum will be held on the subject before the transitional government is formed