New Zealand's Ardern Returns From Leave to Strong Poll Rating
(Bloomberg) -- Support for New Zealand Prime Minister Jacinda Ardern's government remains strong despite a six-week absence after the birth of her daughter, a new poll shows.
Ardern's Labour Party had 42 percent support in a poll published by Television New Zealand on Sunday, down just one percentage point from the previous survey. With coalition partner New Zealand First on 5 percent and support party the Greens on 6 percent, the government remains comfortably ahead of the opposition National Party, which was unchanged on 45 percent, even though it is the largest-polling party.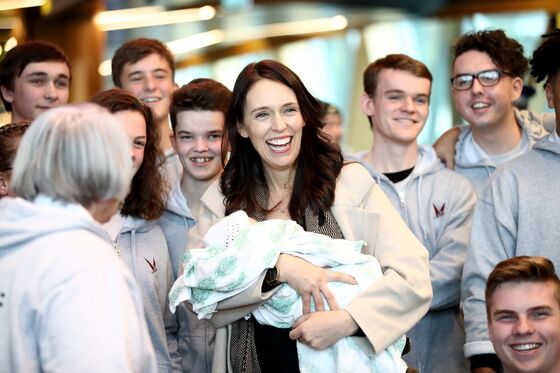 The world's youngest female leader, Ardern, 38, went on maternity leave in June after the arrival of her first child, Neve. New Zealand First leader Winston Peters was Acting Prime Minister while she was away.
Ardern remains the clear leader in terms of most-preferred prime minister, the TVNZ poll showed. She had 40 percent support compared with 10 percent for National leader Simon Bridges and 5 percent for Peters.