Corbyn Says Sorry for Labour's `Real' Antisemitism Problem
(Bloomberg) -- U.K. Labour leader Jeremy Corbyn apologized to Britain's Jewish community for the "real" problem of antisemitism in the nation's main opposition as he sought to contain a row that threatens to undermine support for his party.
"I acknowledge there is a real problem of antisemitism that Labour is working to overcome," Corbyn said on Sunday in a video message on his official YouTube channel. "I am sorry for the hurt that has been caused to many Jewish people."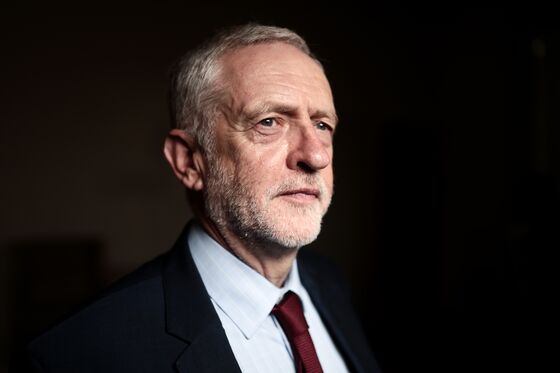 It's Corbyn's second attempt in three days to allay concerns of British Jews, after an opinion piece he wrote for the Guardian last Friday -- just before the start of the Jewish holy day -- fell flat. A steady stream of negative press threatens to undermine Labour as it gains momentum in the polls, tying or beating Prime Minister Theresa May's Conservatives in several recent surveys.
The Guardian article was derided by the Board of Deputies of British Jews as "ill-conceived" and "misleading," and it called him to task for failing to accept in full an international definition of antisemitism devised by the International Holocaust Remembrance Alliance. The board also criticized Corbyn's latest video, accusing him on Twitter of "painting Labour's problem as a regrettable statistical matter," rather than an "inevitable outcome of a political culture to which he has contributed."
Just as in the Guardian, Corbyn failed in the video to address whether the party will accept in full the IHRA definition of antisemitism. The party has proposed adopting most of the definition, while rejecting specific examples of antisemitism referring to Israel. The leader also made no mention of disciplinary proceedings against two Labour lawmakers over their criticism of his handling of the row.
Jewish lawmaker Margaret Hodge and Ian Austin, whose adoptive parents lost relatives in the Holocaust, are both being probed by party authorities after criticizing Labour's failures to stamp out antisemitism. Deputy Party Leader Tom Watson -- who has had a difficult relationship with Corbyn -- on Sunday used an interview with the Observer newspaper to call for those investigations to be called off, and for the party to adopt the full IHRA definition.
"This is one of those moments when we have to take a long, hard look at ourselves, stand up for what is right and present the party as fit to lead the nation -- or disappear into a vortex of eternal shame and embarrassment," Watson told the paper, which is affiliated with the Guardian. "It is very important that we all work to de-escalate this disagreement."