Catalan President Won't Accept Jail Time for Separatist Leaders
(Bloomberg) -- Catalan President Joaquim Torra said his government won't accept separatist leaders being sent to prison for declaring independence as the region prepared for the one-year anniversary of a tumultuous illegal referendum that plunged Spain into a constitutional crisis.
A court decision due in the fall that could see independence leaders imprisoned for up to 30 years will be a determining factor for relations between the regional government of Catalonia and the Spanish central government, Torra said Sunday. His comments came as the region prepared to mark the anniversary of the Oct. 1 vote that sparked a corporate exodus and ultimately saw a failed declaration of independence.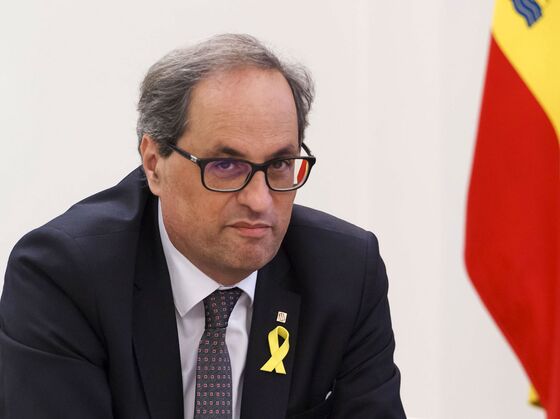 "I presume nobody expects us to accept a conviction that's a punishment just like that," he told La Vanguardia newspaper. After declaring independence from Spain, Catalan leaders have either fled the country or are currently in prison awaiting sentence. Former Catalan leader Carles Puigdemont remains in self-imposed exile after a German court refused to extradite him on charges of rebellion on the basis that it lacked violence.
While the new Socialist government led by Prime Minister Pedro Sanchez has called for de-escalation, the Catalan president insists there should be a binding vote in his bid to create a new republic. Even so, cracks are appearing in the pro-independence bloc as the platform debates whether to push for self-determination or engage in bilateral talks with Madrid.
"As long as there's dialog and negotiations, we have to explore all the possible ways to get the best deal for the country," Torra told the newspaper. "Acting unilaterally is one of the options but I won't give up on other ways if that means obtaining independence."