Pompeo `Hopeful' Turkey Will Release U.S. Pastor in Coming Days
(Bloomberg) -- Secretary of State Michael Pompeo said he's hopeful that Turkey will release American pastor Andrew Brunson in the coming days, and suggested that the case won't jeopardize the broader alliance between the countries even as tensions continue to rise.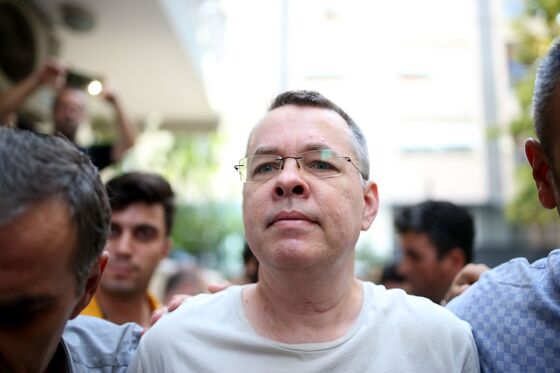 "I made clear that it is well past time that Pastor Brunson be freed, be permitted to return to the United States and the others being held by Turkey also," Pompeo said in Singapore on Saturday, a day after he met Turkey's foreign minister on the sidelines of an Association of Southeast Asian Nations security forum. "I'm hopeful that in the coming days that we will see that occur."
President Recep Tayyip Erdogan's government has vowed to retaliate after President Donald Trump imposed sanctions on the country's interior and justice ministers for refusing to release Brunson, who is accused of terrorism and espionage-related charges. While Brunson has been moved from prison to house arrest, officials have given no indication he'll be released anytime soon.
The U.S. has been increasingly concerned about Erdogan's push for better ties with Russia and Iran, and the two counties have repeatedly traded barbs over the U.S. refusal to turn over an exiled cleric whom Turkey blames for a failed military coup in 2016. At the same time, Turkey is a member of the NATO alliance and has played a crucial role in the fight against the Islamic State.
Pompeo's comments on Saturday appeared aimed at easing concerns about a broader disruption in relations.
"There are lots of challenges with Turkey, but lots of areas where we've worked closely," Pompeo said, citing cooperation on how to handle control over the Syrian town of Manbij near Turkey's border. Asked if Turkey's membership in NATO was at risk, Pompeo said: "We're working diligently and Turkey is a NATO partner with whom the United States has every intention of continuing to work cooperatively."
The U.S. sanctions target Turkey's Minister of Justice Abdulhamit Gul and Minister of Interior Suleyman Soylu, whom the U.S. says played leading roles in the organizations responsible for the detention of Brunson. After meeting Pompeo on Aug. 2, Turkish Foreign Minister Mevlut Cavusoglu said the imposition of sanctions wouldn't compel the country to release Brunson.
"We have always desired to resolve problems with mutual understanding," Cavusoglu said. "On the other hand, we have always said that a language of threats and sanctions will not provide any results and we repeated that today."