Venezuela Arrests 6 After Maduro Escapes Explosive Drone Attack 
(Bloomberg) -- Venezuela's security forces are making a wave of arrests after an attack by explosive-laden drones during a military parade wounded officers but left President Nicolas Maduro unharmed.
The two unmanned aircraft carried a kilogram of C-4 plastic explosive and were thrown off course by signal blockers, Interior Minister Nestor Reverol said Sunday afternoon. He said that authorities had arrested six people and had raided Caracas hotels for evidence. One suspect was associated with an attack on a military base in Carabobo state last year, Reverol said, and more arrests could take place within hours.
The autocratic regime of Maduro, a 55-year-old socialist, has often used the rationale of anti-government plots to jail dissidents, earning it international sanctions and isolation. Opposition figures and analysts said Saturday's incident could be a pretext for a new wave of repression as Maduro faces popular anger amid staggering corruption, hyperinflation and hunger.
The attack in Caracas was broadcast live on state television Saturday as Maduro spoke, flanked by his wife and defense minister. An explosion was heard and the president was led off stage. Military personnel broke ranks and ran. Then, the broadcast abruptly ended. Photographs from the scene showed at least one soldier with blood pouring down his face.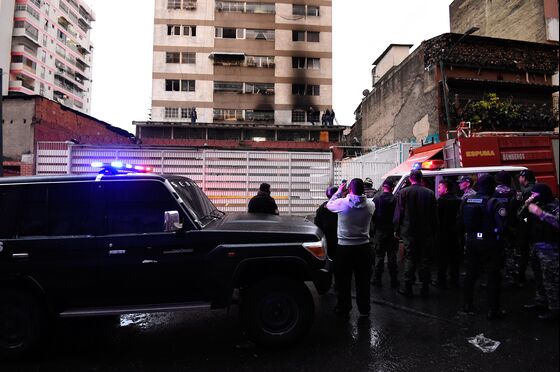 "They tried to assassinate me," Maduro said in a speech later Saturday. He said a flying object exploded in front him, and seconds later he felt another blast to his right. "That drone was coming for me but there was a shield of love," Maduro said.
On Sunday, the scene in Caracas was mostly back to normal, with traffic flowing freely as pedestrians calmly carried grocery bags and performed their morning exercises.
While Venezuela's government said the incident was terrorism, the Associated Press reported that firefighters at the scene said one explosion was an accident caused by an exploding gas tank. Whatever the blast's source, the incident demonstrated the feverish tension in the once-prosperous nation. Maduro, the successor to the late Hugo Chavez, a populist president who nationalized companies and expanded social spending, has led the formerly wealthy petrostate into a limbo of corruption and sanctions.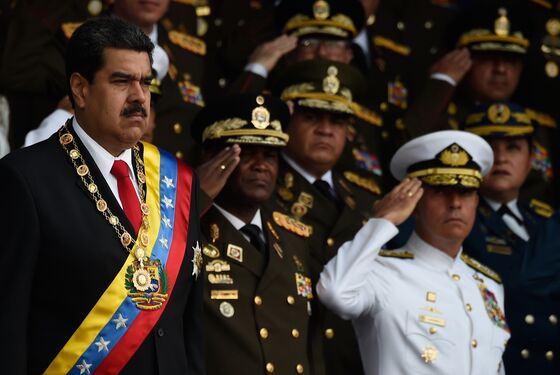 In 2017, Maduro survived months of furious and deadly protests, but opposition parties have been unable to topple him in the streets or at the ballot box. His power is increasingly dependent on the armed forces, which have been taking an ever-more-prominent role in the nation's economy and institutions.
Rumors of plots against the leader are constant, and the government often says it has uncovered threats. Earlier this year, a conspiracy to remove Maduro was discovered: in mid-May, several dozen servicemen and a couple of civilians were secretly arrested and imprisoned by a military court. In January, a renegade cop, who took up arms against the government and hijacked a helicopter, was killed by security forces.
On Saturday, Information Minister Jorge Rodriguez said on state television that at least seven military officers were injured after several drones detonated near the stage.
Witnesses described a "missile-like" detonation. One resident, who asked not to be identified for fear of retributions, told Bloomberg News that a floating device exploded in the Santa Rosalia neighborhood where the president was speaking, setting a residential building ablaze and injuring multiple civilians.
Maduro said Saturday evening that some involved in the attack had already been captured. He declined to give their identities but said he was confident Colombian President Juan Manuel Santos had participated in the attempt. He added that initial reports showed the group's financiers lived in Florida.
The Colombian Foreign Relations Ministry rejected that suggestion as "absurd" in a statement late Saturday night. "We're used to the Venezuelan leader constantly accusing Colombia for any sort of situation," the ministry added.
U.S. President Donald Trump was briefed on the incident, the White House said. On Sunday, John Bolton, Trump's national security adviser, said on Fox News that "unequivocally, there is no U.S. government involvement in this at all."
A group calling itself Soldados de Franela -- T-Shirt Soldiers -- claimed responsibility for the attack on Twitter. The post said the group had demonstrated Maduro's vulnerability, and that success was a matter of time. The authenticity of the claim couldn't be verified, and the group had been previously unknown.
"It's a shame that at this hour, public opinion is doubting the official version, be it true or not," said analyst Felix Seijas, a director at the polling firm Delphos. "It's the outcome of years of control over the free media, censorship and multiple false government alerts on assassination attempts."
Maduro has been a longtime supporter of the socialist experiment known as Chavismo. He met Chavez in 1993 while working for the late president's release after he was imprisoned following a failed coup attempt. He was a key figure in Chavez's life after prison, serving as a bodyguard and then during his government as president of congress, foreign minister and vice president. He was elected president after Chavez died in 2013.
Now Maduro, re-elected in a May election widely seen as rigged, is overseeing Venezuela's deepest economic crisis in recent memory. The increasingly isolated OPEC nation has seen hundreds of thousands of Venezuelans flee to neighboring countries to escape hardship, while the political opposition has been jailed or intimidated and beaten into silence.
Prices on the country's benchmark bonds seem to be stuck near 30 cents on the dollar as bond investors largely give up hope of repayment. Venezuela and its state-owned companies have missed more than $4.4 billion in payments since Maduro declared he'd seek to renegotiate the nation's debt late last year.
Most international companies have pulled out of the chaotic nation, the latest being food giant Kellogg Co., which blamed the country's "economic and social deterioration" for its departure in May, following in the footsteps of others such as Kimberly-Clark Corp. and Colgate-Palmolive Co.
Dmitris Pantoulas, a Caracas-based political analyst, said Saturday's attack was evidence of Maduro's tenuous grip on power. "Maduro is in an extremely vulnerable phase," he said. "And in terms of security, this violence and real coup attempts show instability is more likely to come than stability."