Canada's Freeland Upbeat on Nafta Talks, Wants Quick Conclusion
(Bloomberg) -- Canada's foreign affairs minister Chrystia Freeland said she's ready to move forward quickly once the U.S. and Mexico reach an agreement on automobiles, and downplayed any notion that her country has been shut out of North American Free Trade Agreement talks.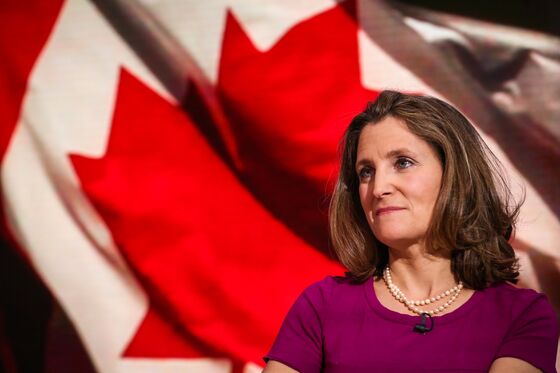 "I and Canada are very, very keen to get it done as quickly as possible," Freeland told reporters Saturday during a conference call from Hong Kong, where she stopped en route from the Association of Southeast Asian Nations meetings in Singapore.
"We're very, very supportive of moving forward fast, and we are in close touch with both our Mexican and U.S. counterparts," Freeland said.
Robert Lighthizer, the U.S. Trade Representative, said in late July that an agreement in principal could be achieved this month, and he blamed Canada for not compromising in the same way the U.S. and Mexico had. Since then, negotiations have carried on mostly without Canada as Mexico and the U.S. focus on resolving bilateral issues, particularly regarding autos.
Freeland said Canada and the U.S. had already moved past some of the key auto issues around domestic content requirements and rules of origin before talks stalled in May, while the U.S. and Mexico still have work to do, although they were making good progress.
"That is the engine of this deal," she said, referring to the auto chapter. "It is fiendishly complicated, and that needs to get sorted out."
Freeland sidestepped questions about whether she or Canada's lead Nafta negotiator Steve Verheul would be in Washington in the coming week, saying instead that her country is ready to negotiate "anytime, anywhere," and that she looks forward to discussing the remaining issues with her U.S. and Mexican counterparts.
She reiterated that Nafta is "absolutely," a trilateral deal, and that modernizing the 24-year-old pact is a priority for Canada. The U.S. and Mexico are said to be close to a deal on rules for cars sold under Nafta.