Trump, Mueller Near Final Stages of Talks for Interview in Probe
(Bloomberg) -- President Donald Trump's lawyers and Special Counsel Robert Mueller appear to be nearing the final stages of negotiations over whether the president will sit for questioning as the two sides continue jockeying over the scope of a possible interview.
Mueller's team responded earlier this week to a proposal Trump's lawyers submitted some 11 days ago that suggested the president would only answer questions about whether his 2016 campaign colluded with Russia, not whether Trump obstructed justice, said Trump's personal lawyer Rudy Giuliani.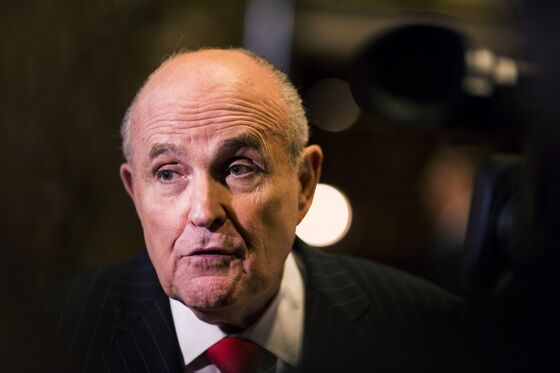 Giuliani wouldn't describe Mueller's offer in detail, but the Washington Post reported Mueller pared down his list of questions, which still include ones related to obstruction of justice.
"I would describe it as a tiny bit of movement, not anything dramatic, but at least it is worth responding to," Giuliani said of the offer in an interview with Bloomberg News. "At least it wasn't like it's all over with."
The quiet exchange of proposals between the two sides stands in sharp contrast to a series of broadsides that Trump and his aides have launched at Mueller and his investigation.
Trump has accused Mueller of having unspecified conflicts of interest and said Wednesday on Twitter that Attorney General Jeff Sessions should "stop this Rigged Witch Hunt right now." Giuliani told CNN earlier in the day that Mueller and his team "should put up or shut up." And White House press secretary Sarah Huckabee Sanders told reporters, "The president has allowed this process to play out but he thinks it's time for it to come to an end."
Giuliani said he "is not going to give a lot of hope" that an interview happens, and said he is opposed to the idea, even though he said Trump wants to do one.
Trump's daughter and senior adviser Ivanka Trump said Thursday that she hasn't been interviewed by Mueller. Speaking at an event hosted by Axios, she added that she wasn't aware of a controversial meeting at Trump Tower with a Russian lawyer and her husband Jared Kushner and brother Donald Trump Jr.
Giuliani is pressing Mueller to submit a report on his finding to the Justice Department by early September to avoid interfering with the November congressional elections. To do so, terms of an interview would have to be agreed upon within the next few weeks. It's not clear that Mueller feels bound by any particular timeline.
Giuliani said negotiations are still ongoing and the two sides haven't reached a point where they need to make their "last and best offer."
Trump's lawyers have been negotiating over an interview with Mueller since the end of last year. At one point, the two sides had agreed to an interview at the end of January and were discussing the logistics when one of Trump's lawyers at the time, John Dowd, called it off.
Dowd, who resigned from the president's legal team in late March, has said that Mueller's team made clear they would consider subpoenaing the president if he refused to sit voluntarily for an interview. Dowd and Trump's other lawyers have said they could fight such a subpoena on constitutional grounds.
In that case, it would be up to the courts to determine if a president can be compelled to testify in a criminal investigation. Given the legal ambiguity in current law around presidential privilege, the challenge could go to the Supreme Court, legal experts have said.
Trump's lawyers have argued that a president cannot be charged with obstruction of justice given the sweeping executive powers granted under the Constitution.