Manafort Judge Says Showing Photos Might Prejudice Jury
(Bloomberg) -- Paul Manafort's personal spending isn't relevant to the tax- and bank-fraud charges against him at this point in his trial, the judge overseeing the case said.
U.S. District Judge T.S. Ellis III's comments came at the start of the third day of trial in Alexandria, Virginia, which is expected to include more testimony from Manafort's vendors, followed by appearances by his accountant and bookkeepers.
Ellis was responding to written arguments by prosecutors for Special Counsel Robert Mueller that defended the relevance of exhibits demonstrating Manafort's lavish tastes in houses, cars, clothes and rugs.
"Courts have consistently held in tax and bank fraud cases that evidence of a defendant's spending and lifestyle is relevant to his intent and is not unduly prejudicial," prosecutors argued in their filing.
Ellis has repeatedly admonished prosecutors for trying to introduce the photos, and on Thursday he suggested that doing so was a form of class-baiting.
The photographic evidence "really is irrelevant, and it kind of besmirches the defendant," Ellis said. "Most of us don't have closets of suits. It kinds of engenders resentment against rich people."
Ellis added, however, that the evidence of Manafort's lifestyle might be pertinent later in the trial if Manafort contests any of it. "Right now, we don't need to worry about that," he said.
Ellis ruled several times on Wednesday that the photographic evidence was prejudicial and that prosecutors should focus on evidence about how Manafort transferred money from Cyprus accounts to pay for purchases. Prosecutors charge that Manafort, President Donald Trump's former campaign chairman, earned tens of millions of dollars as a political consultant in Ukraine and hid offshore accounts and income from U.S. authorities. He's also accused of lying to lenders to borrow $20 million.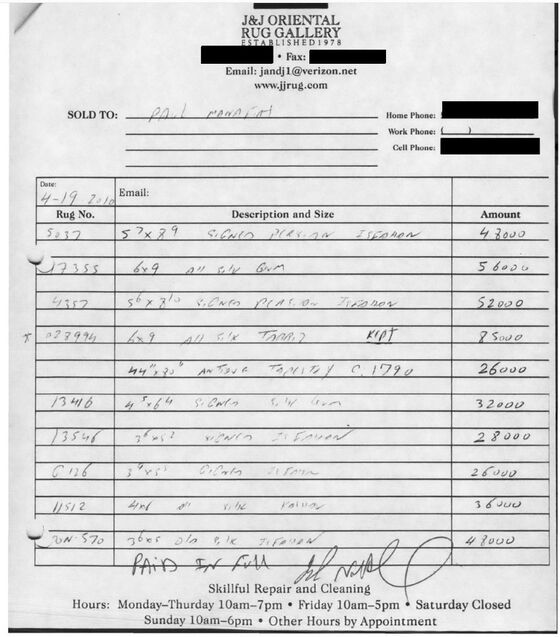 Manafort's practice of wiring money from unreported foreign bank accounts directly to vendors was designed to hide his income from his bookkeepers, tax preparers and the Internal Revenue Service, the government says.
"The fact that the foreign accounts were being used to pay for millions of dollars in personal items plainly makes it less likely that he forgot or made a mistake when he did not report the accounts," the prosecutors wrote.
They also argued that the evidence refutes the contention that a wealthy person has no motive to commit bank fraud.