May Meets Macron as She Charts an 11-Week Path to a Brexit Deal
(Bloomberg) -- Prime Minister Theresa May meets French President Emmanuel Macron on Friday as part of a diplomatic drive to win European leaders over to her Brexit vision. With just 11 weeks until a divorce accord is meant to be signed, May needs to chart a path to a deal. One possible course is emerging.
1. A deal is possible, but with the key decisions postponed
May can get an orderly divorce deal, but probably only if she postpones until after Brexit all the difficult decisions about what the future relationship with the bloc should look like. That's the issue that causes the biggest fights within her party.
Brexit talks are in two parts: First the divorce deal -- the bit both sides want done in October -- and then the future trade deal, which won't be negotiated until after the U.K. leaves. (In between, the plan is for transition period during which the U.K. sticks to EU rules but doesn't get a say in decisions.)
There will be a political statement about the kind of future relationship the two sides want, attached to the divorce deal in October. But it's not binding and can be pretty short. EU officials have been saying since at least March that they don't expect much to be agreed on the future relationship before exit day. And as the clock ticks down, they are being proved right.
Chief EU negotiator Michel Barnier rejected May's proposal for the future relationship last week, sending her back to the drawing board. But at the same time, he has opened the door to a bit of flexibility on the divorce deal.
2. A solution to the Irish border issue might be emerging
Barnier has said he's open to new ideas on how to guarantee the border between Northern Ireland and the Republic of Ireland remains open after Brexit. This is the main sticking point in divorce talks.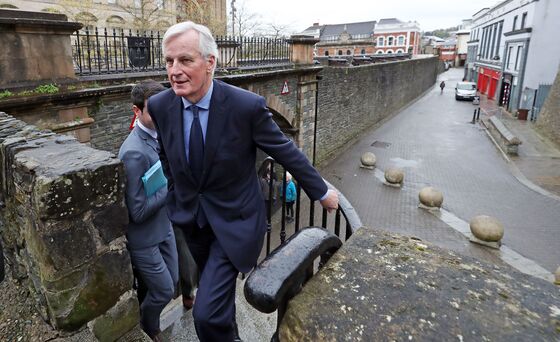 U.K. officials say in private they are working on a proposal that could solve the Irish border issue. It's potentially controversial as it would erect some barriers between Northern Ireland and mainland Britain. But on Thursday a member of the Northern Irish party that props up May in London -- and therefore a key player that must be satisfied -- gave a hint that his party could potentially accept the plan U.K. officials have been working on.
The plan would put a regulatory border -- checks on things like consumer standards -- between Northern Ireland and Britain but not, crucially, a customs border. Democratic Unionist Party lawmaker Jeffrey Donaldson said the red line was a "customs border."
If the Irish issue can be fixed, that's a major obstacle removed from the path to a deal.
3. September is a new milestone
Tune in for an EU leaders summit in Salzburg on Sept. 20. EU officials have said it may become a Brexit summit. (It was meant to be an informal gathering of leaders to discuss immigration.) An October summit, long billed as the key moment for a Brexit deal to be sealed, has now become an EU-Asia gathering about the trade war. Both sides have said they want a deal by October so that the U.K. and EU parliaments have time to approve the agreement before exit day in March.
On the U.K. side, rhetoric that "no deal is better than a bad deal" is being replaced by warnings of the chaos that failure to reach a divorce settlement would bring. Brexit Secretary Dominic Raab told Les Echos on Friday he sees "no alternative to a deal." Foreign Secretary Jeremy Hunt has warned of the perils of no deal "by accident."
4. There's still a big fight in Parliament once a deal is done
Whatever May agrees in Brussels, she needs to bring it back to Parliament for approval, probably in the fall. She doesn't have a majority, and some hardline Brexit supporters in her party might vote against it. That makes the Labour Party key. She will need to pick off members of the opposition to vote with her, even as the party leadership will probably be trying to bring her down and trigger a general election. She will need to convince enough lawmakers that it's a choice between her deal and chaos. It will be tight.
5. There's one more unexpected fight to watch out for
The Irish border issue is the main stumbling block in the divorce deal. But there are others. The two sides have still failed to reach an agreement on so-called geographical indications, the location-based trademarks that protect Parmesan cheese, Champagne and Scotch whisky. It's part of the divorce deal, even though it could end up tying the U.K.'s hands when it comes to negotiating trade deals elsewhere in the future. For many EU countries it's a priority. Don't be surprised if it becomes an issue.