Business Leaders Need Urgent No-Deal Brexit Advice, Lobby Says
(Bloomberg) -- A U.K. business lobby called on Prime Minister Theresa May's government to urgently publish its guidance for a no-deal Brexit scenario, as a survey of executives found less than a third have done any contingency planning.
The Institute of Directors said Friday that ministers must accelerate their efforts to provide advice on how companies should respond in the event that Britain leaves the European Union without an agreement. In a survey of 790 business leaders, nearly half said they have no plans to help them cope with Brexit, increasing the need for government guidance to be made available.
"Many companies are still unprepared for Brexit, and it's hard to blame them," said IoD Director General Stephen Martin. "As long as no-deal remains a possibility, it is essential that the government steps up to the plate and provides advice on preparing for such an outcome."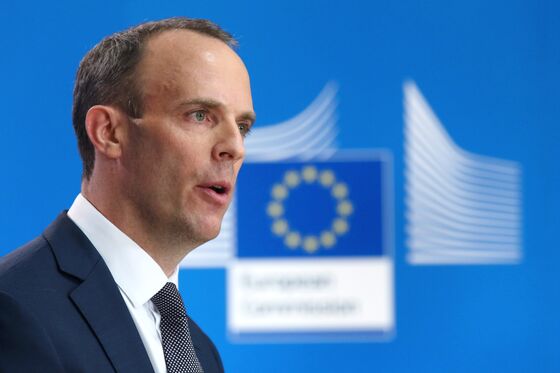 The government is planning to publish about 70 "technical notices" in August and September, setting out plans for business and the general public should negotiators fail to reach a deal. Brexit Secretary Dominic Raab said last month that the government was making contingency plans in case a hard divorce from the EU threatened the U.K.'s food supplies.
More than two-thirds of businesses told the IoD they would only start creating contingency plans when the withdrawal agreement is finalized or when the U.K.'s future trade agreement with the EU is clarified.
Only 3 percent of survey participants said they'd moved or were in the process of moving operations to the EU because of Brexit, with another 8 percent considering it. The survey was carried out in May.