Theresa May Is Banking on Corbyn to Help Deliver Her Brexit Plan
Theresa May was still reeling from the late-night resignation of David Davis, who quit hours earlier in protest at her Brexit plans. In a desperate bid to rescue her proposals, the prime minister sent her deputy to seek help from the enemy.
It was July 9, and David Lidington invited hundreds of Labour politicians into a private room inside Parliament where he tried to sell them May's blueprint for leaving the European Union. But his attempt to win over the official opposition fell flat.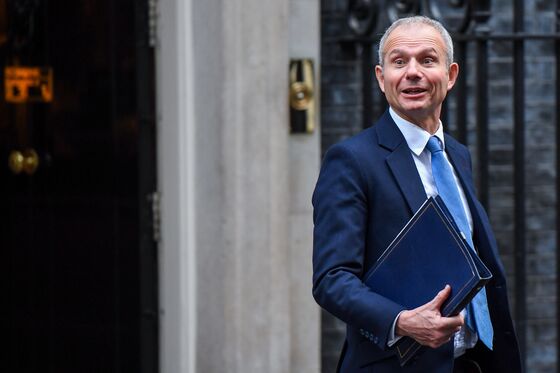 Lidington's PowerPoint presentation failed to work properly, the heat was stifling and the meeting broke up in disarray as news filtered through to the audience that Boris Johnson was also quitting the Cabinet. The government was in a full-blown crisis.
Despite Lidington's difficulties, May's team has not given up. Without an automatic majority in the House of Commons, and facing a revolt from as many as 80 pro-Brexit lawmakers, some of the premier's officials still believe their best chance of getting a Brexit deal ratified in Parliament is to convince Labour to back it.
But that won't be easy. And if she can't get her final agreement through the House of Commons, the U.K. will be on course to crash out of the EU with no deal in place.
"She's going to have to compromise further, and if she does, she may find that the Labour Party will be willing to support a softer Brexit," said Labour MP Wes Streeting, who attended Lidington's briefing. "She's going to have to engage constructively and seriously with the opposition."
This article is based on interviews with senior officials and members of Parliament in both the Labour and Tory parties. Many requested to speak anonymously because the subject matter is sensitive.
May's strategy of appealing to her political foes has one major problem. Labour's leadership, headed by long-time euroskeptic Jeremy Corbyn, would rather oust her than help her.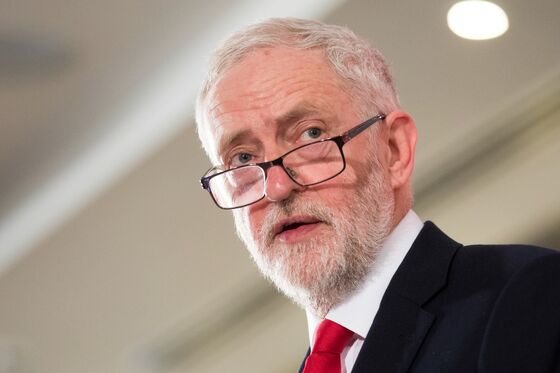 Corbyn's central goal is to force a general election that would give Labour the chance -- potentially -- to win power and take control of the Brexit process. So one option for May is to try to pick off enough Labour politicians who are open to persuasion. But even those Labour MPs who'd consider supporting May to avoid a chaotic no-deal Brexit bridle at the thought of voting through an agreement that would prop up her ailing government.
One pro-EU Labour member said the question raised a moral dilemma -- whether to back May to avoid crashing out of the bloc, or vote against her in the hope of toppling her government. "If as an opposition we were to vote for something that's sub-optimal just to get her over the line, we'd be wearing it for 20 years," the politician said.
Labour has to tread carefully on Brexit. While most districts it represents backed leaving the EU in the 2016 referendum, the majority of the party's supporters nationwide voted to remain in the bloc.
In Parliament, too, many Labour members were also against Brexit. Now, as many as 90 pro-European Labour lawmakers regularly discuss their strategy for pushing for close links to the EU in a WhatsApp group. That's an important figure because it roughly mirrors the number of hardline euroskeptics in May's party who are trying to push her toward a hard exit.
This doesn't necessarily mean the two sides will cancel each other out when it comes to the crunch vote on the final deal.
Remain-leaning Labour politicians have seen the dangers of speaking out against the party line on Europe. An attempt to oust Corbyn after his lackluster performance in the 2016 referendum campaign failed, and instigators still get abuse on social media over their role in the attempted coup.
"Anything we suggest is seen through the prism of 'you're only doing this to get at Jeremy,"' one said.
When a group of lawmakers from northeast England wrote an open letter calling for a public vote on the final Brexit deal, Corbyn's team slapped them down -- even though the official Labour line is not to rule out another referendum.
In contrast, pro-Brexit Labour politicians escaped punishment when they sided with the government on the trade bill, against party orders. Their votes saved May from a humiliating defeat, which could have seen Britain stay in a customs union with the EU after Brexit, or even toppled her government.
One of the rebels, John Mann, said the leadership had to let some Labour members of Parliament take a pro-Brexit stance to reflect the fact that the party's supporters are split on the issue. Otherwise, Labour "can't win the next election -- that's a fact," he said.
Even if she can't persuade enough rebels to defy Corbyn and vote for her Brexit plan, May has another reason to hope. It comes from an unlikely source: the trade union movement.
According to a senior government official, Labour will ultimately support May's final Brexit deal -- because the trade unions will be certain to apply pressure on Corbyn to get into line.
A no-deal Brexit would threaten union members' jobs, the person argued, and Len McCluskey, a close ally of Corbyn and leader of the Unite union -- Labour's biggest funder -- would never let that happen.
Labour said in a statement that the party has "consistently demanded a meaningful vote in Parliament" on the final exit agreement. "We have laid out six tests that any deal must pass to receive Labour support."
They include defending workers rights, fair immigration and delivering the "exact same benefits" as membership of both the EU's customs union and single market. The party will stick to those stipulations until the fall and probably beyond.
That will make it tough for May, who has ruled out a number of Labour's plans, including joining a customs union. In any case, a deal that met Corbyn's conditions would alienate Tory euroskeptics -- probably sparking a leadership challenge against the premier.
Much will hinge on how the final parliamentary vote on May's withdrawal agreement is framed. A choice between an election or a Brexit deal would see Labour head to the polls.
But faced with the option of backing May's exit treaty or a chaotic departure without a deal, MPs would consider the impact on their constituents. One lawmaker said she'd back anything to protect jobs in her northern England district.
The fact remains that nobody -- including the prime minister -- knows what the final deal will look like, or whether there will even be one by the negotiators' self-imposed October deadline.
That means May won't know until perilously late in the process if her bid for Labour's support will succeed. And given lawmakers' conflicting loyalties, and their reluctance to defy Corbyn, it will be hard for her to know how best to sugar the pill.