Norway Makes First Deposit to Huge Wealth Fund Since 2016
(Bloomberg) -- Norway made the first deposit to its $1 trillion wealth fund in almost three years as climbing oil prices and a recovering economy again swell the coffers of western Europe's biggest crude producer.
The Finance Ministry put 1.9 billion kroner ($230 million) into the fund in June, cutting withdrawals this year to 7.9 billion kroner, according to the Norwegian Government Agency for Financial Management. In its most recent budget released in May, the government had anticipated it would take out 21 billion kroner this year.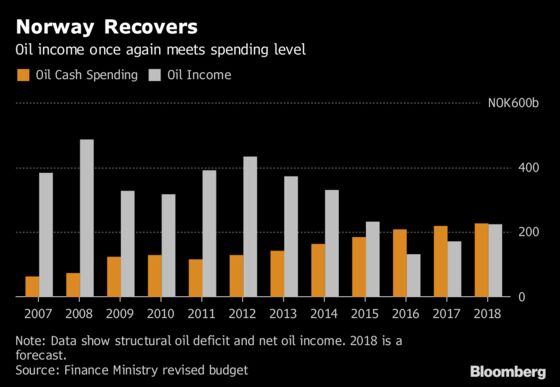 Prime Minister Erna Solberg in 2016 became the first Norwegian leader to dip into the massive piggy bank after the price of oil plunged, sending Norway's oil industry into its worst crisis in a generation. The economy and Norway's biggest industry are now on the mend after crude recovered to above $70 a barrel from below $30 at the depth of the crisis.
The fund, which invests abroad to avoid stoking domestic inflation, has been tapped for about 150 billion kroner since early 2016 to plug budget deficits. With cash-flow of more than 200 billion kroner a year from bonds, stocks and real estate, it has had little problem in handling the withdrawals, but it was forced to look over its strategy on how it finances real estate purchase after years of large inflows halted. The fund has surged in size during the past years, hitting more than $1 trillion last year amid rallying global stock markets.
The deposits are mainly "a result" of the higher oil price and a sign that the Norwegian economy is doing better, said Kristoffer Kjaer Lomholt, an analyst at Danske Bank.
It can also be seen in that the central bank has been reducing its purchases of kroner, he said. But the implications for the currency will be limited since any drop off in demand will likely be picked up by buying from oil companies, Lomholt said.
As deficits grew and the government used more and more oil cash, the central bank was forced in 2014 to start converting foreign currency oil revenue into kroner for the government.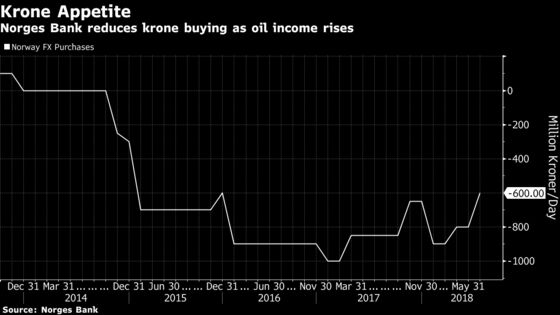 The fund declined to comment. The Finance Ministry declined to comment on the June data, saying in an email that it will release new budget projections on Oct. 8.