Manafort's Home Repair Contractor got $3.3 Million: Trial Update
(Bloomberg) -- On the first full day of testimony in the tax- and bank-fraud trial of former Trump campaign chairman Paul Manafort, jurors on Wednesday heard from eight witnesses. They included a political strategist, an FBI agent, two home-repair contractors, two people from luxury clothing stores, a real estate agent and a Mercedes-Benz dealership executive.
Home-Repair Contractor's Big Renovation Bill (6:13 p.m.)
A retired home-repair contractor testified that Manafort paid him almost $3.3 million from 2010 to 2014 for renovations he did on his New York houses. Many of those payments came from overseas wire transfers, he said. That was a big step up from Stephen Jacobson's first job for Manafort -- a kitchen repair in 2001.
Jacobson told jurors that he worked on Manafort's Trump Tower condo, two homes in lower Manhattan; and a brownstone in Brooklyn.
"Paul's a tough negotiator,'' Jacobson said. "He's tough but he's fair.''
Jacobson said his bank closed his account after many years, prompting him to ask Manafort if the closure had anything to do with the wire transfers he received from him.
"He told me, 'don't worry about it,''' Jacobson said.
Justice Department Releases Government's Exhibits in Manafort Trial
Twice on Wednesday, prosecutors showed witnesses invoices that appeared to be from their businesses, but actually weren't. In the first instance, two bills from the clothier "Alan Couture" -- misspelled as "Alan Corture" -- were disavowed by former store manager Maximillian Katzman. Later, Jacobson said he didn't recognize an invoice doctored to appear as though it came from him.
Defense lawyers suggested that Manafort's former right-hand man Rick Gates might have had prepared the clothing bills. They asked Katzman whether he was familiar with Gates's level of education or spelling ability.
"Not at all," Katzman replied. Prosecutors haven't yet made apparent the significance of the documents.
Wire Transfers Used to Pay for Clothes, Jury Told (4:10 p.m.)
The manager of a "luxury custom clothing maker" in Manhattan said Manafort was the only client he had who paid his bills with wire transfers.
Maximillian Katzman, who ran Alan Couture on New York's 57th Street, told the jury Manafort was one of only 40 regular clients. When prosecutor Greg Andres asked the clothier to add up more than $1 million in bills that Manafort rang up, U.S. District Judge T.S. Ellis cut him off, saying of the jury, "they can add." Among the bills was an invoice for $15,195 for two suits, four pairs of pants and shipping charges.
The jury also heard from Ronald Wall, chief financial officer for the House of Bijan on Rodeo Drive in Beverly Hills -- another clothing store. He described Manafort as "a very good customer."
Unlike Katzman, Wall told jurors that Manafort wasn't Bijan's only pay-by-wire client. Asked by defense lawyer Jay Nanavati whether others settled their bills the same way, Wall replied, "Indeed." According to the indictment, Manafort-controlled businesses wired $520,440 to Beverly Hills clothier with payments matching those verified by Wall.
Prosecutor Says Gates 'May Testify, He May Not' (1:30 p.m.)
The man believed to be the government's star witness in the Manafort trial may not be summoned to testify after all, a federal prosecutor said.
In a surprise disclosure on the second day of the trial, the prosecutor told the judge that the government may not call Rick Gates, Manafort's former deputy, to the witness stand. "He may testify, he may not," Assistant U.S. Attorney Uzo Asonye said.
Manafort attorney Thomas Zehnle scorched Gates in his opening statement on Tuesday, calling him a liar and a thief who embezzled millions of dollars from the company by claiming fake bonuses and expenses.
If prosecutors don't call Gates, they could avoid a withering cross examination by the defense that could shift the focus from Manafort's conduct. Gates pleaded guilty and is cooperating with the government.
Testifying isn't the only way that Gates could fulfill his plea agreement, which requires that he do what prosecutors ask of him. That could include telling them what he knows or helping them interpret documents.
Even if the prosecution doesn't call Gates, the defense may do so to fill out its portrait of Gates as a rat and to show that Gates, not Manafort, was the bad actor. But as a defense witness, Manafort's lawyers may not be able to lead him in the same way they could on cross-examination, making it harder to elicit the testimony they need from him.
After Asonye said that prosecutors may not call Gates to testify, several reporters bolted for the door. Ellis looked bemused.
"That was news to me and obviously to about 25 people scurrying out of here like rats off a sinking ship," Ellis said.
Asonye then seemed to backtrack, saying "We're constantly re-evaluating every witness," including Gates.
FBI Agent Recounts Manafort Raid (12:02 p.m.)
An FBI agent took the witness stand to testify about the documents seized in an early-morning raid of Manafort's condominium in Alexandria, Virginia, in August 2017. Special Agent Matthew Mikuska said that no one answered after three knocks, so he and other agents entered the condo with a key they had already obtained. Inside, they met Manafort.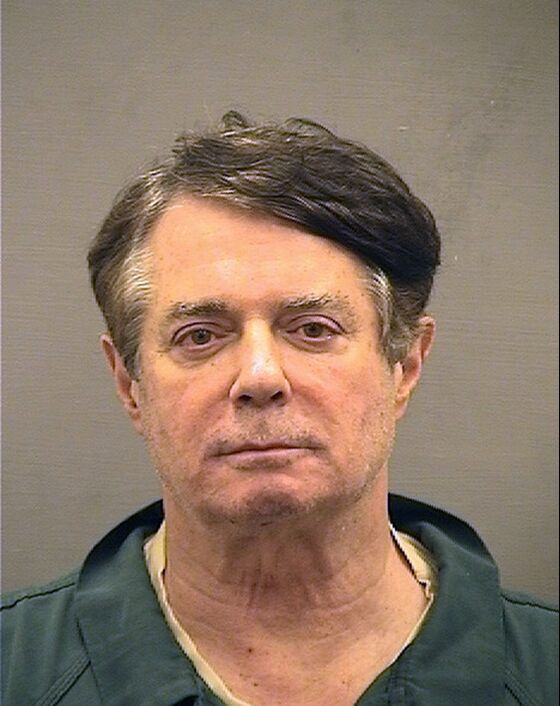 Mikuska described some of the seized financial documents, including several showing real estate purchases or home improvements using money that moved from accounts in Cyprus that prosecutors say Manafort controlled. One showed $3 million wired into a Manafort account to fund the purchase of a brownstone in Brooklyn, New York.
But then Ellis, the judge, forced Asonye, the assistant U.S. attorney, to move so quickly that jurors got no context or explanation for the exhibits they saw briefly on their video monitors. Ellis also refused to display a photograph of former Ukrainian President Viktor Yanukovych that he had admitted into evidence, and he only briefly allowed jurors to see a picture of Manafort's condo building.
"Can you describe the building?" Asonye asked.
"They can see the building," Ellis interjected. He then asked the agent: "Did you search somewhere in this building?" When Mikuska said yes, Ellis said: "Alright, let's move on."
After the prosecutor and agent raced through exhibits about loan applications and improvements to Manafort's homes in the Hamptons and Palm Beach Gardens, Florida, Manafort attorney Richard Westling objected to the relevance of documents and photographs about a home improvement proposal for the Hamptons house.
A visibly annoyed Ellis then sent the jurors out for their morning break and said to the lawyers that the case is about whether Manafort signed false income tax returns that failed to disclose foreign accounts and omitted income.
"I'm wondering how you're going to tie Mr. Manafort to these monies, other than 'Mr. Manafort is awash in money,'" Ellis said.
When Asonye said prosecutors must prove he didn't disclose offshore income, Ellis said: "Is that anything different than what I just said?"
Asonye said that the prosecution had two theories: that Manafort failed to book income when he earned it in Ukraine, and that he failed to tell his tax preparers about payments that went from overseas accounts to vendors. He said prosecutors view those payments as income and not a business expense.
Ellis said he would consider the argument, but on only the second morning of the trial, he made his impatience plain.
"The more I can do to shorten this the better," Ellis said. "Then you get to go home and I get to go home."
OK, How About 'Somebody of Wealth'? (11:29 a.m.)
Minutes after Ellis instructed lawyers to stop saying "oligarch" because of its potentially pejorative meaning, the day's first witness, political consultant Daniel Rabin, described Rinat Akhmetov, one of Ukraine's richest people, as "somebody of wealth."
Rabin is a Democratic consultant who worked for Manafort on resurrecting the political fortunes of Yanukovych and his Party of Regions.
Rabin told the jury he'd worked with Manafort from 2006 to 2014, writing scripts and producing more than 50 ads for Yanukovych and his party.
"He demanded a lot of the people that worked for him," Rabin said of Manafort, who approved the ads together with their client. "He was thorough. He was strict."
Sustaining a defense objection, Ellis blocked prosecutors from showing jurors three photographs featuring Yanukovych, limiting them to one. Even for that one, Ellis denied Andres's request to post it on TV monitors in the courtroom.
Rabin also identified Gates, Manafort's former top deputy, as Manafort's "gatekeeper" and point of contact for financial and travel issues, perhaps buttressing the defense argument that it was Gates's machinations that got Manafort into trouble.
Judge: Also Don't Say 'Oligarch' (10:40 a.m.)
From the start, the judge in the Manafort case has told lawyers on both sides not to talk about Russian election interference or Donald Trump.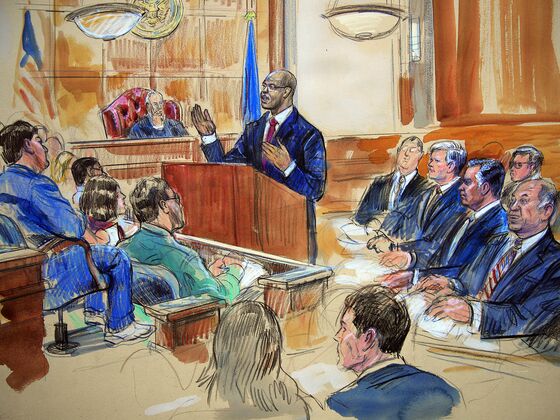 Now they also can't say "oligarch."
On Wednesday, Ellis told the lawyers not to use the word to describe the wealthy Ukrainians who paid Manafort's consulting firm millions of dollars. The word has taken on a "pejorative" meaning, Ellis said.
Ellis said he wouldn't allow the government to use the word to assert that "he associated with despicable people and therefore he's despicable."
"That's not the American way," Ellis said.
Blame It on Gates, Defense Lawyers Say (Tuesday)
It was Gates, Manafort's protege and longtime business partner, who handled the details of the consulting firm's finances, Zehnle, the Manafort attorney, said on Tuesday as the trial opened.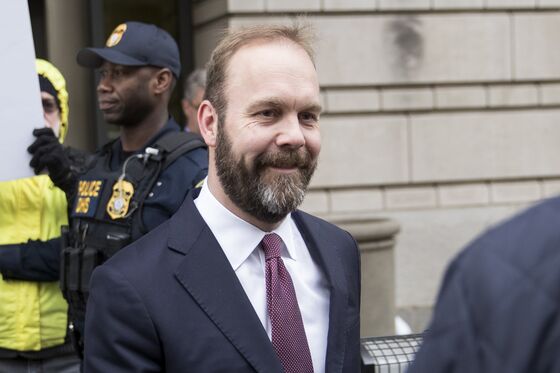 "This case is about trust, and he placed his trust in the wrong person -- Rick Gates," Zehnle told the jury of six men and six women. "We're purely here because of one man -- Rick Gates. The foundation of the special counsel's case rests squarely on the shoulders of this star witness."
With that declaration, Zehnle announced that Gates will come under withering attack by Manafort, a mentor who made his protege a rich man in Ukraine and later drew him to the Trump campaign as deputy chairman.
Assistant U.S. Attorney Uzo Asonye, in his opening statement, depicted Manafort as a greedy businessman who hid tens of millions of dollars from the Internal Revenue Service, failed to declare offshore tax accounts in required reports, and lied to three banks about his income and net worth to secure loans when he was desperate for cash.
"A man in this courtroom believed the law did not apply to him," Asonye said, referring to Manafort. "He got whatever he wanted."