As Trump Brings Home Korea War Dead, Families Blast U.S. Agency
(Bloomberg) -- North Korea's return of about 55 American war dead marks a hopeful milestone in their almost seven-decade journey home. But it could be years before they're reunited with their families, and some families blame the U.S. government agency charged with identifying them.
The remains, which U.S. Vice President Mike Pence will formally accept Wednesday in a ceremony in Honolulu, will join hundreds of fallen service members awaiting identification by investigators at Joint Base Pearl Harbor-Hickam. Then begins the painstaking process of trying to match the contents of each casket with a name from the list of 5,300 Americans who never returned from North Korea after the 1950-53 conflict.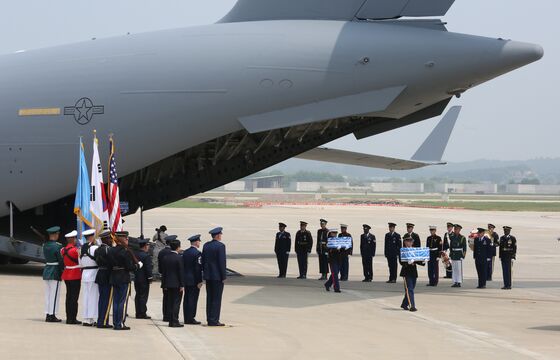 The investigations can take years, in part because of the chaos of war, the passage of time and possible improper handling while in North Korean custody. The families of missing soldiers also argue that the wait could be extended because of the methods used by the body responsible for numbering the missing, U.S. Defense POW/MIA Accounting Agency.
"Their mission statement is the fully-as-possible accounting of our missing service men, but quite frankly I think they do a very lousy job," said John Zimmerlee, who's father, Air Force Captain John Henry Zimmerlee, went missing during the Korean War. He said families of some missing troops would hand Pence a letter seeking the agency's overhaul and the use of independent laboratories to "test remains at a much faster rate."
The DPAA didn't respond to emailed and telephoned requests for comment Monday and Tuesday.
The debate underscores the challenges of resolving so many issues stemming from the U.S.'s generations-long dispute with North Korea. While Kim Jong Un's decision to release 55 sets of remains Friday marked the first tangible outcome from his historic summit in Singapore last month, achieving closure for families may prove elusive.
The remains represent about one-quarter of those the Defense Department believes are being held by North Korea and about 1 percent of those lost while fighting in the country. Moreover, they'll likely join more than 850 others still unidentified by the DPAA.
To confirm their identities, the DPAA mostly uses an identification process in which they compare bones with dental records and circumstantial evidence, such as dog tags, uniform remnants and grave locations to narrow the list of possible matching names. The agency then attempts to verify the results using a database of mitochondrial, or maternal, DNA samples acquired from the families of missing service members. Nuclear DNA is also used in some identifications.
By this process, the DPAA, which has an annual budget of $131 million, identified 201 formerly missing people last year, including 42 from the Korean War. Naming the bodies recovered from North Korea could be particularly challenging if they're mixed with other remains or unrelated items picked up while excavating grave sites.
The shipment of remains released last week included one dog tag and no other information that could aid identification, the Associated Press reported Tuesday, citing a U.S. defense official.
Families, however, contend that the DPAA has been too slow to adopt more advanced nuclear DNA-led processes developed in places like the mass graves of Bosnia and the wreckage of the World Trade Center. In those techniques, samples are taken taken from recovered bones at the start of the process and cross-referenced against DNA databases to find a match.
Edwin Huffine, a former researcher at the Armed Forces DNA Identification Laboratory who spent five years identifying genocide victims in Bosnia, said that the process greatly accelerated efforts to name some 4,000 remains. Investigators increased their identification rate to as many 400 a month after naming only seven in the first three years.
Huffine said the first time researchers got a match was the most gratifying of his career. "At that moment, I realized history had been made," he said.
When the DPAA was criticized in 2015 for using outdated techniques to identify the remains of servicemen on the USS Oklahoma -- sunk on Dec. 7, 1941 -- it responded that nuclear autosomal DNA wasn't appropriate for the task. The agency cited limitations in identifying older remains, according to a Stars and Stripes report published at the time.
The claim runs contrary to the experience of scientists who used nuclear DNA to identify remains from World War II mass graves uncovered in Bosnia and Herzegovina seven decades later.
Such advances raise new questions about how far the government wants to go to settle the mysteries of old conflicts. Some family members, such as Zimmerlee, advocate exhuming unmarked graves at the National Memorial Cemetery in Hawaii and checking whether those already sent back to families were properly identified.
"With today's DNA technology, there is no excuse -- no excuse at all -- for not digging up those remains and identifying them," Zimmerlee said by telephone. "Yes, it would open up old wounds, but my father is still missing, and if one of these bodies they sent back to a family 65 years ago was my father I would like to know that."