After Decade in Jail, Bemba Returns to Seek Congo Presidency
(Bloomberg) -- Opposition leader Jean-Pierre Bemba returned to the Democratic Republic of Congo to prepare his latest bid for the presidency, after spending the past 10 years in prison.
A former vice president, Bemba is one of four key opposition figures expected to register to compete in elections scheduled for December. He was acquitted of war crimes in the International Criminal Court in June and released after a decade of detention in The Hague.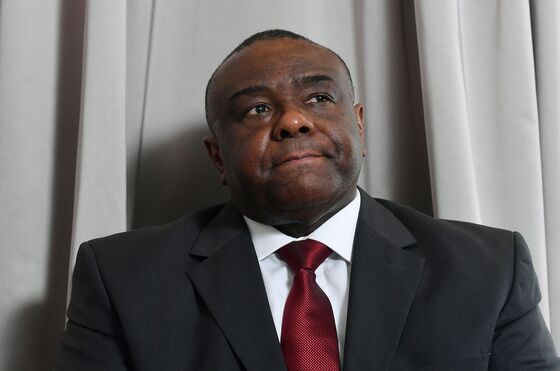 The 55-year-old politician arrived in the Congolese capital, Kinshasa, by plane on Wednesday morning. Thousands of cheering supporters filled the six-lane highway leading from the airport into the city. Heavily armed police fired teargas and rubber bullets in an effort to speed up his motorcade's progress through the crowds.
"This is a long-awaited moment," Didier Kabela, a Bemba supporter, said outside the airport. "The country needs this son back for its reconstruction, its unity and above all its security, so that the country can take off."
Bemba is the candidate for the Movement for the Liberation of Congo, the party he founded and still leads. He may find his aspirations to lead Congo frustrated after the ruling coalition of President Joseph Kabila claimed last week that a second ICC conviction for witness tampering should bar him from running in the election. Kabila beat Bemba in a 2006 poll and won a second term five years later.
Congo's constitution prevents the incumbent from seeking a third term, but Kabila's continuing refusal to exclude himself from the next election is fueling opposition suspicions that he plans to change or reinterpret the rules. The president's coalition, the Common Front for Congo, has launched ongoing private consultations to choose its candidate -- with some members urging Kabila to run again.
Arrested in Belgium in 2008, he was sentenced by the ICC in 2016 to 18 years in prison for murders and rapes committed in 2002 and 2003 in neighboring Central African Republic by fighters belonging to a Congolese rebel group he then led.
The electoral commission opened registration for presidential candidates last week and the last day to file applications is Aug. 8.
The leading opposition candidates, including Bemba, Felix Tshisekedi and Moise Katumbi, all publicly support the proposal of backing a single candidate to take on the nominee of Kabila's coalition. Bemba has indicated there will be discussions aimed at selecting the best placed competitor once registration has closed.