May Cuts Short Holiday for Brexit Talks With Macron
U.K. Prime Minister Theresa May will fly to meet French President Emmanuel Macron at his holiday retreat to discuss Brexit on Friday, her office said.
May is vacationing in Italy with her husband, Philip, but will leave a day earlier than planned to travel to the south of France for discussions on the U.K.'s withdrawal from the European Union. The date suited both leaders, who've been trying to find time to meet, according to a person familiar with the matter.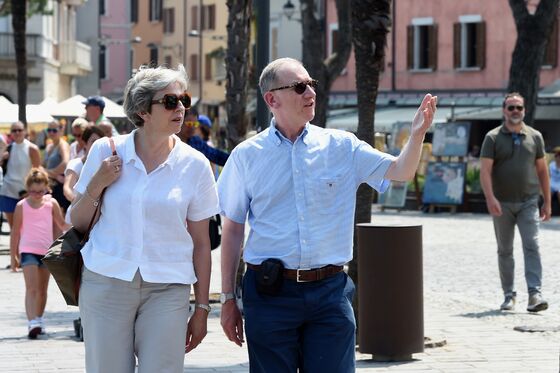 The prime minister and her senior officials are engaged in an intense bout of shuttle diplomacy as they attempt to persuade other European Union governments to support her blueprint for Brexit. British and European negotiators are running out of time to agree to the terms of the divorce and May's team have begun talking up the risks of a failure to strike an accord.
Last week, the EU rejected a key part of May's plan for a trade deal with the bloc. Both sides want to finalize the exit agreement at a summit of EU leaders in October.